Since last August, the Bank of Korea has raised interest rates from a record low of 0.5 per cent to 3.5 per cent – the highest since 2008.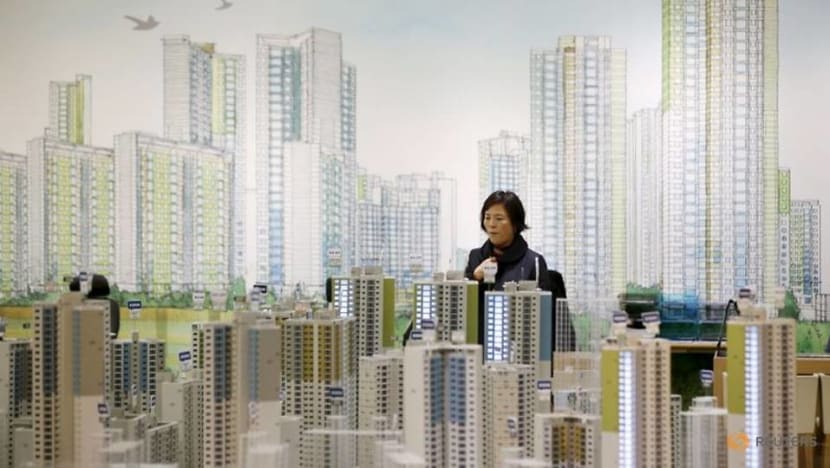 SEOUL: Some South Koreans are waiting for the right opportunity to buy their dream homes in Seoul, as steeply rising bank interest rates are making them think twice before taking out loans. 
 
They are still adopting a wait-and-see approach, even as home prices start to drop. 
 
The Olympic Park Foreon residential project, for instance, was once expected to be highly sought after among South Koreans looking to own homes in the capital. The development is designed to accommodate more than 10,000 households.
 
But with bank interest rates on the rise, it is becoming a hard sell. Some buyers have also admitted that it was not an easy decision.
 
"Of course it's difficult when interest rates are high," said one resident. "I had worries about coming here to sign this contract too. But since the location is good, I just decided to go ahead with the contract."
RAISING INTEREST RATES
Since last August, the Bank of Korea has raised interest rates from a record low of 0.5 per cent to 3.5 per cent – the highest since 2008.
 
South Korea's five major banks also had their average mortgage rates move within a band of 5.47 per cent and 8.11 per cent.
 
It is the first time since the 2008 global financial crisis that the upper limit of the rate has topped 8 per cent.
 
Now, there are some expectations that the central bank could halt the hikes in the coming months, amid concerns that any further hikes could cool economic growth by slowing consumption and corporate investment.
 
The move would also ease the debt burden on people who have taken out loans to survive during the COVID-19 pandemic, or to buy homes, said observers. 
 
Bank of Korea governor Rhee Chang-yong said that he did not think household debt would cause instability in the short term, as banks were well capitalised.
 
However, he voiced concerns about how the proportion of short-term debt and floating rate loans was relatively higher in South Korea.
 
"As such, consumer spending and economic activity can be more sensitive to monetary tightening and to any decline in housing prices," said Mr Rhee. 
 
"The cumulative impact of interest rate increases could lead to an aggravating trade-off between inflation and growth, making monetary policy much more difficult."
BORROWING HAS SLOWED 
High interest rates have slowed down borrowing and people are reluctant to take out loans to buy homes like in the past, said observers. 
 
Last month, the number of apartment transactions in Seoul stood at just 578, down by about 50 per cent from the previous year.
 
"For the richer part of the households, they will probably not want to get any more housing at the current time, because the price of housing is dropping so quickly," said Dr Yang Jun-sok, economics professor at the Catholic University of Korea. 
 
"So unless they're convinced that the housing prices have bottomed out, they will probably not have the incentive to borrow more to pay back housing. So at least for now, household debt will probably remain steady or fall a little bit."
 
Earlier this month, South Korean President Yoon Suk-yeol lowered taxes and allowed people to borrow more as he removed many of the restrictions imposed on the housing market by the previous administration.
 
Apartment owners also need to live in their property for one year before they can sell, and not eight years like in the past.
 
While it is too early to tell what impact these measures will have on the economy, experts believe that housing prices will continue to fall for at least a bit longer. 
IL PRIMO ECOMMERCE SPECIALIZZATO IN DELIZIE AL TARTUFO E CAVIALE – CAVIAREAT.COM