The 49-year-old wife of 5 years reported that 58-year-old Markku Tapani Karjalainen was beset by troubles at home in Finland. He had returned 9 months previously from his home country and purchased a home in the Sattahip district of Chonburi near Pattaya after being away for 2 years.
Police in Sattahip in Chonburi near Pattaya are still keeping an open mind after launching a thorough investigation into the death of a 57-year-old Finnish national who was found by his Thai wife on Tuesday morning at home in bed with his throat cut. Police, later that day, took the woman in for questioning after neighbours reported that the couple had quarrelled often although she told them that her husband was troubled and had threatened suicide several times due to domestic difficulties in his home country.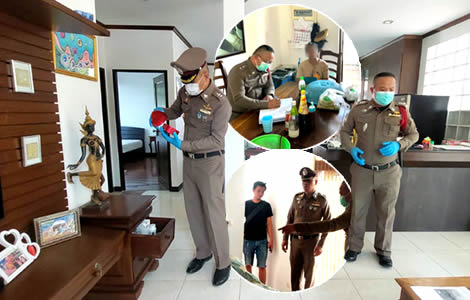 Thai police in Sattahip Chonburi have launched a full investigation into the death of a 57-year-old Finnish man on Tuesday at his home in the province.
The body of Markku Tapani Karjalainen has been removed to the Institute of Forensics at the Police General Hospital in Bangkok for an autopsy as part of the probe.
Body found by Mr Karjalainen's common-law wife after returning from taking grandchildren to school
On Tuesday morning Mr Karjalainen was found by his common-law Thai wife or girlfriend after she returned from dropping her grandchildren at school and a visit to a local Buddhist temple.
They had been a couple for five years although they had not yet registered their marriage.
She found her husband in his bed which was covered in blood and with a kitchen knife lying on his throat.
Police later confirmed that the Finn had a severed trachea after the knife inflicted a deep wound to the throat area.
49-year-old Aranya Srisaeng told senior officers who responded to the call at a single-storey, well-appointed residence in Village 9 of the Bang Saray subdistrict of Sattahip that her husband had returned from Finland just 9 months previously having been abroad for 2 years.
Purchased the luxury home after his return from Finland just 9 months ago following a 2-year absence
He had purchased the home within a week of his arrival back to the kingdom but appeared, according to Ms Aranya, beset and preoccupied with problems in Finland. 
She said that he had often threatened to take his own life.
She explained that on Tuesday she had woken early at 5 am and taken the couple's dog for a walk outside while her husband had awoken at 6 am to use the bathroom.
Her husband had then gone outside and was on the telephone until 7 am when he returned again.
She said she had prepared a meal of breakfast cereal and coffee for him before getting her grandchildren ready to go to school.
While away she had called a local Buddhist temple to organise a ceremony for the 100th-day anniversary of her mother.
She said she fretted that she had not let her husband know about this before she left and later hurried home.
Policemen found the Finnish man's wife crying next to his body when they arrived on Tuesday morning 
Responding to the scene, on Tuesday, were Police Lieutenant Colonel Paiboon Laohanawat, an inspector at Sattahip Police Station as well as Police Colonel Panya Dumlek, the station superintendent and Police Lieutenant Colonel Suwichak Ruangnuamdee the deputy superintendent.
They had received a report that a dead foreigner had been found at his home. 
They arrived at the house at 8.30 am and saw the foreign man in his bed without clothing except for one piece of underwear.
The officers could see clearly that a deep wound had been inflicted around his neck and saw the kitchen knife lying on his chest.
Next to the body, they found his Thai wife who was sitting near the bed and crying.
Rescue units of the Sawang Rojana Thammasathan Foundation also attended the scene.
Wife explained her movements on Tuesday morning and pointed to suicide as police took her in for routine questioning as part of the expanded probe
Police interviewed the woman and she explained what had happened in the hours before making the shocking discovery on her return home.
'You think a lot when we're gone for a long time. I went home and I noticed my husband was quiet. I thought he must be asleep. I then opened the door to the bedroom to go to the bathroom. I saw blood dripping in front of the door. I thought he had shaved and bled. So I went to look at the bed. I found that his face was pale. There was a knife on his neck. He'd thought of suicide many times before. Because there are problems at home abroad,' Ms Aruanya told officers.
Police later interviewed neighbours who reported that the couple had quarrelled a lot and took Ms Aranya in for further questioning which is routine in these situations.
Senior officers at Sattahip Police Station have determined that an intensive investigation will be required in order to resolve the exact circumstances of Mr Karjalainen's death.
Further reading:
UK man's killer behind bars after shooting him off his motorbike on Thursday at point-blank range
Pattaya police hunt down the killer of a UK man who had just returned to Thailand from Britain
Mother of murdered woman at the hands of a suspected serial killer calls for the death penalty to be meted out
Killer sentenced to death for the 2nd time for the murder of a woman 7 months after being paroled
Thai Justice Minister promises to push legal measure for the castration of rapists with public support
Sadistic rapist, drug dealer and serial murderer is sentenced to life in prison by Thon Buri court
Scotswoman to appeal dropping of death sentence on brother in law and two hired hitmen by court in Phrae
Death sentence for murderous trio who executed a loving Thai wife and her UK husband in Phrae
Death sentence imposed on school boss who murdered a 2-year-old boy in a gold shop robbery in January
School director pleads guilty in court to murder and other charges after Lopburi shopping centre massacre
Master of lies and death, the gold shop killer's life, actions and motives probed by police as wife flees
Lopburi child killer is a primary school director who murdered 3 people this month just for kicks
All quiet in Lopburi as fears grow that the gold shop killer may have slipped the police arrest net – media blamed
Mum's heartbreak after 2 year old's murder as police now know the identity of the cruel and evil killer
2-year-old shot dead by gold robber Thursday night as 3 die, 4 injured in mass shooting with silencer gun
Police near closing the ฿9 million gold robbery case in Khon Kaen as the last suspect returns
Convictions of Burmese Koh Tao murderers and death sentences upheld by Thai Supreme Court
Koh Tao victim's family endorse the conviction of Myanmar migrants
Koh Tao claims by UK teenager questioned by Thai police – arrest warrants indicated for some media
Australian man pleads for help for his son and Thai wife sentenced to death for failed drug trafficking plot at sea
Police to re-arrest Australian death row inmate after he is released under court order at Bangkwang prison