The removal of Minister of Transport Saksayam Chidchob comes just days after he warned prolific whistleblower Chuwit Kamolvisit that he had only 13 days to substantiate allegations of irregularities linked with Bangkok mass transit projects. The petition to remove the minister was prompted by allegations made in mid-February during a Section 152 two-day debate on the government's performance.
Transport Minister Saksayam Chidchob was dramatically suspended from his duties on Friday after the Constitutional Court accepted a petition filed through the House of Representatives Speaker Chuan Leekpai seeking to have him removed for a breach of Section 187 of the Constitution claiming his involvement with a private firm or partnership. The development comes days after Mr Chuwit Kamolvisit, the activist whistleblower, alleged irregularities with the ministry's handling of key infrastructure projects in Bangkok and comments by the minister on Tuesday before his last cabinet meeting suggesting the possibility of defamation proceedings.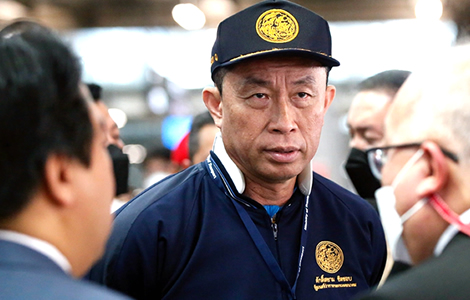 Thailand's Constitutional Court, on Friday, suspended the country's Minister of Transport Saksayam Chidchob from actively carrying out his duties with immediate effect after it accepted a case brought against him through a petition of 54 opposition MPs in parliament.
The petition and lawsuit followed allegations raised in parliament during a recent Section 152 debate on the government's performance in mid-February.
During the two-day debate, the opposition parties unleashed various claims of corruption against ministers which struck a chord with a public already dazed by the sheer scale of corruption that has been unveiled by whistleblower Chuwit Kamolvisit whose revelations are ongoing, extending into government departments and have catapulted corruption right to the top of the agenda in this May's General Election.
Suit centres on Minister Saksayam's continued involvement in a family firm from which he formally disassociated himself upon taking office in 2019
These new allegations centre on a firm in which the minister, Mr Saksayam, was a major shareholder up until he was appointed to the cabinet in July 2019 when the Bhumjaithai Party, closely allied with Mr Saksayam's family in Buriram, joined the coalition government of General Prayut Chan ocha.
The firm, Buri Charoen Construction Limited Partnership, had received substantial government contracts valued at up to ฿440 million between 2015 and 2017 alone. 
Mr Saksayam was a major shareholder in the enterprise in 2015 when it increased its registered share capital to ฿120 million.
He had earlier resigned from the firm established by his family in 1996 when he entered politics for the first time in 1997.
Alleged breach of Section 187 of the 2017 Constitution which specifically outlaws such a practice and gives the court the power to remove the minister
The allegations against the minister are that he was, contrary to his declared status in 2019 when he took up his ministerial portfolio and in direct contravention of Section 187 of the 2017 Constitution as well Section 4(1) of a 1999 law on ministerial involvement in commercial affairs, in control of the shares in the firm and its active management.
The minister vehemently denies the charges made against him telling the media on Friday that it was a friend who held the shares and that a sale was executed with a receipt for monies paid.
The decision by the Constitutional Court was a unanimous one after judges on the bench reviewed the documentation submitted to them by the petitioner which was the House of Representatives Speaker Chuan Leekpai at the behest of the opposition MPs.
Unanimous decision by judges on the bench which gave Minster Saksayam 15 days after being furnished with a copy of the petition, to refute the charge
The petition submitted by MPs under Section 82 of the Constitution called for the status of the minister to be reviewed in the light of the evidence submitted to the court and also called for his termination as a minister under Section 170 of the charter which allows for him to be removed if found to have contravened Section 187 which expressly prohibits ministers from being a shareholder or director of a commercial partnership or a company.
The court found that there were grounds or a reasonable basis for the petition submitted and therefore it issued its order which also included a request to the minister to submit a reply within 15 days clarifying his position concerning the matter.
The 15 days commences when the minister is furnished with a full copy of the petition submitted to the court.
The court will subsequently render its definitive decision on the matter under the provisions of Section 82 of the constitution.
The Ministry of Transport has confirmed that Deputy Minister of Transport Atirat Ratanasate will take over the duties of the senior minister as long as he remains suspended pending the final judgement of the court.
Minster earlier this week gave an ultimatum to whistleblower Chuwit Kamolvisit over allegations relating to Ministry of Transport projects in Bangkok
On Tuesday, Minister of Transport Saksayam commented on allegations made last week concerning alleged irregularities on part of Bangkok's mass transit system project, lodged with government officials by whistleblower Mr Chuwit Kamolvisit.
These allege that up to ฿30 billion in funding had been mishandled.
Minister Saksayam indicated that defamation proceedings may follow related to the matter if Mr Chuwit Kamolvisit failed to furnish a substantiation relating to the claims demanded by the ministry.
Leading firms including those listed on the Stock Exchange of Thailand (SET) also issued similar statements defending their involvement in Ministry of Transport projects and strongly denying any impropriety while reserving their right also to issue defamation proceedings.
Seen as a capable minister since 2019
It is not known if there is any link between Mr Chuwit's claims and this latest development although initial appearances based on the facts in the public domain, at this point, suggest that there is not.
Minister of Transport Saksayam Chidchob, one of three senior Bhumjaithai Party ministers within the cabinet of Prime Minister Prayut Chan ocha since 2019, has been known as an effective Minister of Transport, particularly regarding efforts to tackle road safety in Thailand, raising safety standards within the country's controversial minivan fleet and efforts to establish flight connections with the kingdom to boost foreign tourism in the aftermath of the pandemic shutdown which decimated Thailand's economy.
Further reading:
Minister: Chuwit has 13 days to back up corruption claims related to Bangkok's Orange line contract
Anutin rejects Chuwit's claims about Bangkok's mass transit Orange line and Bhumjaithai's election odds
PM's party lashes out at MP Rangsiman Rome's 'irresponsible' revelations in parliament last week
Corruption and the role of the unelected Senate in electing the next PM to be General Election issues
Prayut to make his move for a third term but is the battle for power already lost to Pheu Thai?
PM and Ung Ing to do battle in 2023 for the top job with public debt and the economy as key issues
Pheu Thai, Palang Pracharat coalition now a distinct possibility after the next General Election in 2023
PM upholds status quo as he seeks a path back to power with the help of the Bhumjaithai Party
3 out 4 believe that Pheu Thai will take power in 2023 with a third Shinawatra taking the reins
Court decision on electoral law is a big boost for Pheu Thai Party as Prayut remains tight-lipped
Constitutional Court voting decision a watershed moment for Thai politics says top Pheu Thai MP and whip
Uncertain politics ahead as PM reported to be planning to dissolve the House of Representatives
Prayut hails economic progress by his government but his path to reelection next summer is still unclear
Pheu Thai looking at property developer tycoon Srettha for PM role after next General Election
Possible Pheu Thai PM Paetongtarn Shinawatra promises a new society where everyone is secure
Drugs to be an election issue as Anutin digs in insisting that attitudes must change on cannabis
Prime Minister Prayut Chan ocha reinstated by the Thai Constitutional Court in a majority verdict
Prime Minister suspended from duty by the Constitutional Court as it takes up term limit case for hearing
Kingdom engulfed in crisis with over 93% of the public saying Prayut must relinquish power now over term limit
Senator warns that Paetongtarn Shinawatra or Ung Ing, Thaksin's daughter, is wrong for the job
Legal pot does not appear to be working for Anutin's Bhumjaithai Party in latest opinion poll
About the Author
James Morris is a pename for an international writer based in Bangkok who works on various international news media. He is a sub editor with the Thai Examiner news website since it began in 2015. Son Nguyen is an international writer and news commentator specialising in Thai news and current affairs. He commenced working with the Thai Examiner News Desk in May 2018.
IL PRIMO ECOMMERCE SPECIALIZZATO IN DELIZIE AL TARTUFO E CAVIALE – CAVIAREAT.COM