Deputy Prime Minister Anutin Charnvirakul, on Tuesday, appeared to try calm tensions between the Bhumjaithai Party and Chuwit Kamolvisit but, at the same time, his cabinet colleague and Minister of Transport Saksayam Chidchob turned the heat up on the anti-corruption activist demanding that he substantiate the claims he made last week concerning the Bangkok mass transit Orange line while not ruling out legal proceedings for defamation.
Whistleblower Chuwit Kamolvisit has just thirteen days to substantiate his claims linked to allegations of irregular dealings to do with Bangkok's mass transit Orange line made last week. Speaking to reporters, on Tuesday, Minister of Transport Saksayam Chidchob did not specifically rule out the possibility of defamation proceedings if the substantiation of the claims made by Mr Chuwit to officials is not received as requested. On Monday, the whistleblower launched into an angry tirade against the Bhumjaithai Party and the brother of the transport minister, Newin Chidchob, after three officials from the Ministry of Public Health carried out an inspection at a cannabis retail concession at his hotel in the Sukhumvit area of Bangkok. The anti-corruption activist has claimed that Bhumjaithai will fail to get an MP elected in Bangkok and on Monday, criticised the party's signature cannabis deregulation initiative as a danger to young people.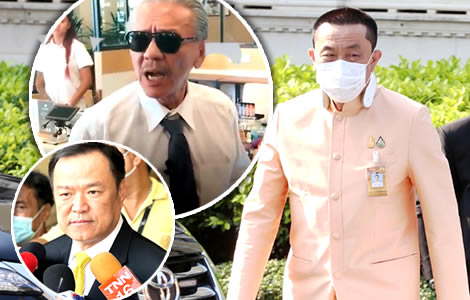 A war of words has broken out between Mr Chuwit Kamolvisit, the activist whistleblower and the Bhumjaithai Party over claims made last week relating to alleged irregularities in the Orange Line mass transit project and a raid, on Monday, by officials from the Ministry of Public Health on a retail outlet at the Davis Hotel in Bangkok which is owned by Mr Chuwit.
Dispensary 24, a cannabis retail outlet which rents space at the hotel owned by Mr Chuwit for ฿100,000 per month since October last year, was visited by 3 representatives of the Department of Thai Traditional and Alternative Medicine at the Ministry Of Public Health.
Chuwit launched into a tirade against Bhumjaithai and its deregulation of cannabis after a cannabis retail concession at his hotel was inspected
The presence of the officials caused Mr Chuwit Kamolvisit to fly into a rage and stage a live social media broadcast from the scene in which he openly questioned the government's cannabis policy and in particular its impact on younger people across the country and pointed out that in most countries across the globe, the substance was still highly illegal.
At one point, he grew so angry that he spat at images of key backers of the Bhumjaithai Party and knocked cannabis snacks and other items from the retail outlet to the ground.
He told onlookers that he was not afraid of anyone and had already been to jail three times.
The hotel owner later, reportedly, paid compensation to the owner of The Dispensary 24 outlet for his outburst.
Personal attack on the brother of Minister of Transport Saksayam Chidchob, Newin Chidchob of the Bhumjaithai Party. Vows the party will fail in Bangkok
Mr Chuwit also made personal references to the brother of Minister of Transport Saksayam Chidchob, Mr Newin Chichob, a former Prime Minister's Office minister in the Thai Rak Thai Party government of Thaksin Shinawatra from 2005 to 2006 who is also the Chairman of the popular Thai soccer team Buriram United and a key benefactor of the Bhumjaithai Party which is seeking to extend its voter base in the forthcoming election but which is, so far, facing strong headwinds in pre-election polls conducted by the National Institute of Development Administration (NIDA) showing the party polling consistently under 4%, well off the 10% to 11% it achieved in the 2019 General Election.
Last week, Chuwit Kamolvisit predicted that the Bhumjaithai Party will fail to elect an MP in Bangkok despite the party's campaign in the capital being coordinated by former Digital Economy and Society Minister Buddhipongse Punnakanta who was removed from the cabinet after being jailed by the Criminal Court in February 2021 on insurrection charges linked with violent protests and clashes against the government of Yingluck Shinawatra in 2013 and 2014.
Transport Minister says Chuwit has 13 days to substantiate the corruption claims made last week relating to his ministry linked with the Orange Line
On Tuesday, Mr Saksayam Chidchob referred to submissions made by Mr Chuwit Kamolvisit last week regarding the government's budget and the Orange Line mass transit system in Bangkok.
He suggested that Mr Chuwit Kamolvisit had been given 15 days to provide additional information in support of his allegations and that two days had already elapsed.
The anti-corruption campaigner made the claims last week as he met a key official at the Prime Minister's Office.
When pressed by reporters, the minister did not rule out a possible action for defamation against the whistleblower.
The minister said that Mr Chuwit legally now had 13 days to substantiate his claims as requested by the Ministry of Transport.
Decision on any defamation case depends on the info tendered by Mr Chuwit says Minister Saksayam
The minister said any decision on a defamation lawsuit would depend on the further substantiation of the claims made by the anti-corruption activist, one-time politician and massage parlour boss.
Asked about the social media outburst by Mr Chuwit Kamolvisit on Monday, Bhumjaithai Party leader and Minister of Public Health, Anutin Charnvirakul, told reporters before Tuesday's cabinet meeting at Government House that he accepted that the allegations being made by Mr Chuwit were motivated by political considerations.
He denied that the inspection of the shop at the Davis Hotel owned by Mr Chuwit was in any way intentional or designed to intimidate the activist saying that he has little involvement right now with the Ministry of Public Health and his role, in any event, was a policy one without interference in day to day operations.
He dismissed claims made by the Bangkok-based whistleblower who appears to be leading a one-man crusade against corruption and whose revelations and confidential information have proved accurate in the past, that the Bhumjaithai Party will not be involved in the country's next government.
Deputy PM says he is friendly with Mr Chuwit who has also been an associate in politics in the past
Mr Anutin, touted by some observers as a potential prime minister in waiting if General Prayut is returned to power, said that Mr Chuwit has been known to him for a long time and has even been an associate in politics.
He noted that their children were friends with each other and that Mr Chuwit had phoned him recently to set up a meeting for lunch.
At the same time, he disclosed that comments or revelations by Mr Chuwit cannot affect the path and work of the Bhumjaithai Party which pursues its own policies and agenda while having nothing to fear.
'Last week, Mr Chuwit just called me to make an appointment to eat. We haven't made an appointment yet. Let's talk about it. It's okay. It's normal for politics. Mr Chuwit and I have known each other for many years,' the deputy prime minister concluded.
Further reading:
Anutin rejects Chuwit's claims about Bangkok's mass transit Orange line and Bhumjaithai's election odds
PM's party lashes out at MP Rangsiman Rome's 'irresponsible' revelations in parliament last week
Corruption and the role of the unelected Senate in electing the next PM to be General Election issues
Prayut to make his move for a third term but is the battle for power already lost to Pheu Thai?
PM and Ung Ing to do battle in 2023 for the top job with public debt and the economy as key issues
Pheu Thai, Palang Pracharat coalition now a distinct possibility after the next General Election in 2023
PM upholds status quo as he seeks a path back to power with the help of the Bhumjaithai Party
3 out 4 believe that Pheu Thai will take power in 2023 with a third Shinawatra taking the reins
Court decision on electoral law is a big boost for Pheu Thai Party as Prayut remains tight-lipped
Constitutional Court voting decision a watershed moment for Thai politics says top Pheu Thai MP and whip
Uncertain politics ahead as PM reported to be planning to dissolve the House of Representatives
Prayut hails economic progress by his government but his path to reelection next summer is still unclear
Pheu Thai looking at property developer tycoon Srettha for PM role after next General Election
Possible Pheu Thai PM Paetongtarn Shinawatra promises a new society where everyone is secure
Drugs to be an election issue as Anutin digs in insisting that attitudes must change on cannabis
Prime Minister Prayut Chan ocha reinstated by the Thai Constitutional Court in a majority verdict
Prime Minister suspended from duty by the Constitutional Court as it takes up term limit case for hearing
Kingdom engulfed in crisis with over 93% of the public saying Prayut must relinquish power now over term limit
Senator warns that Paetongtarn Shinawatra or Ung Ing, Thaksin's daughter, is wrong for the job
Legal pot does not appear to be working for Anutin's Bhumjaithai Party in latest opinion poll
New Shinawatra may lead the next quest for power as Pheu Thai Party aims for 14 million members
Cannabis remains illegal as ministers push through a law controlling its use by the public after decriminilisation
About the Author
James Morris is a pename for an international writer based in Bangkok who works on various international news media. He is a sub editor with the Thai Examiner news website since it began in 2015. Son Nguyen is an international writer and news commentator specialising in Thai news and current affairs. He commenced working with the Thai Examiner News Desk in May 2018.