Metropolitan Police Bureau Investigation Chief Police Major General Theeradet Thammasuthee promised to pursue enquiries into the international links and support afforded to 25-year-old Saharat Sawangjaeng who was planning to move away from Thailand and live in South Korea before police swooped on him last Thursday and uncovered his secret identity.
Senior police at the end of last week described a resourceful and up-and-coming young Thai drug dealer whose mother has set up a drug distribution operation in France as a serious threat after senior officers revealed that Saharat Sawangjaeng had also managed to change his identity to South Korean Jimin Seong in an elaborate transformation using advanced plastic surgery procedures.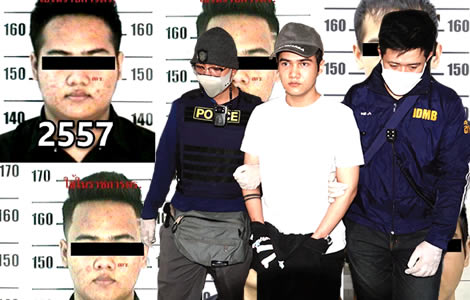 Thai police have released details on the arrest of a drug dealing suspect who attempted to change his identity to a South Korean man involving extensive plastic surgery in a similar storyline to the 1997 movie Faceoff.
In the Hollywood blockbuster however it is a Federal Bureau of Investigation (FBI) agent played by John Travolta (Sean Archer) who undergoes extensive plastic surgery to assume the identity of a criminal mastermind played by Nicholas Cage (Caster Troy) to foil a terrorist plot to set off a bomb.
Police issue arrest details and previous photos of the suspect highlighting his Korean transformation
Last Thursday, police revealed the arrest of 25-year-old Saharat Sawangjaeng who lives in the Bang Na district of the capital.
They also released a series of previous arrest photos and images from Thursday's arrest after a briefing given by Police Major General Theeradet Thammasuthee of the Metropolitan Police Bureau's Investigation division.
The Commander of the division revealed that police had arrested a Mr Jimin Seong at the condominium in the Bang Na district who, it transpired, was Mr Saharat with a new identity and face.
During the arrest, police seized two mobile phones and other valuable possessions linked with the drug dealer's extensive underground trade involving an international network.
Arrested on foot of a warrant issued on December 2nd last after a search warrant was executed that was only issued this week for his Bang Na condominium
He was arrested under Criminal Court warrant number 626/2565 issued by the Criminal Court on the 2nd December 2022 after the execution of a search warrant issued days previously in Samut Prakan.
The suspect is charged with importing and conspiracy to traffic a category one narcotic being MDMA and Ecstasy, including possession of the substance and its subsequent distribution.
The Thai man's subterfuge worked and police were unable to locate him for several months to execute the warrant until officers separately were led to his door by police work involved in tracking drug dealers and agents of Mr Saharat on the streets of Bangkok working within the illicit narcotics trade.
Police working on the case tracked him down from his ongoing drug-dealing activities in the capital
Police intelligence had discovered an 'attractive Korean man' involved in the purchase of MDMA, a synthetic and hallucinatory substance used in the production of Ecstasy pills online using cryptocurrency.
Before this, Mr Saharat was detained by police initially on an assault charge which led officers to find 2kg of the liquid MDMA and 290 MDMA pills in his possession.
After this, he went on the run and radically altered his appearance to become Mr Jimin Seong, an identity he intended to use to move from Thailand to South Korea despite having no knowledge of the language.
Bangkok in the grip of a narcotics epidemic
Senior officers of the Metropolitan Police Bureau in Bangkok, on Thursday, highlighted that Bangkok is currently in the grips of a pronounced rise in the use of illegal narcotics which poses a serious risk to the security of the state.
They revealed that they had seized 22 other assets linked to the suspect in the raid on his condominium in Bang Na while praising officers involved in the arrest for being able to trace Mr Saharat through his drug distribution activities including reviewing intelligence linked to other drug arrests in recent weeks.
They told reporters that illegal drug distribution in Bangkok is now carried out, by and large, through social media accounts and channels with delivery firms used to transport parcels from one location to another.
It is understood that the seizure of 2.5 kg of MDMA contained in a shipment on November 11th 2022 played a key role in this case. The narcotics had been ordered online by the suspect and paid for in cryptocurrency.
Undercover operation in which a policeman posed as a delivery agent on social media for a seized drug package led to last week's arrest and unmasking
It was a key breakthrough that led to the drug dealer's apprehension this Thursday.
Police sent an undercover officer online fronting as a delivery service and looking for a Mr Jimin Cheong to deliver the drugs shipment.
This led to the drug suspect revealing himself and his location in Bang Na for which police applied to the Samut Prakan Provincial Court on February 23rd for a search warrant.
The suspect admitted his original identity and his address in Bangkok Noi including his plans to relocate to South Korea to investigating officers under interrogation.
Mother of the accused involved in a drug importation scheme in 2011 from Pakistan and later moved to France but remains a drug trafficking player says son
He told the police his mother who was involved in a drug shipment of pills from Pakistan in 2011 had recently moved to France and had set herself up in a drug trafficking business using the dark web and cryptocurrency to trade in illicit narcotics.
Police Major General Theeradet told reporters that they believed Mr Saharat was a serious player and represented a serious threat.
'This villain knows how to cut off official investigation channels very well and has surgery to change the face to disguise himself from the pursuit of officials. And with this assailant only 25 years old, he has the capacity to mastermind European drug imports. It is believed that he was assisted in many foreign countries which we will now extend our investigation into looking at.'
Further reading:
Manhunt: Renegade drug dealing soldier has broken out of a military prison in Lampang province
Drugs showdown in the works bound to prompt memories of decisive 2003 crackdown by Thaksin government
UK man on a tourist visa arrested for offshore gun terror and serious drug charges on Ko Samui after day out
Golden Triangle drugs threat aired in parliament, claims of senior police officers being involved in trafficking
Danish man arrested, facing charges after Pattaya drug dealing sting at local hospital coffee shop
Nigerian drug dealer betrayed in Phuket as local police receive tip-off that led them to his arrest
Criminal probe launched in Bangkok after six drug users were found dead after suffering acute cardiac issues
Gamblers and hosts at illegal gambling dens are being jailed as massive crackdown proceeds apace
Sadistic murderer 'Ice Metal Casket' sentenced for rape of a woman at gunpoint in latest conviction
Ministry asks Covid-19 unit to halt travel from the UK over new 'Kent' strain found among a family
Top Thai and US drug suppression officials warn of the use of cryptocurrencies in the drug trade
2-year-old shot dead by gold robber Thursday night as 3 die, 4 injured in mass shooting with silencer gun
Bizarre and macabre tragedy in Udon Thani as deranged man murders his wife and daughters over college debt
Death sentence for a serial murderer who killed 5 including his pregnant wife and her father in a family row
Parents call for the execution of man who murdered two young teachers at their Rayong home for a motorbike
Drug police put retraction behind them to smash billion baht Myanmar drug operation in Bangkok raid
Use of cocaine and cannabis is still highly illegal in Thailand with very serious legal consequences
Sex, drugs and alcohol as Chiang Rai party-goers arrested in the midst of the growing virus emergency
One of the biggest drug dealers in the South flees home as Thai police and army move against him
Evil drugs trade in Songkhla sees Thai woman burned alive by her family for 300 grams of ice missing in village
Thai man burns down his family home: Thailand's drugs problem is still a very real threat to society
54-year-old woman battered to death by drug-addicted son as neighbours feared to intervene
About the Author
Carla Boonkong is a magazine writer who writes extensively about woman's issues in Thailand. One of her key subjects is the story of Thailand's growing influence in the world and the role played by Thai women in the process. She is now a staff writer with Thai Examiner.com in Bangkok. Son Nguyen is an international writer and news commentator specialising in Thai news and current affairs. He commenced working with the Thai Examiner News Desk in May 2018.