Traveling has never been easy for vegetarians, specially in south east Asia. When I planned my much awaited trip to Malaysia, little did I know that finding appetizing meals would be very tough. Though I was carrying Maggi and Top Ramen on a friend's suggestion, I was also looking forward to explore the traditional cuisine but sadly, there aren't many options. Without a proper vegetarian's guide to Malaysia, your trip will be a culinary nightmare like mine was.
In this piece, I talk about best vegetarian restaurants and food joints in major cities, dishes you must order there, and smart tips to deal with days when you can't find decent options around. No matter what sort of food is offered in popular Malaysian tour packages, you should be ready with your own meal map and make sure that you are full and set to go out at all times.
Top Vegetarian Restaurants In Kuala Lumpur
Being one of Malaysia's major tourist destinations, Kuala Lumpur offers a myriad options for the vegetarian travelers. This is a global city, where restaurants and food joints are established in every street and finding healthy vegetarian options is not an issue. The number of pure veg restaurants is good which means life is much sorted for those who don't like eating in a place where non-veg food is cooked.
1. Gopala Vegetarian Restaurant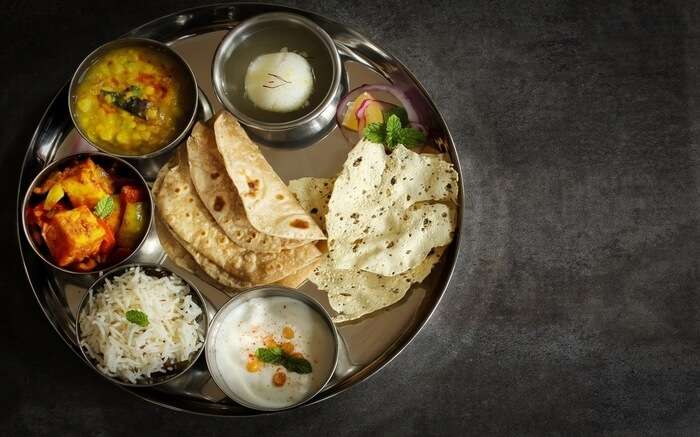 What better way to begin than listing an Indian restaurant as first in this handy vegetarian's guide to Malaysia.
While in Malaysia, if you feel the urge to feast on some delicious authentic Indian food, Gopala Vegetarian Restaurant is the place for you. It is a small yet popular restaurant with extensive food options, serving Indian (mainly), Chinese, and Malay cuisines. The restaurant is run by Hare Krishna devotees and is thus strictly vegetarian. So, why not head here to satiate all your food cravings at once?
Must try: Vegetarian platter
Location: 241, Jalan Tun Sambanthan, Brickfields
2. Annalakshmi Vegetarian Restaurant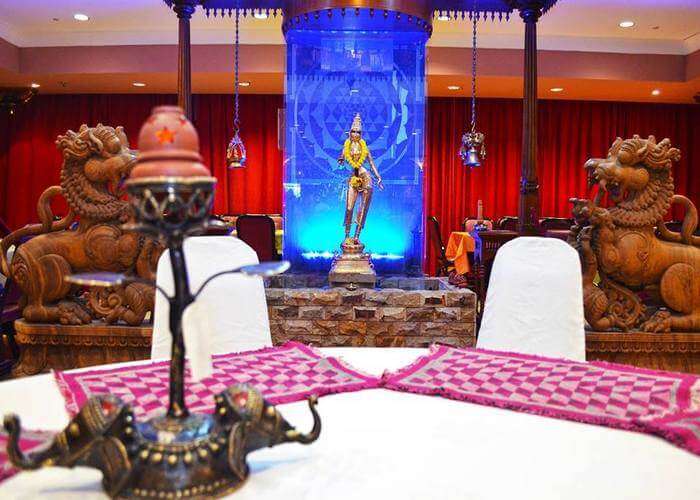 Annalakshmi is newly constructed and serves delicious Indian food. A part of the Temple of Fine Arts, the restaurant is a non-profit establishment that has been around since 1984. There is no price mentioned in the menu, allowing the visitors pay as much as they want; and the food is finger-licking good! Doesn't this sound amazing? Well, trying the food here will be equally as good as they say! Be sure to visit on your next trip!
Must try: Palak Poori
Location: 116, Jalan Berhala, Brickfields
Must Read: 10 Best Places For Shopping In Malaysia: Street Stores To Lavish Showrooms
3. Simple Life Healthy Vegetarian Restaurant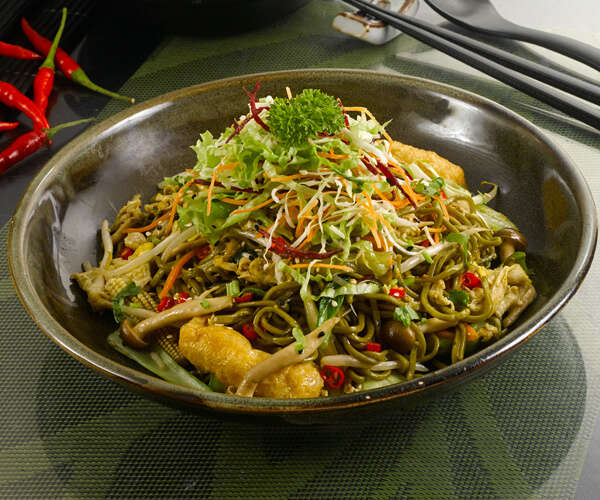 Serving quality vegetarian food, Simple Life Healthy Vegetarian Restaurant is one of the best vegetarian restaurants in Kuala Lumpur. The meals are organic, and you have quite a lot of options to choose from. The multi-cuisine food joint serves pizzas, rotis, noodles, beverages and juices that are 100 percent fresh. The authorities say their food does not contain any MSG, coloring, or trans fat. So, what's better than some healthy delicacies, waiting to be tried by you?
Must try: Thai style bean curd with multi grain rice
Location: 50 Jalan Sultan Ismail
Other vegetarian restaurants in Kuala Lumpur: Other than the ones mentioned, The Ganga Cafe, Bakti Woodlands Vegetarian Food Cafe, Water Lily Vegetarian Restaurant, and Barat Mediterranean are among the best vegetarian food joints in the city.
Must Read: 10 Top Things To Do In Kuala Lumpur
Top Vegetarian Restaurants In Cameron Highlands
Cameron Highlands' scenic beauty leaves everyone awestruck. It is a major tourist destination with many fancy restaurants that actually has less variety for vegetarians. Smaller eateries offer more variety and are extremely affordable.
1. Restoran Sri Brinchang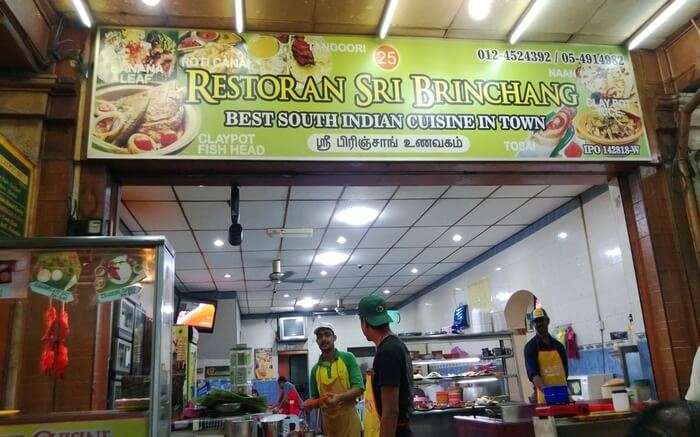 One of the highest rated vegetarian restaurants in Cameron Highlands, Restoran Sri Brinchang makes for a great pick for an appetizing lunch or dinner (even breakfast). Though it is not fully vegetarian, the choice is quite spoiling for the vegetarians. You can taste some delicious Indian cuisine here at pocket-friendly prices. Your budget vacation will be so much better with restaurants like these. So, why not give this a try too?
Must try: Masala Dosai
Location: 25 Main Road, Tanah Rata
Suggested Read: Try These 12 Malaysian Street Food Dishes And You Wouldn't Want To Come Back!
2. Cameron Organic Produce Steamboat Restaurant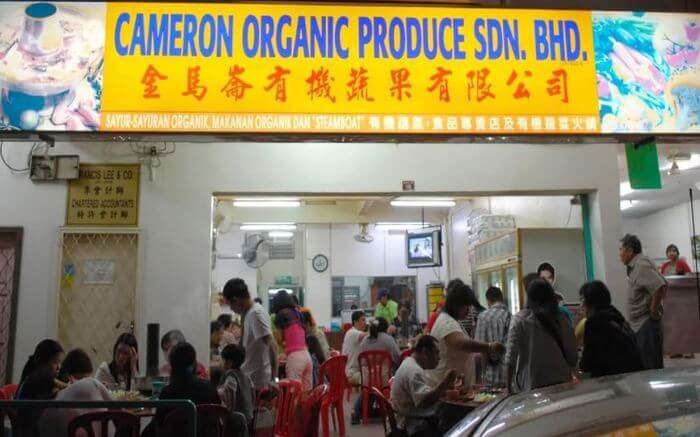 As the name suggests, this vegetarian restaurant in Cameron Highlands serves organically prepared Chinese meals. The vegetables are fresh, sauces are awesome, and the service is quick at the Cameron Organic Produce Steamboat Restaurant. If you're into spicy food, make sure you inform the waiter beforehand. (They add little salt to the preparations) This restaurant will surely be on the top ones to try in this scenic land of Malaysia and you can soak in more than just beach vibes in this paradise!
Must try: Soup
Location: 10, Bandar Baru, Brinchang
Other vegetarian restaurants in Cameron Highlands: Restoran Bunga Suria, Kumar Restaurant, Strawberry View Restaurant, and Barrack cafe are some of the best-rated food joints in Cameron Highlands. This vegetarian's guide to Malaysia would be incomplete without mentioning them all!
Suggested Read: 15 Best Resorts In Malaysia That Are Downright Alluring
Top Vegetarian Restaurants In Langkawi
Yet another tourists' favorite, Langkawi is dotted with many restaurants and cafes. Finding a vegetarian food joint here is never an issue. However, similar to Cameron, purely-veg restaurants here are quite few.
1. Xin An Vegetarian Cafe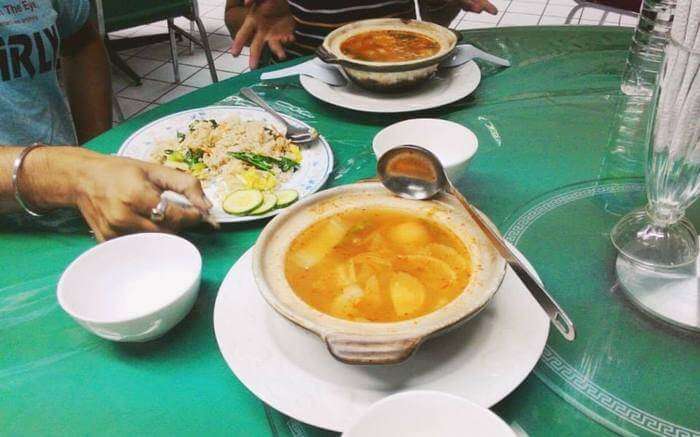 One of the few purely vegetarian food joints in Langkawi, Xin An Vegetarian Cafe serves flavorsome Chinese cuisine at affordable prices. The ambiance isn't too grand but it makes for a nice budget meal before you decide to hit the beach or visit other attractions in Langkawi.
Here, you have both buffet and a'la carte options (however dinner is a'la carte only). The owners of the restaurant also run a travel company, so if you happen to have a word with them, they might provide special discount in activities like boat tour.
Must try: Spring roll
Location: No. 33, Pusat Dagangan Kelana Mas, Kedah, 07000 Kuah
2. Tulsi Garden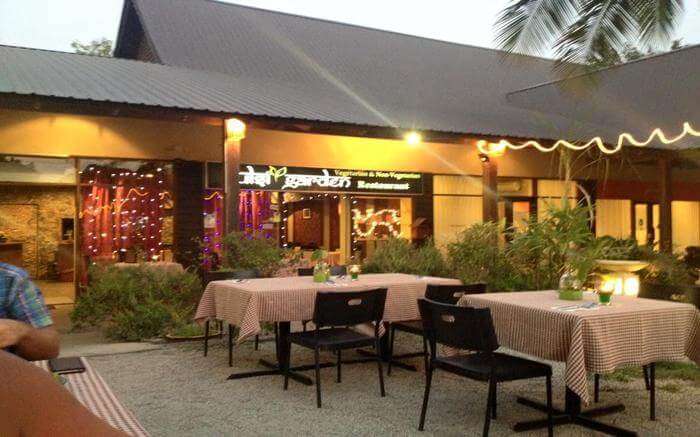 Tulsi Garden is a vegetarian food joint in Langkawi with a brilliant ambiance with indoor and outdoor dining areas and also a bar. We recommend al fresco in the evenings! It serves North and South Indian dishes, which is a delight for Indians traveling to Malaysia. The staff is friendly and speaks in English, Tamil, and Malay, so language is not a barrier.
Must try: Veg biryani, pakoras
Location: Jalan Pantai Tengah
3. Fat Cupid – Cafe & Restaurant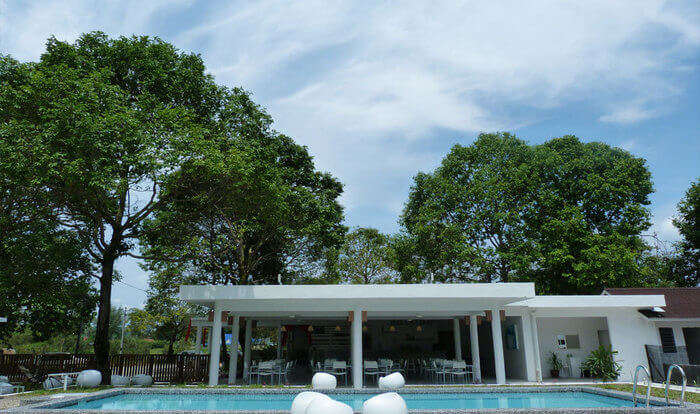 With chic seating beside the pool, Fat Cupid flaunts minimalist charm. It is part of a villa accommodation named La Pari Pari. This is a multi-cuisine restaurant, which is not purely-vegetarian but you have many options to choose from. Whether you want to enjoy local Malay delights, traditional Chinese, or modern Australian dishes, this is the place to be!
Must try: Pizza Bianco
Location: Lot 2273 Kampung Tasek Anak, Jalan Pantai Tengah
Other vegetarian restaurants in Langkawi: Alongside the mentioned food joints in this vegetarian's guide to Malaysia, some of the best vegetarian restaurants in Langkawi are Yellow Beach Cafe, The Fat Frog, and Sagar Restaurant.
Suggested Read: New Malaysian Visa Policy For Indians: Get Free E-Visa For A 15-Day Stay, That Too Within 48 Hours!
Must-Try Pure Veg Dishes In Malaysia
There are some dishes you just cannot resist having on your vacation, be it anywhere. So, why wait in Malaysia for a vegetarian delicacy to soothe your hunger pangs. Take a look to know more!
1. Indian cuisine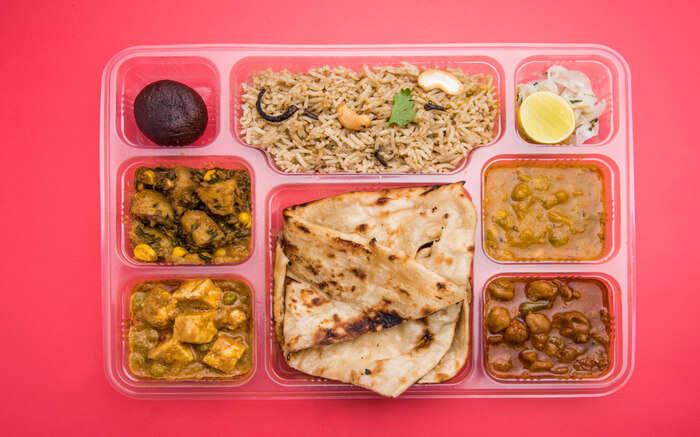 In Malaysia, South Indian dishes are a little more popular than North Indian delicacies. Many South Indian restaurants serve cuisines from Kerala and Tamil Nadu, and most of these are cooked by traditional South Indian chefs. So, you can expect Indian taste while gorging on vegetarian food in Malaysia. If you're wondering, 'Where can I find Indian vegetarian food in Malaysia?', this is surely the place to be!
Dosa, Idli, naan, and paneer dishes are served in all Indian/vegetarian restaurants in Malaysia.
2. Chinese cuisine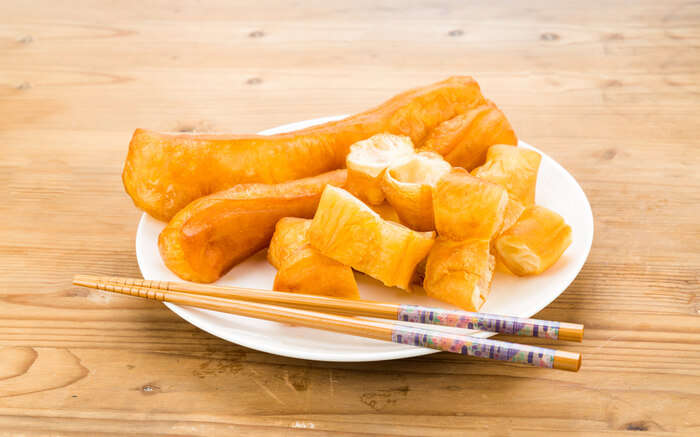 Unlike Indian food, Chinese food doesn't quite really have a massive variety for the vegetarians. However, this doesn't come as a barrier for trying out new dishes. Due to religious beliefs the Chinese people tend to refrain from eating non-vegetarian. The Chinese vegetarian food is mainly about 'mock meats', and it indeed is delicious.
Noodles, spring rolls, fried cake, and mixed rice are commonly available in Chinese restaurants of Malaysia.
3. Malay cuisine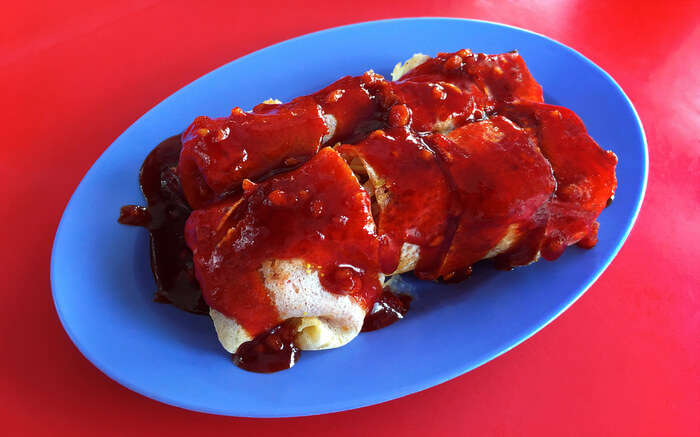 Malay cuisine offers a fair share of options to vegetarians. Since Malay is Malaysia's dominant ethnic group, this cuisine is easily available in every nook of the country. It is mainly about coconut curries and spicy sambals however some vegetarian dishes might have some non-vegetarian ingredients. It's always a smart move to let the waiter know what you cannot eat. Since, this is one of the best option if being a vegetarian in Malaysia, you wish to try the local cuisine, be sure to check out the Malaysian vegetarian restaurants in this land!
Kerabu salad, Nasi lemak, and Nasi goreng are a few dishes that taste good without meat and are easily available at food joints across the country.
Tips For Tegetarians Traveling To Malaysia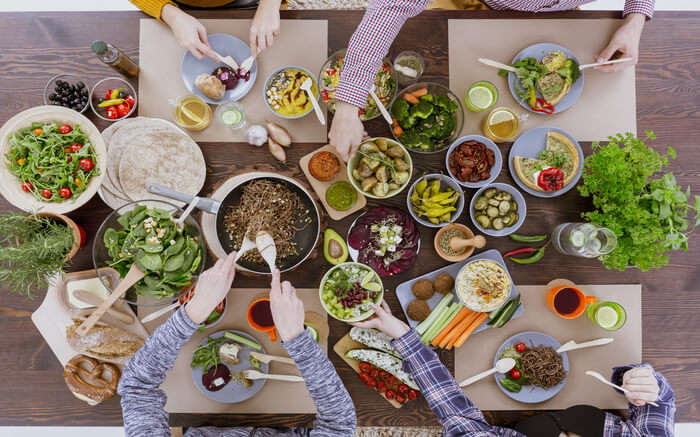 Always keep ready-to-cook food in stock, such as Maggi and Top Ramen.
Do your research well in advance. Look for vegetarian restaurants near your hotel and near the tourist attractions you'll be visiting. Make sure you save the ones with highest rating (or as per your preference) in your Google Map. This will make navigation easy and save you last minute hassles of finalizing a place to eat, while you're having hunger pangs.
Don't eat anything that is labelled as 'Telur', if you're not comfortable eating eggs.
Look for ingredients even if you buy snacks such as chips and chocolates. Many a times, chips contain chicken or meat flavors.
Always talk to the waiter before ordering anything. Tell him that you are a vegetarian, and are not okay with eating even eggs, if you aren't. Many restaurants add eggs to vegetarian salads and dishes, since they don't consider eggs as non-veg.
Malaysia's fruits like mango and avocados are rich and delicious. And there are many vendors that sell freshly-cut fruit platter, fried bananas. You can always buy some extra for a long day.
If you're traveling on a budget or solo, opt for staying in a hostel. The hostels usually have kitchenettes, where you can cook your own food.
It's always great if you research well about local ingredient and key phrases in local language.
Further Read: Malaysia Honeymoon Guide To Answer All Your Travel Queries
When I took my dream trip, I had no such vegetarian's guide to Malaysia. Hope this comes in handy for your trip to Malaysia!
---
Looking To Book An International Holiday?
Book memorable holidays on TravelTriangle with 650+ verified travel agents for 65+ domestic and international destinations.