A European holiday often means summer vacation, but along with it comes the baggage of high costs and more crowds! A fantastic alternative to that is to explore Naples in winter! The Naples weather in winter is, in fact, an ideal time to explore these locations as it's not hot and sweaty like in summer, and it doesn't even snow much leaving you with pleasant weather. We have put together a guide for you to explore Naples in winter and enjoy a fun-filled vacation
Take A Peek In This Guide Via Quick Links
Why Visit Naples In Winter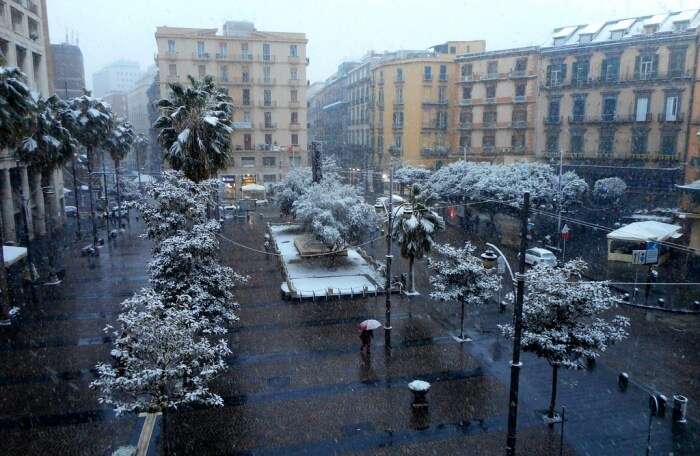 Mild winters in Naples – If you are wondering what is winter like in Naples Italy, it is nothing like the far northern Europe which is plagued by snow! Of course, the city is experiencing global warming effects, and there was snow in 2018, but the city rarely experiences snow.
Lesser crowds and more local interaction – The best thing about Naples during winter is that it attracts very few international tourists. Most of them visit Naples to experience its beaches and islands, but there is more to Naples than just that. You can enjoy the museums, trip to Mount Vesuvius and Pompeii, and enjoy the relaxed Neapolitan life and live like a local.
Easy on the budget – If you plan your visit properly, you can enjoy massive discounts on airfare and accommodation options. Fares go down by almost 50% thanks to the drop in demand by international tourists. You can splurge more on shopping, activities, and workshops on your trip.
 15 Things To Do In Naples In 2022 – An Italian City That Lives Art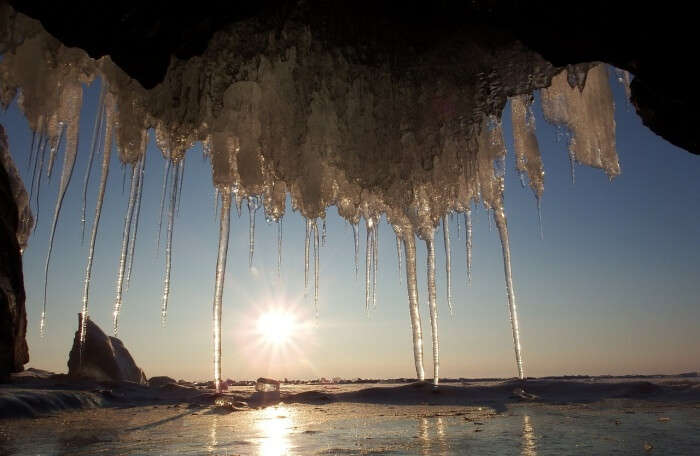 The Naples weather in winter is generally cold and rainy. The winter months last from November to February, although the city does not experience snow, just a lot of rain! The average daily temperatures are around 14° during the day and go down to about 5° in the night. The lowest temperature at the peak of winter in December end has been 10° while the nighttime temperatures in January dip as low as -1°.
Even the daylight reduces due to the Naples Italy winter temperature. In November the day time starts from 10.5 hours of sunlight in a day to an average of 9.5 hours of daylight in January. The sun rises around 7:15 AM and sets around 4:30 PM. This means all your outdoor activities need to be planned accordingly.
Top Things To Do In Naples In Winter
There is a lot of rainfall, but mostly the weather is pleasant through winter, making it a breeze to enjoy the sights of Naples without the heat. Here is what you can do
1. Visit The Scene Makers At Their Workshops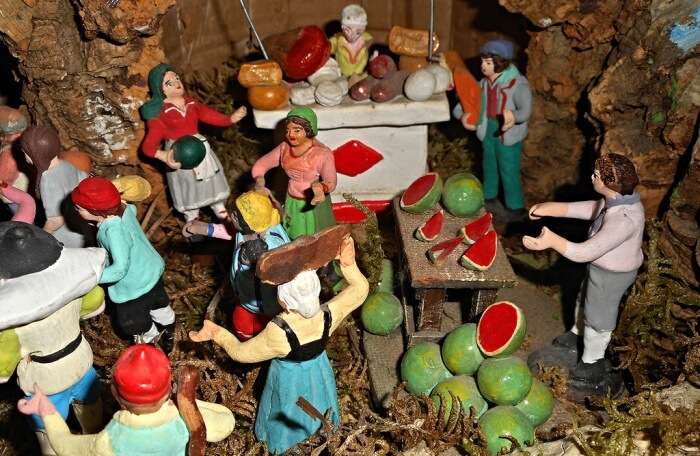 A walk through the Via San Gregorio Armeno might seem like a visit to Santa's workshop! The entire lane is dedicated to the craft of crib making, especially the Neapolitan Crib which is famous across Europe. The best time to visit it is in November before Christmas when the artisans are working towards creating the miniature dolls, houses, and other crib decorations. Buy yourself a souvenir here!
 New Year In Italy 2022: For A Refreshing Start To The Most Happening Event In This Scenic Land!
2. Enjoy Shopping At The Christmas Markets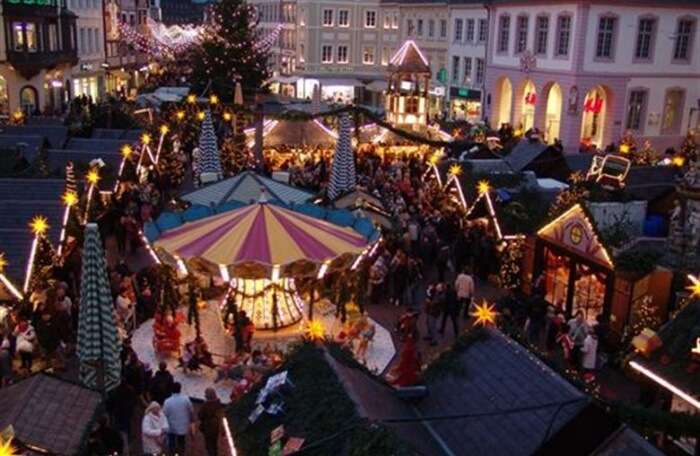 One of the best things to do in Naples Italy in winter is to go on a shopping spree. You can enjoy shopping at the sales of the biggest Italian designers like Gucci, Louis Vuitton, and Cartier which have boutiques in Naples. Some of the shopping districts in Naples are Via Chiaia, Via Toledo, and Vomero. February is the last of the winter months and also experiences lesser rainfall. On this day, the city is filled with hearts and flowers, and almost every restaurant offers discounts and special packages for couples.
Naples In April 2022: Discover Ancient Castles And Soak In The Italian Sun
3. Get Sweets From The Befana On The Epiphany Eve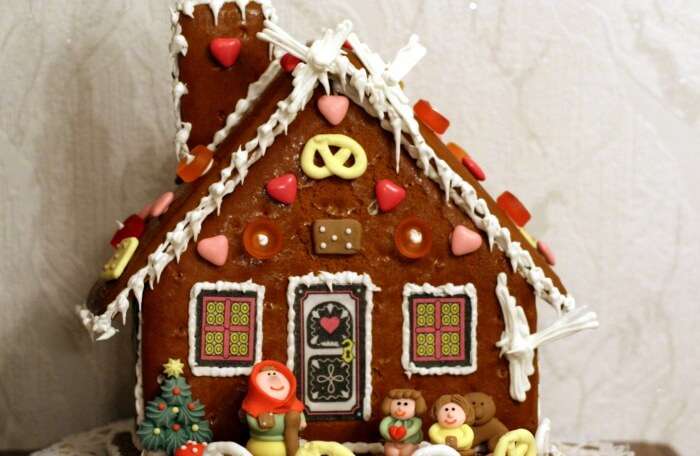 Every year Epiphany Eve is celebrated on the 6th January, it is the day when Neapolitan children get a visit from Befana, a good witch who distributes chocolates and sweets. She is in search of Jesus and ensures every kid get their sweets; she is the Neapolitan version of Santa Claus! The Piazza Mercato is filled with sweet sellers and families with children out to celebrate the day. The weather is pleasant and one of the best days to celebrate love is Valentine's Day.
 6 Museums In Italy Across 6 Cities. Which One Will You Choose For Your European Adventure?
Top Places To See In Naples In Winter
Now, the most important part of any vacation is sightseeing. While going to the beach is a thing in summers, here is what you can see in Naples during winter:
Visit Mount Vesuvius And Pompeii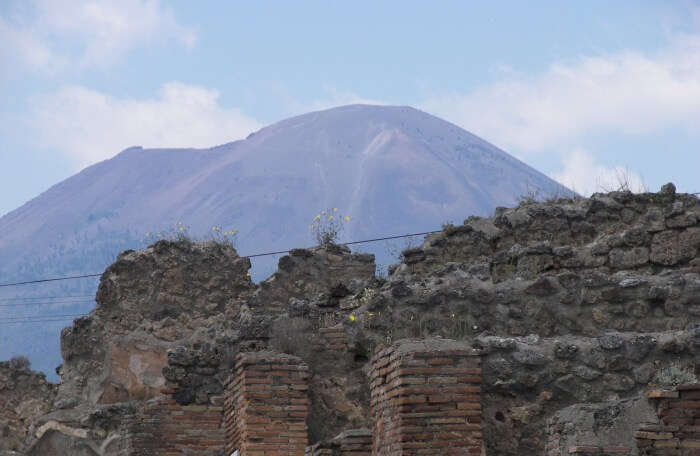 Mount Vesuvius is the only active volcano in Europe and is a mighty force of nature. You can hike up to the summit of the mountain or just watch it from the base in the Mount Vesuvius National Park. The summit is often covered with snow at the peak of winter. Another addition to this tour is a stop at Pompeii which has ruins from the volcanic eruption when the entire city was destroyed.
Explore The Castles And Palaces Of Naples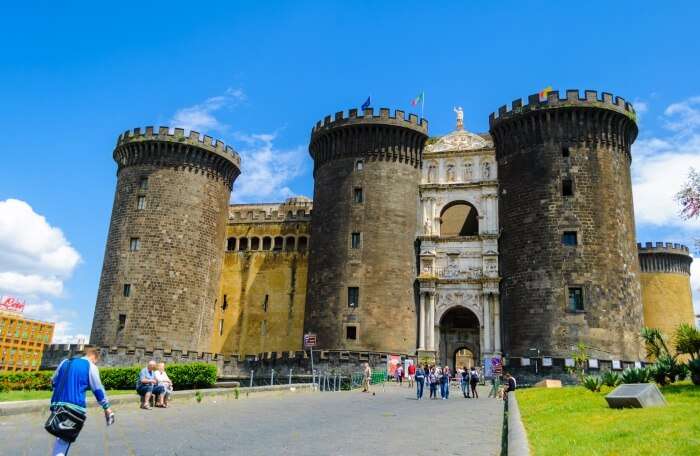 The old historic city center of Naples is a UNESCO World Heritage Site and has been protected and lived in by many kingdoms through the millennia. You can explore the Castles like Castel Nuovo, Castel Dell'Ovo, Castel Sant'Elmo and palaces like Royal Palace of Naples on your visit to Naples in winter. The weather is perfect to enjoy without sweating from the hot sun and the gloomy weather makes for great photographs of the ancient buildings.
 Shopping In Italy 2022: 6 Best Places For The Shopaholics To Indulge In An Extravaganza
Discover The Phlegrarean Fields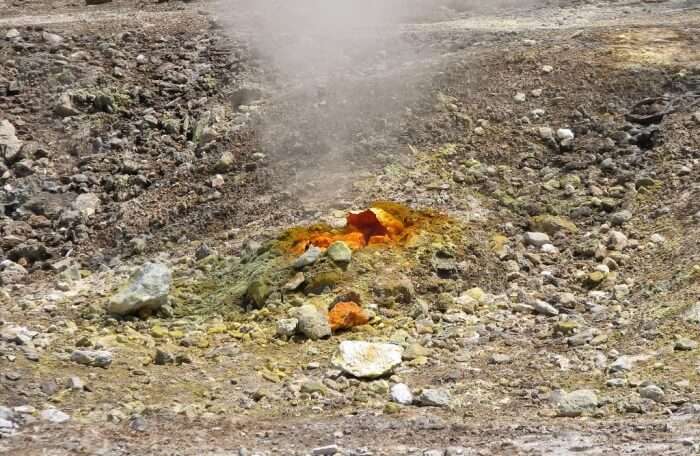 Probably the best time to venture near a hot volcano is during winter! Go on a visit to the Phlegrarean Fields where you can witness volcanic activity and fumes rising from the earth. The area around the fields has several attractions including Pozzuoli Solfatara, the crater which ancient Romans believed was the house of God of Fire Volcan; the Roman Amphitheatre, Sybil's Cave in Cuma, Piscina Mirabilis and Lake Avernus which was myths say was the entrance to the underworld of Hades.
Best Places To Stay In Winter
There are a number of places you can stay at in Naples. But as winters demand more care and comfort, we suggest you pick a good hotel instead of a hostel.
1. Grand Hotel Vesuvio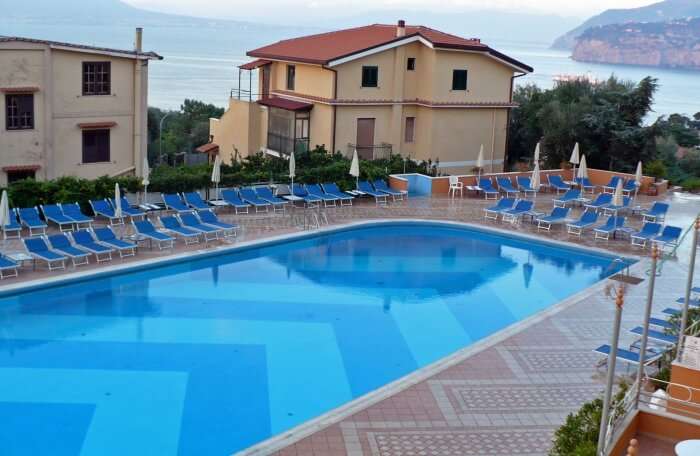 The Grand Hotel Vesuvio is one of the most premium hotels in Naples. It is also one of the oldest hotels in the city and offers picturesque views of the harbor. The hotel has been running since 1882 and is the only 5-star hotel in the city. Its plush interiors and luxury decor make it a wonderful stay, and there is a good likelihood of bumping into celebrities! The cozy rooms with fireplaces and indoor heating make it an ideal place to stay in Naples in winter.
Location: Via Partenope 45, 80121, Naples, Italy
Cost per night: INR 20,000/-
Tripadvisor Ratings: 4.5/5
Tripadvisor Reviews
2. Week-end a Napoli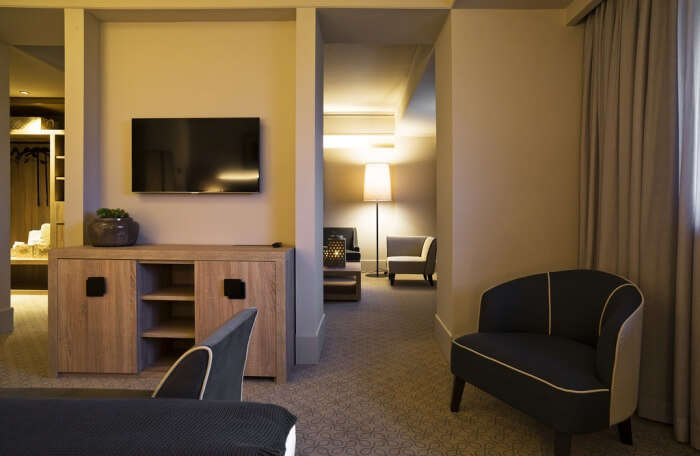 The Weekend a Napoli is one of the best budget hotels in Naples. The boutique hotel is exquisitely designed with modern amenities and an impeccable design taste. You will find travel memoirs and treasures all dotting the beautiful rustic interiors. The hotel has suites as well as rooms, and stepping into the hotel feels like being embraced in a warm hug! It is the best place to stay in Naples in winter and enjoy the comfort of a home away from home.
Location: Via Enrico Alvino 157, 80129, Naples, Italy
Cost per night: INR 6,000/-
Tripadvisor Ratings: 5/5
Tripadvisor Reviews
 10 Tourist Places In Italy That Are Sinfully Gorgeous
3. Hostel Of The Sun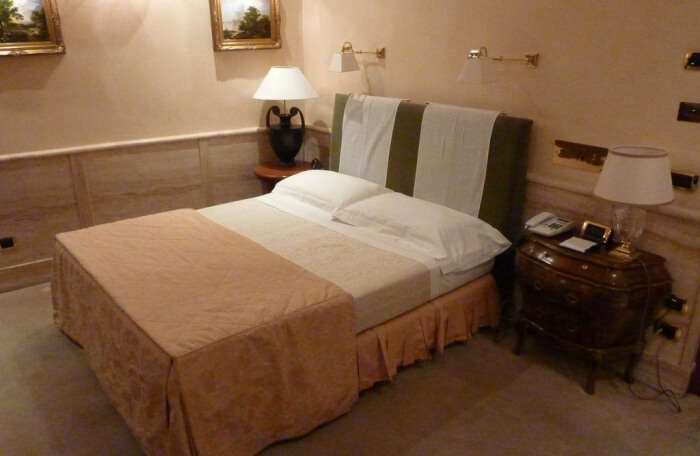 If budget is a concern then choose to stay the winter at the Hostel of the Sun. It is one of the highly rated hostels in Naples and offers travelers a comfortable and safe accommodation at incredibly cheap rates. The colorful and bright interiors and the hospitable staff will make you feel comfortable even in the worst rainy days of the winter in Naples! The hostel is close to the ferry terminal and bus stop to travel to other cities so you don't have to worry about lugging your backpack everywhere.
Location: Via Guglielmo Melisurgo, 15, 80133 Napoli NA, Italy
Cost per night: INR 1,200/-
Tripadvisor Ratings: 4.5/5
Tripadvisor Reviews
Food To Eat In Naples In Winter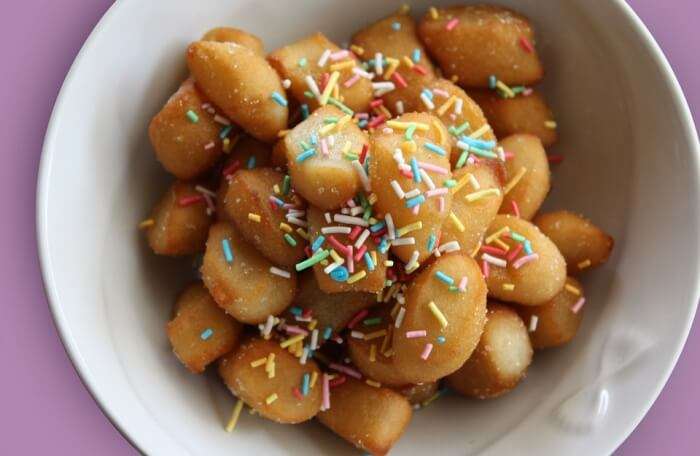 Capitone – A capitone is an eel, and everywhere around Christmas time you will find eels in fresh and fish markets. The eel is supposed to be the symbol of Satan, which is why most Neapolitans fry or bake the eels and eat at Christmas. It's a surprisingly delicious dish and garnished with fresh herbs.
Spaghetti With Clams – Seafood is quite popular in Naples all through the year, but during winter one of the most common dishes you will find are clams. And a favorite way of eating them is with spaghetti; most restaurants serve the spaghetti with a red sauce.
Neapolitan Ragu – Ask any waiter for a specialty and they will refer you to the creamy and wholesome delights of the Neapolitan Ragu, a beef gravy dish that is perfect to keep you warm during the winters. It is spicy and heavy, which is why it is eaten mostly during winters.
Struffoli – Deep-fried balls of sweet dough! Who would not like something like that to munch on during rainy days? This is a classic Italian dish and mainly found in Naples during winter, especially around Christmas time. You will find it in bakeries and is best eaten hot!
Honeymoon In Italy 2022: Full-Fledged Guide To Plan Your Romantic Voyage
What To Pack For Naples In Winter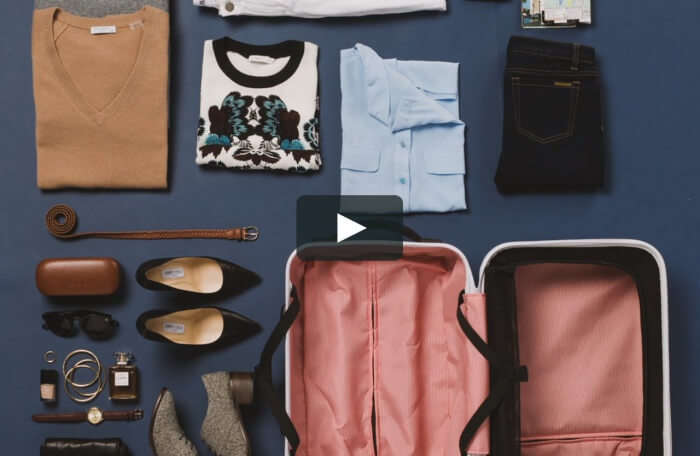 Winters in Naples mean both cold and rain, this is why you need to plan for two layers of clothing. The outer layer of clothing needs to be rainproof, bring along a rainjacket, windcheater, waterproof boots, gloves, and an umbrella if you feel comfortable using it.
The inner layers need to be warm and snug to keep away the cold. Bring layers of clothing so that you can adjust according to the temperature for the day. Pack woolen sweaters, woolen socks, and scarves for Naples during winter.
Italian are stylish folks and if you wish to blend in make sure you are carrying dress clothes. Especially if you are attending Christmas Mass or visiting churches and elegant dinners in fine-dining restaurants, make sure you wear dress clothes. Don't wear shorts or jeans everywhere you go!
These Best Things To Do In Italy That Are Truly Exclusive
Naples is known for its historical landmarks, art and culture, and the entire volcanic arc of Campania including the Mount Vesuvius and Phlegerean fields. After this guide, All geared up to visit Naples in winter? Enjoy the discounts and low airfare to witness the best of the country on your next trip to Italy. Book your package with TravelTriangle!
Disclaimer:  TravelTriangle claims no credit for images featured on our blog site unless otherwise noted. All visual content is copyrighted to its respectful owners. We try to link back to original sources whenever possible. If you own the rights to any of the images, and do not wish them to appear on TravelTriangle, please contact us and they will be promptly removed. We believe in providing proper attribution to the original author, artist or photographer.
Please Note:  Any information published by TravelTriangle in any form of content is not intended to be a substitute for any kind of medical advice, and one must not take any action before consulting a professional medical expert of their own choice.
Frequently Asked Questions About Naples In Winter
What is Naples famous for?
Naples is famous for its Neapolitan cuisine which is synonyms to pizza and was an original invention of the city. The city has the greatest number of accredited stars and the place is also famous for its best sports team known as Serie A Club S.S.C.
How many days do travelers need in Naples?
A minimum of 3 days are enough if one wishes to take a quick tour of the city. During this trip, one can also explore Sorrento. Travelers can plan their trip accordingly but on a 3 day vacation one can choose to cover the Amalfi Coast, Pompeii and the town of Sorrento.
What food is Naples famous for?
Being an Italian city, Naples excels in the variety of Italian cuisines offered. One can try seafood that includes spaghetti alle vongole and risotto alla pescatora. Some of the popular pasta recipes include timballo (pasta pie), pasta e patate ( pasta in potato soup) and pasta e fagioli.
Is Naples good for families?
Yes, Naples is a great holiday destination for families. The city is relatively safe with a very low crime rate making it a popular tourist destination in Italy.
What is the best area to stay in Naples in Winters?
Centro Storico, Quartieri Spagnoli, Vomero, Chiaia and Piazza del Plebiscito are some of the best places to stay in Naples in winters. To experience the best nightlife, travelers must choose to stay in Vomero. You can enjoy stunning views of Centro Storico from the city and the Gulf of Naples.
Does Naples metro go to airport?
Naples airport is located only a few kilometers away from the downtown city. The city has a main train station Naples-Central-Station with a high speed train that connects Naples with Rome in less than an hour from where one can access the airport easily.
When should I go to Naples?
Although one can explore Naples almost any time of the year but the best time to visit Naples is during the spring season. And if you are snow person then you must visit Naples in winter to see the whole city blanketed with snow.
Comments
comments