On a vibrant historic plaza, brimming with Andalusian charm, La Fonda honours its rich heritage and extraordinary history, blending traditional architecture dating back to the 16th century in a modern sanctuary that epitomises the essence and elegance of Marbella.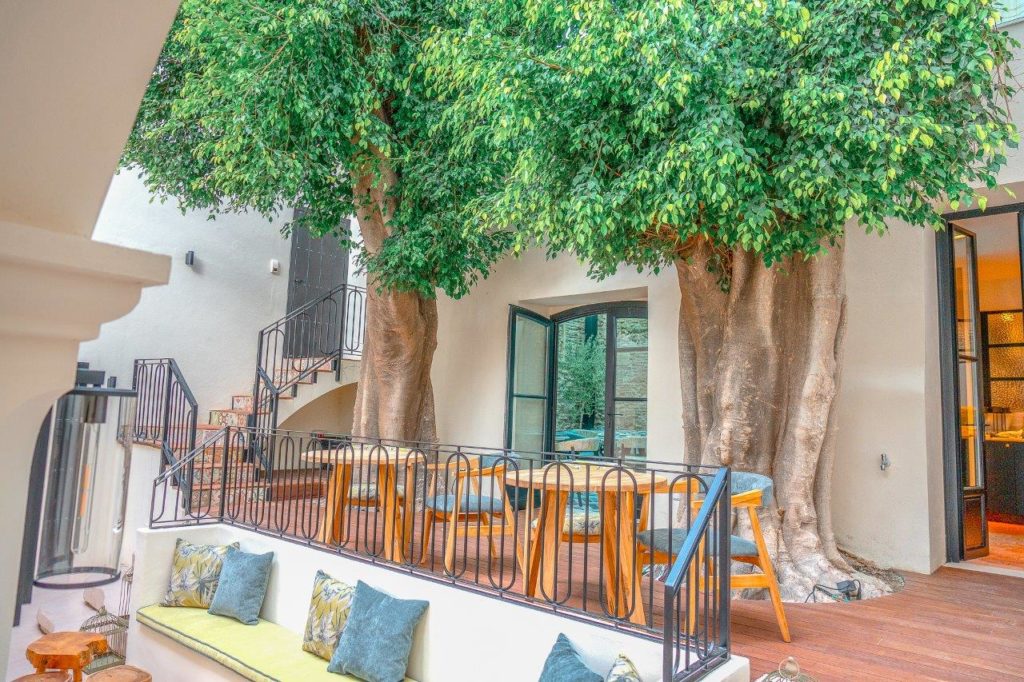 A journey through the centuries
Comprising three meticulously restored historical buildings, this landmark was once a private residence, and also served as a church and a school, before the well-known designers, Jaime Parlade and Duarte Pinto Coelho, transformed it into a luxurious hotel in the 60s, eventually becoming the first Michelin-star restaurant in the city, during the late '80s.
A window into Marbella´s ´Golden Years´, La Fonda became an important meeting place for intellectuals, artists and socialites, which played a significant role in the area's tourist development.
During the recent renovation project to restore La Fonda´s architectural splendour, archaeological excavations unearthed one of the most extraordinary discoveries in the city in recent years, the altar and nave of the 16th-century Church of San Sebastian; as well as structures from the Nasrid period, dating back to the 13th century.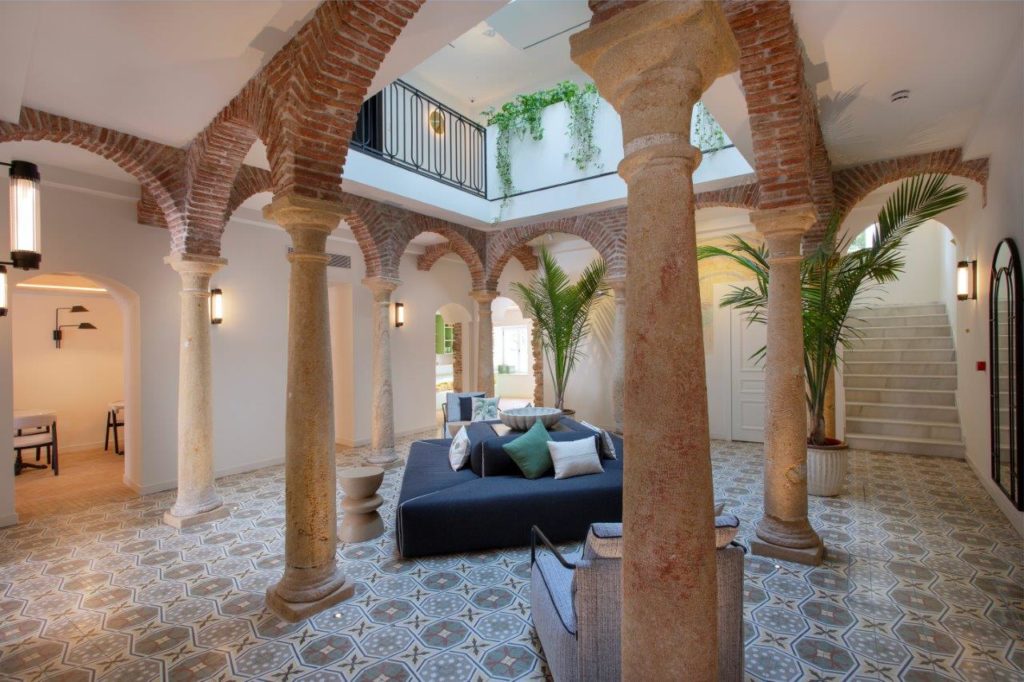 "Relais & Châteaux values the preservation of history and recognises the same ethos and attitude in La Fonda Heritage Hotel´s commitment to conserving the building and restoring its architectural magnificence," said Rui Silva, Director, Member Services – Spain & Portugal of Relais & Châteaux. "We commend La Fonda´s passion for its history and vision for the future. These shared ideals are of significant importance in our collaboration with the hotel."
Adrian Gilbert, Co-owner of La Fonda, said: "Our team is honoured to open the first Relais & Châteaux hotel in Andalusia, an association known for its pursuit of excellence, its magnificent properties, and its dedication to preserving local heritage. We are deeply committed to the same values as Relais & Châteaux, exuding a passion for our craft and forging warm, lasting relations with our guests. We look forward to a flourishing and thriving future." 
Old and new come alive
La Fonda has been restored to its former glory, retaining its original features, ancient walls and murals, whilst contemporary design, exclusive amenities, fine dining and understated elegance have brought this boutique hotel gleaming into the 21st century.
Traditional floor tiles are juxtaposed against glass walls and stylish modern decor. Magnificent archways open onto courtyards, and ancient trees rise through the hotel, offering shade to the delightful patios where guests can enjoy breakfast in the dappled, morning light.
Combining the building´s rich history with plush furnishings, lush green vegetation, and state-of-the-art technology, La Fonda blends the past and present to mark its revival and celebrate its continuation as a Marbella landmark.    
Dining destination
Home to a trio of exquisite restaurants, La Fonda features a variety of dining experiences, including its signature restaurant, Jane – where Andalusian and Mediterranean local produce are combined with global flavours.
From fascinating culinary techniques to unusual cooking methods, Executive Chef Pascal Silman has reimagined dishes and envisioned avant-garde taste sensations with the world as his canvas. Boasting an impressive open kitchen and three separate dining areas, including the beautiful 16th-century Church of San Sebastian, Jane offers a sensational dining experience in a unique setting.
You can read more about Executive Chef Pascal Silman in The Luxury Editor news story here.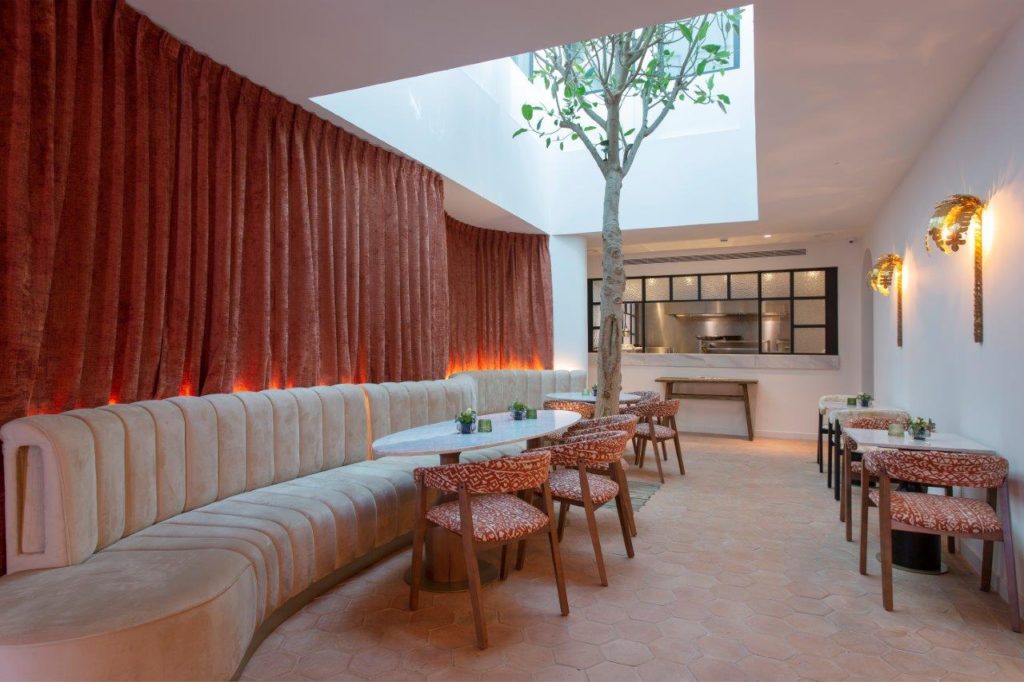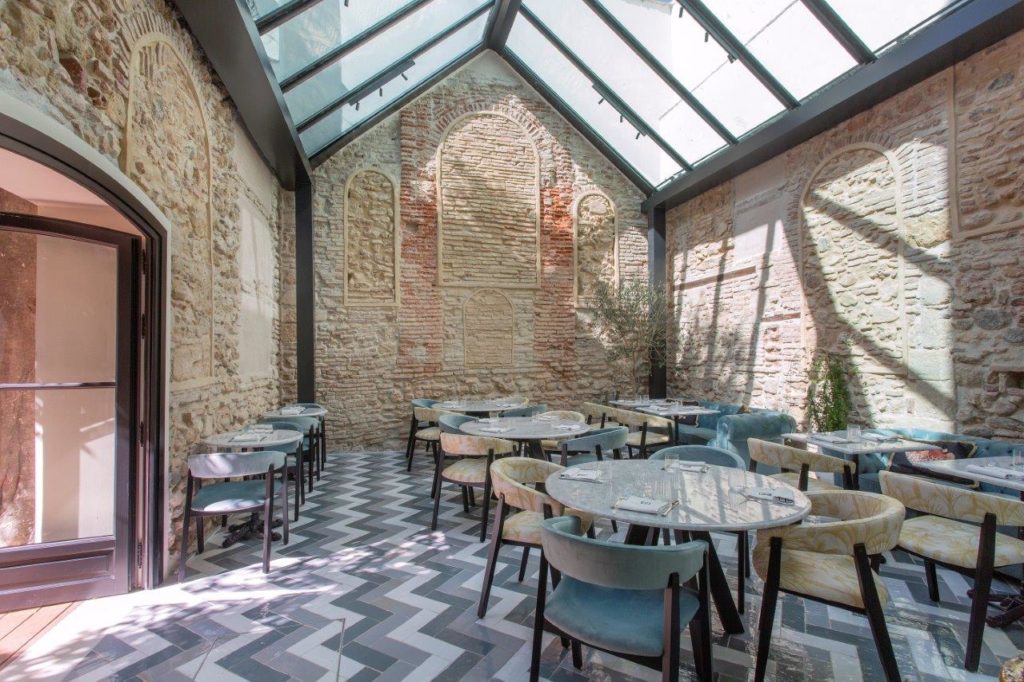 La Fonda also boasts a stylish sky bar where one can enjoy Champagne cocktails, oysters and a raw menu, under the night sky, perched above the city below.           
In the mornings, the charming courtyard terraces, Los Patios de La Fonda, afford a delightful spot to enjoy coffee and breakfast on the leafy patio; and throughout the day, a creative and deliciously crafted brunch menu is available.   
Co-owner, Lauren Gilbert, highlights the hotel´s dining venues, which she believes to be the jewels in La Fonda´s crown. "It is rare to find a boutique hotel that is home to not only one, but three distinct dining options. I believe that our restaurants and lounges offer an experience that truly sets us apart and will provide an exciting addition to Marbella´s lively social scene. Whether sipping cocktails above the city's bright lights or soaking up the fun and flair of Jane – La Fonda offers a stylish, hip venue for hotel guests and Marbella's cosmopolitan crowd in the heart of Old Town."
Contemporary rooms & suites
With 20 unique rooms, including three suites, all the rooms at La Fonda are impeccably furnished, offering sleek bathrooms, old-town views and original character. Accessed by covered passageways that look over the courtyards, each room boasts its own individual characteristics and charm. Some have expansive terraces, others feature traditional balconies overlooking the square, and others sit high above the rooftops of Marbella.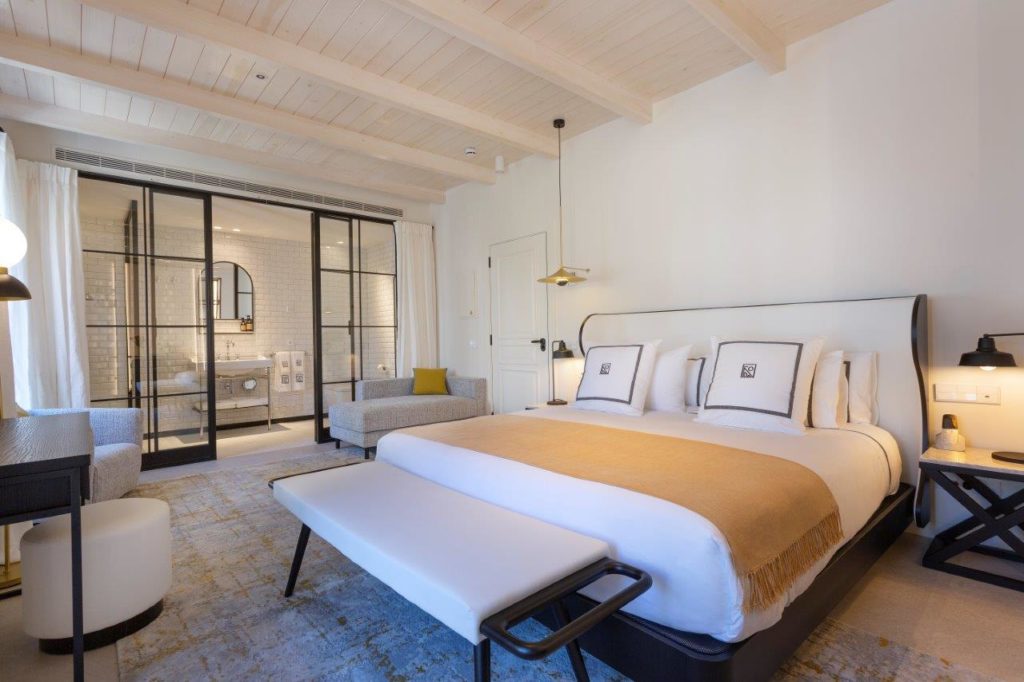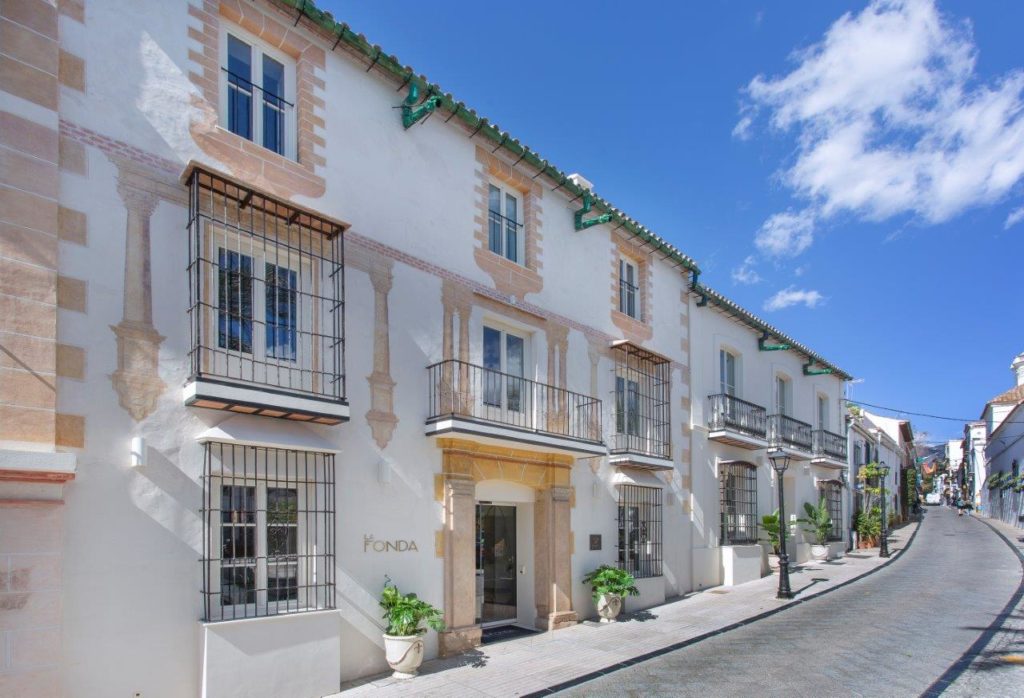 For culture and history enthusiasts, The Heritage Suite is certainly the most unique room in the hotel, home to the original dome of the Church's dressing room and 18th-century mural paintings of angels created in honour of La Virgen de Los Remedios, offering guests the opportunity to sleep in a carefully-restored slice of history.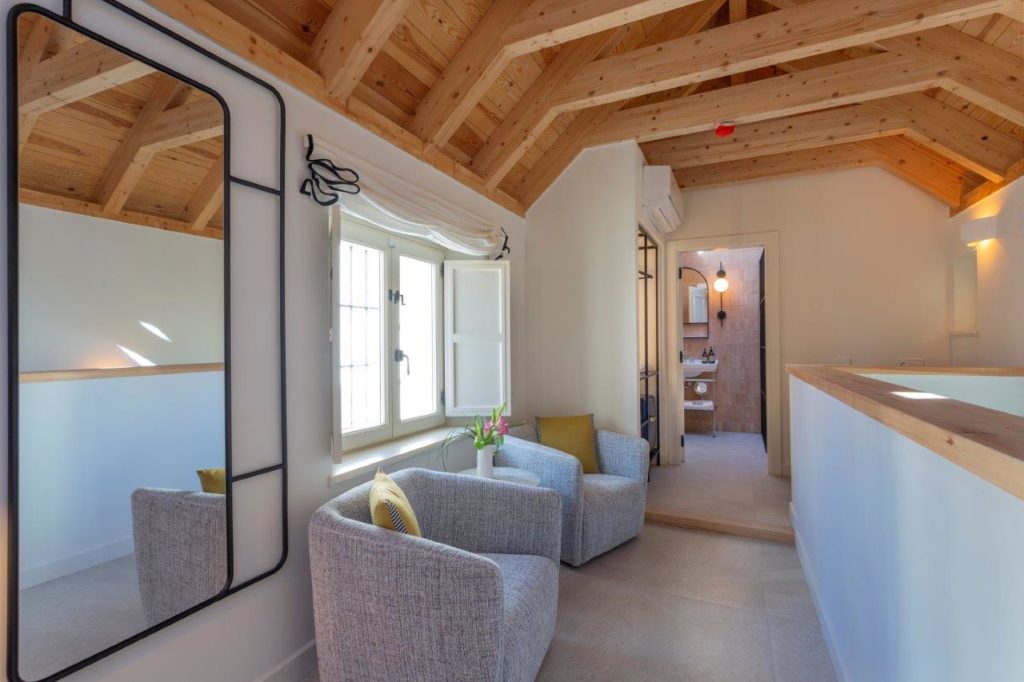 The Loft Suite affords a private hideaway to retreat and relax above the world. With wooden beamed ceilings, large skylights offering plenty of natural light, and a balcony overlooking the neighbourhood, this suite is a peaceful refuge for luxurious loft living.
Relais & Châteaux
The boutique hotel now oozes with chic contemporary design, but still retains all of its original soul that honours hospitality, values outstanding gastronomy and cherishes lasting relationships. As the first Relais & Châteaux hotel in Andalusia, the team at La Fonda are deeply committed to the same values, exuding a passion for their craft and forging warm, lasting relations with their guests.
Experience Andalusia
From wine tasting and olive pressing to flamenco dancing and private walking tours around Marbella's Old Town, guests will discover Andalusia's rich culture and passion with La Fonda's carefully created experiences. Whether embarking upon a delightful excursion through Ronda's olive groves and vineyards or sipping wine with tapas on the hotel's leafy patio, La Fonda experiences allow guests to soak up the energy, flavours and colours of the region.
Read our guide to the best luxury hotels in Marbella
Find Out More
Address: Plaza Santo Cristo 9 & 10, Marbella 29601 – Spain
Website:  www.lafondaheritagehotel.com