Home to the iconic Taj Mahal, Agra is a destination of culture, tradition, and intriguing history. Traversing through the Mughal era are its monuments that hold numerous stories. Apart from being historically rich, the destination is also renowned for high-end as well as economical restaurants serving scrumptious Indian flavours. From Mughlai to North Indian, you can find a wide range of delicacies at the best restaurants in Agra. The famous restaurant Peshawri serves some of the best non-veg dishes, whereas restaurants like Urban Deck and Dasaprakash treat your palates with lip-smacking vegetarian dishes. So, if you wish to gratify the gastronome in you, have a meal at any of these restaurants and enjoy a soul-satisfying trip to Agra.
8 Best Restaurants in Agra to Relish True Flavours
While exploring the charm of Agra, if you are hungry, these restaurants will surely pamper the foodie in you. Have a meal at any of these best restaurants in Agra for a cherishable dining experience:
1. Peshawri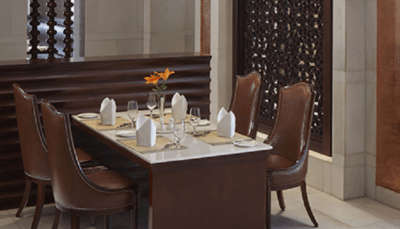 ITC Mughal's signature restaurant, Peshawri is an ideal pick if you wish to have a luxurious dining experience. One of the best restaurants in Agra, Peshawri serves food from the North-West Frontier region. All the chefs are experienced and have masters in cooking with a tandoor that makes the delicacies highly-flavoured. Although the restaurant does not serve curries, they offer a wide selection of kebabs and tikkas that are cooked in clay tandoors. Open for lunch and dinner, the well-lit dining area of the restaurant has a capacity of 90 guests.
Must-try food: Sikandari Raan, Phirni, Breads, Dal, Rasmalai
Cost for two: ₹ 6,000
Zomato rating: 4.5/5
Top 20 Things To Do In Agra To Explore The True Beauty Of Home Of Taj In 2022
2. Jhankar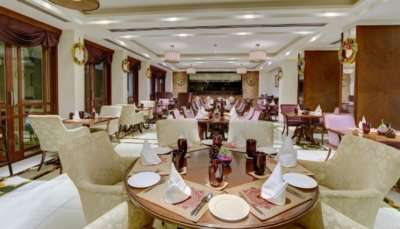 Image Credit: Seleqtions Hotels
Counted among the top restaurants in Agra, Jhankar is a place where you can treat your taste buds with authentic Indian delicacies. The restaurant impresses its guests with elegant decor and a huge menu including vegetarian and non-vegetarian dishes. The skilled chefs pick herbs and vegetables from the restaurant's own kitchen garden. Another captivating element of the restaurant is the live music. So, get ready to witness some spectacular musical performances while munching on sumptuous dishes.
Must-try food: Aloo Dum Chutney Wale, Magazi Murgh Korma
Cost for two: ₹ 2,000
Zomato rating: 4/5
3. The Salt Cafe Kitchen & Bar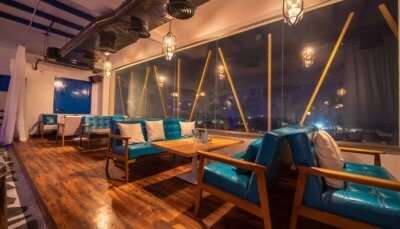 Featuring a Greece restaurant-style setup, The Salt Cafe Kitchen & Bar is an ideal spot if you want to have a drinking and dining experience together. The white and blue terrace area along with the contemporary decor and a lively bar completes guests' experience. The menu includes primarily Chinese and Continental delicacies, most of which have an Indian tinge. So, if you are in the city make sure to stumble upon The Salt Cafe Kitchen & Bar which is one of the most famous restaurants in Agra serving delectable meals and spectacular vows of the Taj Mahal.
Must-try food: Szechuan Chicken, Paneer Lahori Masala, Dragon Rolls, Mezze Platter, Dahi Ke Sholey
Cost for two: ₹ 1,000
Zomato rating: 4.9/5
20 Places To Visit In Agra: Explore the City Beyond Taj Mahal In 2022
4. Esphahan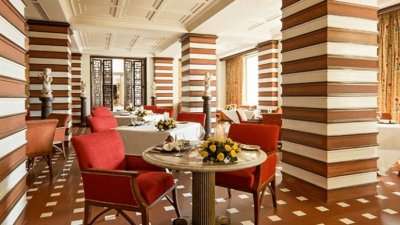 Ideally positioned inside the iconic Oberoi Amarvilas hotel, Esphahan is one of the best restaurants in Agra where guests can indulge in a fine dining experience. Whether it's the food, ambience, hospitality, or decor, the hotel excels in everything. Some may find the menu to be less extensive as compared to other restaurants, but each delicacy presented in the menu is sure to pamper your taste buds. It is recommended to book the table beforehand as the restaurant has only two seating ones that are 7:00 p.m. and 9:00 p.m. While gorging upon some flavoursome dishes, you can also enjoy listening to live santoor music that will make your experience all the more memorable.
Must-try food: Paratdaar Paneer Tikka, Lahori Dum Aloo, Jheenga Malai Curry, Murgh Makhni
Cost for two: ₹4,000
Zomato rating: 4/5
5. Dasaprakash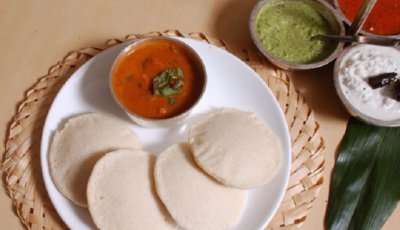 When you are craving South Indian cuisine, head to Dasaprakash. The owner of the restaurant opened it in the memory of his father and decided to serve some authentic South Indian delicacies. The menu allows you to choose your meal from a wide range of dishes. The USP of the restaurant lies in its extravagant 'thalis' that consist of an eclectic blend of dishes that also include ice cream desserts. So, if you are seeking affordable places to eat in Agra, stop by Dasaprakash that will surely impress you with its South Indian food, and ambience.
Must-try food: Spicy Coriander Dosa, Guliappa, spicy vada sambar, Uttappam,
Cost for two: ₹ ₹550
Zomato rating: 4.2/5
5 Popular Hot-Spots Serving The Most Famous Street Food In Agra
6. D'Delicia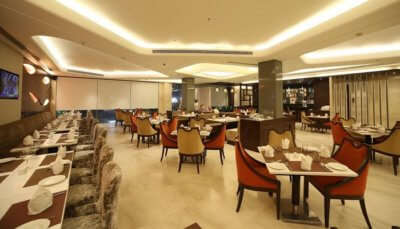 Image Credit: D'Delicia for Facebook
If the foodie inside you wants to dine at a buffet-style restaurant, make sure to drop by D'Delicia. While being one of the famous restaurants in Agra for families as well as couples, the hotel takes pride in its extensive menu, delightful ambience, and impeccable Buffet Spread. The restaurant strives to impress its guests with Italian and Chinese cuisines prepared with flavoursome ingredients. Some of the dishes that guests frequently order here include paneer tikka, good dragon rolls, and aloo firdaus jaika. Moreover, there's also a huge spread of desserts offered here like fudge brownies, gulab jamun, and ice cream.
Must-try food: Surkh Chicken Tikka, Nawabi Tangdi Kebab, Indonesian Paneer Satay
Cost for two: ₹ 1,600
Zomato rating: 4.5/5
7. Urban Deck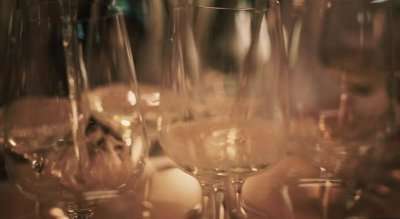 Image Credit: Urban Deck for Facebook
Located on the rooftop of Hotel PL Place, Urban Deck offers an array of Indian delicacies and drinks that are worth trying. The restaurant boasts numerous elements that make it one of the best restaurants in Agra. The decor of the restaurant is curated while keeping in mind a conventional style and rustic look. In order to give you a top-notch drinking and dining experience, the restaurant also serves air-conditioned PDR and next-to-pool cabanas along with an open bar. If a rooftop dining experience is in your mind, then your quest ends at Urban Deck.
Must-try food: Mutton Rada, Martaban, Paneer Masala
Cost for two: ₹ 1,600
Zomato rating: 4.2/5
Taj Balloon Festival 2021: Here's What You Need To Know
8. The Palm Burj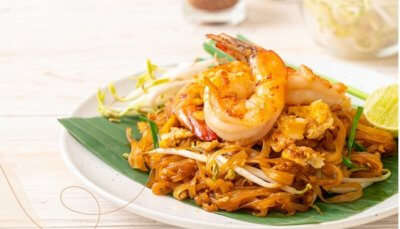 Image Credit: The Palm Burj for Facebook
If you are in search of delectable Chinese and Indian cuisine, plan a lunch/dinner at The Palm Burj. The service and the hospitality of the restaurant are quite up to the mark. Besides this, the huge menu designed for guests with several taste buds will surely leave you spoilt for choice. If you are not up for a widespread meal, simply order dumplings along with soup that has been quite popular among visitors. So, whether you want to enjoy a meal with your better half or have cherishable family time, this restaurant truly deserves to be considered.
Must-try food: Crispy Spicy Avocado, Habibi Soya Chaap, Butter Garlic Prawns, Smoked Chicken
Cost for two: ₹ ₹1,800
Zomato rating: 3.8/5
Always ready to lure epicures, these best restaurants in Agra will definitely impress you with their flavoursome delicacies and a soothing ambience. You can easily find a blend of Indian and Chinese cuisines, making your experience absolute bliss. So, plan a trip to Agra soon with TravelTriangle and give your vacation an extra edge.
For our editorial codes of conduct and copyright disclaimer, please click here.
Frequently Asked Questions About Best Restaurants in Agra
Which are the best restaurants in Agra?
The top-rated restaurants where you can enjoy a perfect culinary experience include:
1. Jahanpanah
2. Lakshmi Vilas
3. Joney's Place
4. Esphahan
5. Dasaprakash
6. Pinch of Spice
7. Shankar Ji
8. Jhankar
Which street foods should I try while visiting Agra?
During your visit to Agra, make sure to try street foods like Bedai and Jalebi, Bhalla, Paratha, Petha, Mughlai Delicacies, Jalebi, Shawarma, Tandoori Chicken.
Is it safe to visit Agra during Covid times?
Yes, you can plan a trip to Agra without having to worry about the current situation. However, make sure to abide by all the government rules. Wear a mask whenever going out or in a crowd, maintain social distancing whenever required, and sanitize your hands at certain intervals.
Which are some top rooftop restaurants in Agra?
Offering a perfect rooftop dining experience, here are some restaurants where you can visit with your loved ones:
1. Urban Deck
2. Beep Uncensored
3. Hichkee
4. Seven Hills Rooftop Restaurant
5. Sky Grill
6. Glassy
7. Unplugged Courtyard
Where should I visit in Agra for a fine dining experience?
Some are the top-rated restaurants offering luxury dining include:
1. Bellevue
2. C'est Chine
3. Paatra
4. Checkers
5. North 27
6. Taj Mahal Restaurant
7. Anise
8. The Mughlai Room,
9. Mughlai Gazebo
People Also Read:
Restaurants in Solan Restaurants in Patiala Restaurants in Bhavnagar
Comments
comments