While Canada is the ultimate bucket-list destination to experience the great outdoors in all their glory, from majestic snow-capped mountains to pristine glacial lakes and surreal landscapes, the country has many more fantastic travel experiences up its sleeves. Along with their distinct culture & art, each Canadian city also boasts of lip-smacking local foods that are sure to tantalise the taste buds of every discerning foodie. From British Columbia's farm-to-table meals, food trucks and scallops to Quebec's poutine and BeaverTails, Montreal's bagels & smoked meats and the lobsters from Maritime Provinces, Canada offers a smorgasbord of local gastronomic delights.
Along with these delectable dishes, Canadian desserts introduce you to a whole new world of decadent & irresistible sweets that will leave you asking for more. Let us indulge your sweet tooth cravings and introduce you to the indulgent world of popular Canadian desserts prepared with simple ingredients and a whole lot of love.
10 Best Canadian Desserts
These 10 desserts in Canada will not only pamper your sweet tooth to the core but also leave you craving for more. Take a look and note down the names so that you don't miss out anything on your next trip.
1. Nanaimo Bar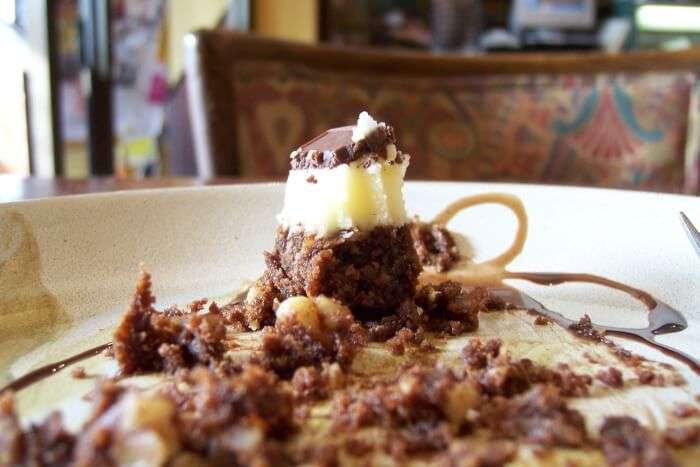 Canada's iconic 3-layered dessert looks as good as it tastes and is named after the city in British Columbia where it originated many years ago, thought the first recipe dates back to 1953. This no-bake treat loaded with the yummiest ingredients has earned its place amongst the most iconic Canadian desserts, so much so that a 39-stop Nanaimo Bar Trail in the city of its origin invites you to try its different avatars across town! This fudge with a zing has the lowest layer made of chocolate, graham cracker crumbs and nuts/coconut to give it a crunchy finish, while the middle layer is thick custard topped with a delicious chocolate ganache upper layer.
Foodie tip: You must try interesting variants that include mint, mocha and other flavours in the middle layer and are served in the form of cupcakes, martinis or rolls.
Must Read: 10 Top Indian Restaurants In Canada To Savor Authentic Indian Curries
2. Butter Tarts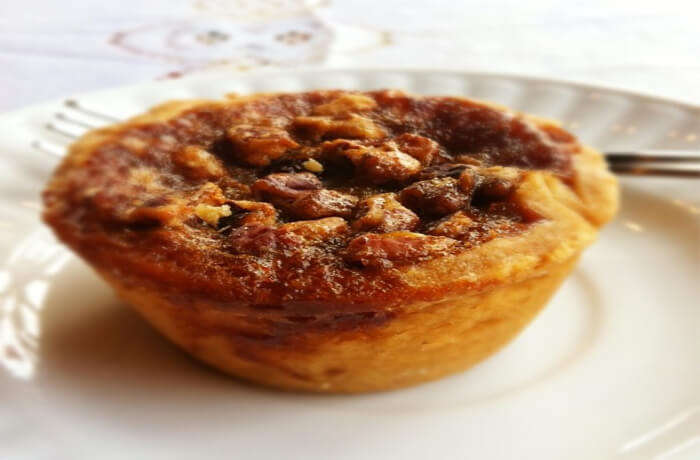 These bite-sized sweet delights are the most popular amongst traditional Canadian desserts which are being baked at Canadian homes since the 1700s when early settlers came in. This signature Canadian dessert has a flaky exterior and a gooey filling (usually maple syrup and raisins) that has the power to transport you to sugary heaven almost instantly! Considered an important part of the Canadian history and heritage, butter tarts are available at most bakeries and grocery stores and are obsessed over by locals and tourists alike. With festivals, tours and trails dedicated to this yummy treat, there's no way you can escape the irresistible charm of one of the most popular Canadian desserts.
Foodie tip: Today butter tarts are available in gluten-free avatar in the form of ice-creams, cup cakes and even beer!
3. Blueberry Grunt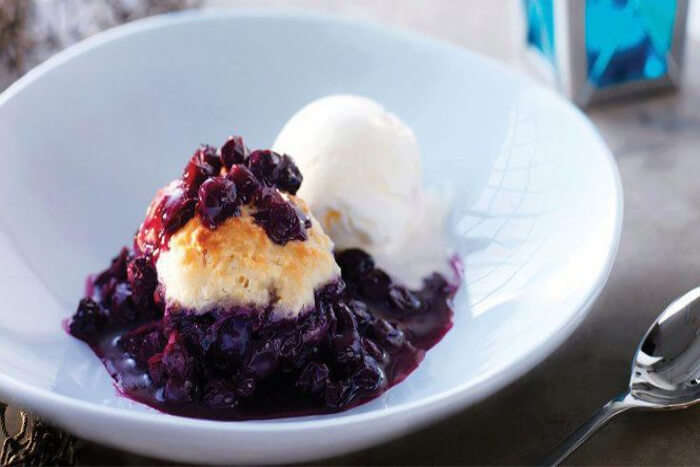 There's nothing to be disgruntled about the name of one of the classic Canadian desserts from the East Coast. 'Grunt' simply refers to the sound of blueberries when they're being slow cooked in an open pot with water and sugar. Having originated in Nova Scotia, the dessert is now popular in most Canadian cities as it combines the fruity goodness of blueberries topped with simple flour and butter dumplings. Believed to be the favoured treat of men who built the Prince of Wales Fort on Hudson Bay, this historic dessert was initially served with a simple biscuit or dumpling. The modern-day versions available in restaurants and cafes usually pair the warm stewed blueberries with a scoop of vanilla ice-cream.
Suggested Read: 10 Mosques In Canada Whose Beauty Will Overwhelm You
4. Pouding Chomeur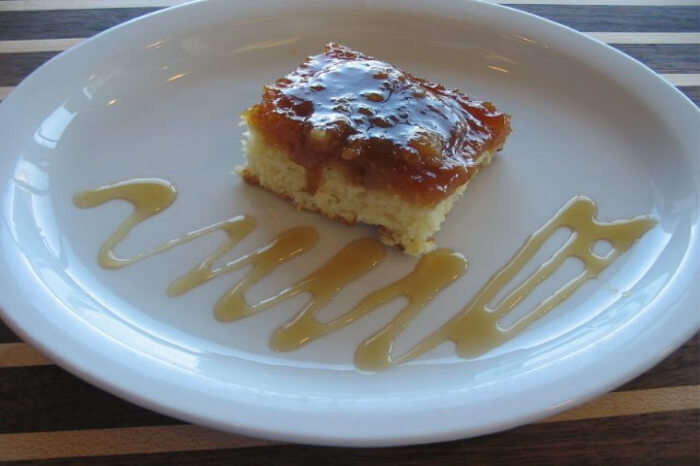 Literally translated to 'unemployed man's pudding' this simple and delicious sweet tops the list of traditional French Canadian desserts that melt in your mouth with every spoonful. This yummy dessert elevates the humble cake batter to another level by adding hot caramel sauce to the baking pan. The caramel sauce soaks down to the bottom during baking, making the final product taste heavenly. It was first whipped up by female factory workers during the Great Depression in Quebec, and has attained iconic status hence. The maple syrup added to caramel for sweetness gives this gooey upside down delight its distinct taste and texture. Pair it with a scoop of ice-cream and revel in the sweet goodness of this golden Canadian treat.
5. Saskatoon Berry Pie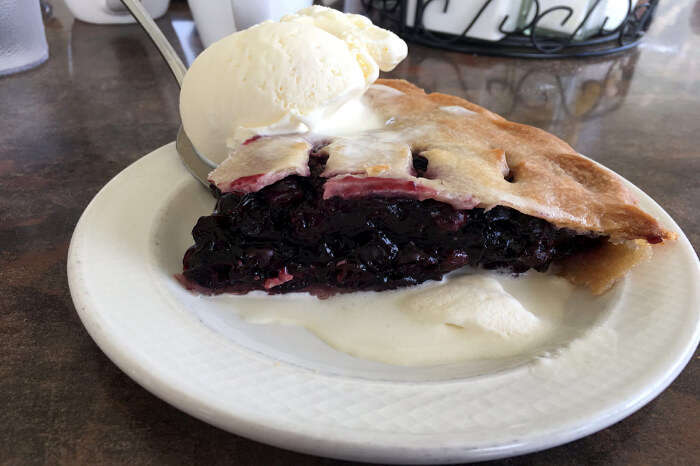 Canadians seem to love their pies and this is another version of the dessert that is hailed as a healthy and delicious option. The Saskatoon berries, also called juneberries, give this simple pie a whole new meaning and flavour. High on antioxidants, these berries are largely grown in the prairies but are available all across Canada. Considered to be the sweeter and nuttier version of the popular blueberries, Saskatoon berries give the pie its distinct fruity flavour. The berries are stewed in warm water before adding to the pastry lined pan and then topped with another crust before baking. Take a bite to experience the heavenly goodness of one of the most loved Canadian desserts.
Suggested Read: Feel On Top Of The World At This Suspension Bridge On Whistler Mountain In Canada
6. Tiger Tail Ice-cream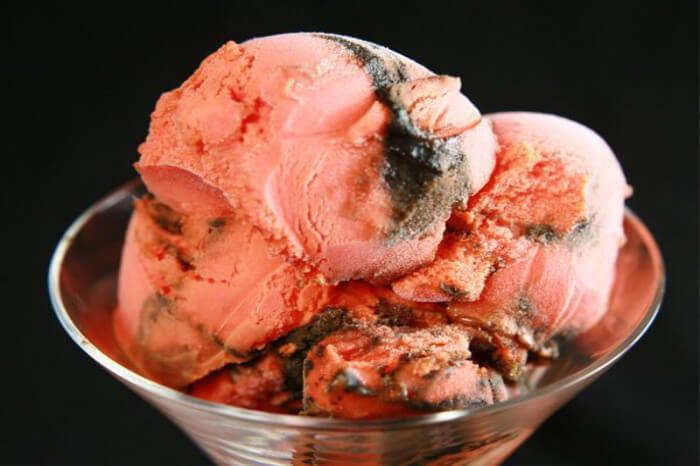 It is one of those frozen Canadian desserts which you won't find anywhere else in the world, making it a uniquely Canadian experience. The orange-flavoured ice-cream with swirls of black licorice gets its interesting name from its similarity to the orange and black tiger stripes. Loved the most by children across the country, it must be tried for its special place in the hearts of the Canadian people. Though the ice-cream was hugely popular in the mid 20th century, most creameries like Kawartha Dairy and Baskin-Robbins stock it up for its nostalgic value and unique flavour.
---
Planning your holiday but confused about where to go? These travel stories help you find your best trip ever!
Real travel stories. Real stays. Handy tips to help you make the right choice.
IL PRIMO ECOMMERCE SPECIALIZZATO IN DELIZIE AL TARTUFO E CAVIALE – CAVIAREAT.COM