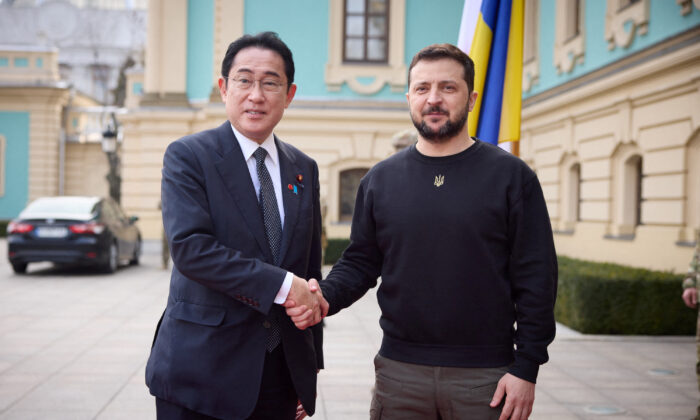 Ukraine's President Volodymyr Zelenskyy and Japan Prime Minister Fumio Kishida (L) shake hands as they meet in Kyiv, Ukraine, on March 21, 2023. (Ukrainian Presidential Press Service/Handout via Reuters)
KYIV—Ukrainian President Volodymyr Zelenskyy said on Tuesday he would join an upcoming Group of Seven (G-7) summit in Japan via an online link following an invitation from Japanese Prime Minister Fumio Kishida.
He made the remark during a joint briefing in Kyiv with Kishida.
Kishida met Zelenskyy in Kyiv on Tuesday during a rare, unannounced visit by a Japanese leader.
Japan is due to host the G-7 summit in Kishida's hometown of Hiroshima in May.
Kishida says the summit should demonstrate a strong will to uphold international order and rule of law in response to the Ukraine war.
The Japanese prime minister had been the only leader of the G-7 rich nations yet to visit Ukraine, which has seen an outpouring of popular support in Japan following the Russian invasion.
Zelenskyy posted footage of him greeting Kishida, whom the Ukrainian leader called "a truly powerful defender of the international order and a longtime friend of Ukraine."
The trip was kept secret until the last minute for security reasons.