Long arm of US law enforcement reaches out with the help of the Royal Thai Police to smash international online fraudsters targeting US citizens from Thailand and transferring huge amounts of pilfered funds to the kingdom. Today's raids were led by Deputy Police Chief and Technology Crime Suppression boss General Torsak Sukwimol.
Thai police accompanied by US Federal law enforcement agents, on Tuesday, moved against 36 scammer gangs operating in four provinces believed to be linked to ฿3.5 billion in funds bilked from the bank accounts of US seniors over a two-year period. In Chonburi, four people found at a property in the Bang Lamung district were taken in by police backed up by commando units for questioning.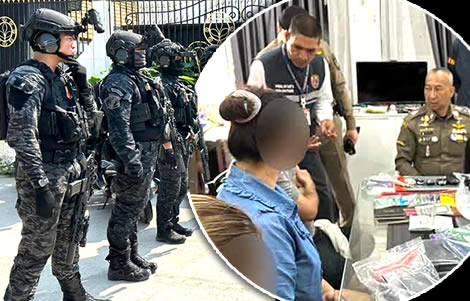 The Royal Thai Police Technological Crime Suppression chief, General Torsak Sukwimol was joined at a home in the Bang Lamung district of Pattaya in Chonburi on Tuesday as police units including special service division officers and commandos were joined by US agents with both the Federal Bureau of Investigation (FBI) and the US Secret Service to raid a property linked to international online fraud operations which are known to have successfully targeted elderly US citizens from Thailand.
The raid was also accompanied by officials working with the Thai Anti-Money Laundering Bureau (AMLO).
Four occupants in Pattaya taken in for questioning on Tuesday including 3 Thai women and an Indian man
Police found the property situated at Nong Prue sub-district occupied by an Indian national and three Thai women.
At the residence, a range of electronic devices, financial bank books and a loaded pistol were seized.
All four occupants of the property were taken in for questioning.
The operation on Tuesday, was led by General Torsak, who played a key role in November last year in smashing the extensive web of Chinese triad networks in Bangkok, targeted no less than 36 gangs operating in Chonburi, Rayong, Samut Prakan and Roi Et provinces.
Investigation by US law enforcement including the FBI cybercrime division and Secret Service
This followed an investigation in the United States pursued by both the FBI and Secret Service after they were made aware of call centre gangs portraying themselves as agents from the FBI and demanding access to the bank accounts of elderly US citizens over 60 years of age.
These citizens were told that their accounts may have been linked to illegal or suspicious activity and the bureau was pursuing enquiries into online money trails.
Victims were told that they were required to transfer funds in their bank accounts for forensic analysis as part of the investigative process as their balances had been flagged as suspicious.
The scam, similar to one that was also used on wealthy Thai account holders this year, was successfully deployed for 2 years and is understood to have led to 365 victims having $100 million or ฿3.5 billion syphoned from their bank accounts by the fraudsters.
The real FBI investigative team later deduced that the stolen funds had been transferred to Thailand.
Police chief vows that fraudsters using Thailand as a base for criminal call centres must be rooted out 
Commenting on Tuesday's operation, the National Police Commissioner General Damrongsak Kittiprapas emphasised the determination of the Royal Thai Police to assist with combating international criminal elements who may be using Thailand as a base for online fraud.
He said such activity must be detected and rooted out. The country cannot be allowed to become a hideout for such people.
In recent times, the Federal Bureau of Investigation (FBI) has issued repeated warnings to Americans that online scamming, which is an international criminal enterprise dominated by large organised crime groups, especially from western Africa, is a criminal threat now on par with international drug trafficking.
US law enforcement has raised the issue of online fraud as a priority over the last twenty years so with the FBI's own dedicated Cyber Division
The US, with its influential law enforcement agencies which can reach out across the world, has robust laws for dealing with offenders including stiff penalties for wire or mail fraud which can see those convicted face up to 20 years in prison.
In this case, offenders may face up to 30 years if they find themselves charged and convicted of bank fraud.
However, the penalties for those convicted in Thailand can be equally harsh with life prison sentences in the kingdom's notorious correctional institutions often handed down for serious fraud.
Like Thailand, the FBI has its own standalone Cyber Division (CyD) which investigates such cases using the might of US intelligence systems and working closely with other law enforcement agencies.
$4.6 billion recovered over 5 years
The division was set up in 2002 to fight 'cyber-based terrorism, espionage, computer intrusions, and major cyber fraud' in the United States and across the world which impacts US citizens.
The organisation has a strong track record in recovering billions of dollars in lost funds and issuing fines.
In five years, from 2008 to 2013, it issued fines totalling $6.8 billion. At the same time, it recovered no less than $4.6 billion.
The Federal Bureau of Investigation (FBI) has warned that those involved in online fraud and scamming operations consistently target those most vulnerable and isolated in society.
Further reading:
Nigerian and his wife led romance scam gang that generated ฿200 million in 50 accounts since 2020
Fraud suspect nabbed by police in Phuket linked to $100 million fraud centred on Jersey, US deli shop
Police unearth huge new threat from Chinese drug cartels with ฿300 million seized in Bangkok
Thai man's ฿10 million credit card fraud ended Monday with his arrest by CSD police in Bangkok
Nigerian and Thai wife arrested by police after online romance fraud costs woman ฿1.5 million
Thailand leads the world in the crackdown on online romance crooks targeting Thai women online
More Nigerians busted by Thai police for targeting vulnerable Thai women seeking love online
The scam is up – Nigerian lover boys arrested for taking advantage of Thai women seeking Love online
About the Author
James Morris is a pename for an international writer based in Bangkok who works on various international news media. He is a sub editor with the Thai Examiner news website since it began in 2015. Son Nguyen is an international writer and news commentator specialising in Thai news and current affairs. He commenced working with the Thai Examiner News Desk in May 2018.