The Royal Thai Police has, quite rightly, in recent years, prioritised the fight against underage prostitution linked with the human trafficking industry. On Saturday, Deputy National Police Chief General Surachate Hakparn or 'Big Joke' described it as a particularly egregious form of human trafficking. However, there remains the blooming business of human traffickers importing young women into Thailand from poorer countries who are indentured, often for years, into a massive prostitution and wider sex industry with links across the kingdom's borders.
A Swiss man was being tracked and his known associates in Phuket placed under surveillance this weekend after Thai police smashed an underage prostitution network with tentacles and customers throughout the island. On Saturday, top cop 'Big Joke' or General Surachate Hakparn, the deputy police chief with a coordinating role in fighting human trafficking, promised that the investigation would be widened to include identifying those purchasing sex services involving under-age sex workers as he promised to support the victims of such activities who are mostly Thai children from deprived families.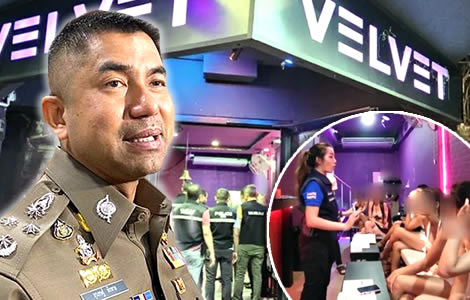 A Swiss national is reportedly on the run through neighbouring countries to Thailand after police smashed his sex trafficking ring specialising in prostituting young girls on the holiday island of Phuket.
The case, after it emerged this week, immediately attracted the attention of Deputy National Police Chief General Surachate Hakparn who has special responsibility for coordinating Thailand's fight against human trafficking and cross-border prostitution.
Order to track down punters at the Velvet Bar in Patong, Phuket which was raided by a police task force on March 15th in a wider, expanded investigation
On Saturday, General Surachate ordered the police in Phuket to expand their investigation to identify the purchasers of such services through the foreign-owned network.
The news emerged after a police task force raided a bar in Phuket known as the 'Velvet Bar' linked with the sex ring which acted as a front for the prostitution of children.
Police are still hunting for the Swiss national who headed up the business and owned the bar through Thai nominees in Phuket.
This involves liaising with police in neighbouring countries such as Laos, Myanmar, Cambodia, Vietnam and Malaysia.
The country's top cop has also issued a wider order to officers in Royal Thai Police Region 8 covering the southern provinces of Chumphon, Nakhon Si Thammarat, Krabi, Phuket, Phang Nga, Ranong and Surat Thani to provide assistance to any girl found to be a victim of underage prostitution rackets.
The sex bar was situated on Soi Sea Dragon on the Bangla Road of Patong in Phuket.
Suppression operation commenced at 8 pm
The suppression operation commenced at 8 pm last Wednesday when an undercover police officer entered the bar and enquired if underage sex was for sale at the establishment.
He was told yes, leading the police to enter the bar in force. The premises also fronted a brothel as police confirmed when female police officers stormed upstairs to the rooms.
The raid on the bar followed a tip-off from the US-based NGO Underground Railroad which fights prostitution and human trafficking.
The organisation is quite active in Thailand, especially in Bangkok, Pattaya and Phuket. 
Authorities were told that the bar catered for a foreign tourist clientele while also providing underage sex workers throughout the island through agents.
Shortly after the raid, police discovered six more underage prostitutes in a hotel near the bar where they were waiting for customers.
Two women were immediately arrested, one being the manager or 'madame' of the bar and brothel and the other being a broker who recruited underage girls to work there.
They were named by police this week as Taksakorn Supakharaphokken or 'Nam' and Watcaharaporn Thongmak or 'Yuki'.
Thailand seeks to improve its State Department ranking concerning human trafficking as a priority
The raid and police operation was spearheaded by the Department of Provincial Administration (DOPA) in Phuket led by Director-general Manrat Rattanasukhon.
Afterwards, the Inspector General for the body, Ronnarong Thipsiri, spoke to reporters and explained that the operation was aimed at elevating Thailand's standing on the annual US State Department's tiered rankings or watchlist dealing with human trafficking where Thailand is aiming to be promoted from a Tier Two country to Tier One status.
Speaking about the activities at the Velvet Bar he said that human trafficking was a national problem.
'This may affect the economy and image of Thailand including the well-being of the people. Therefore it is a problem that must be solved,' he explained.
Other foreigners in Phuket are linked with business fronts involved in the sex network engaged in selling underage sex with minors across the province
On Saturday, General Surachate suggested that other foreigners were involved in a network spanning the province with business fronts operated by Thai nominees. 
The current alert stems from the raid on Wednesday the 15th of March involving police and provincial officials on the bar in the Patong area of Phuket.
As a result, it is being reported that five police officers at Patong Police Station have been ordered transferred by senior officials in the force.
This was confirmed following a visit to Patong Police Station by the police commander of Region 8 with the transfer being ordered by Phuket Provincial Police Chief Police Major General Sermphan Sirikong as per order number 110/2566.
The officer transfer included the commander of Patong Police.
At the same time, another order was drafted ordering other police officers on the island to fill the senior ranks at the police station vacated by the removal of the five policemen.
No information was forthcoming as to whether any disciplinary action or legal proceedings will be taken against the police officers involved.
On Saturday morning, General Surachate told reporters that Region 8 police officers were working closely with their counterparts in Myanmar on the case and the wider problem of underage prostitution which is at the top of the agenda for the Thai police and its anti-human trafficking division.
'Big Joke', Thailand's popular policeman, just back from the United States and Europe, explained the country's anti-human trafficking efforts
The senior police officer, and a popular national figure, plays a key coordinating role in Thailand's fight against human trafficking and has just returned from a trip to both Europe and the United States where he met senior officials and outlined aspects of an improved programme to combat the problem both within the sex trade and linked with forced or indentured labour which was previously highlighted in media exposés relating to the country's fishing fleet.
Over the last six years, Thailand has introduced improved protection of migrant workers including a licensing system for those working at sea who were particularly vulnerable to exploitation.
A 2018 report suggested that 60% of human trafficking victims in Thailand were women working primarily in the sex trade and the country's sprawling and export-driven seafood industry.
Hunt is on for the fugitive Swiss suspect who profited from enslaving young Thai children from less well-off families into the sex trade in Phuket
General Surachate confirmed on Saturday that police officers, at this point, were aware of a further seven girls caught up in the trade in Phuket and arrangements were being made to send them and those rescued last week to a children's care facility on the island.
This was part of Thailand's recent efforts to combat human trafficking involved placing greater emphasis on acting to assist victims of the trade wherever they are found.
He confirmed that the Royal Thai Police was now hunting the Swiss national suspect who has left the kingdom while the Immigration Bureau in Phuket had two people, close to the man, under surveillance.
He indicated that the bar was a front for an extensive network of underage prostitution activity in Phuket with agents offering its services throughout the island province.
He told reporters that many of the children found engaged in the trade were Thai nationals from poorer regions of the kingdom in the north, northeast and central provinces. 
He suggested that, in many cases, parents had told locals or neighbours at home that the children had been sent off to be cared for by a relative to explain their absence with many of the victims already coming from either broken or troubled homes.
Human trafficking in its vilest form said the police chief, he warned he would not tolerate negligence from officials or police officers on this issue
General Surachate stressed that child sexual exploitation was human trafficking in one of its vilest forms and that it must be stamped out.
He indicated that he would not tolerate negligence or failure to administer the law from responsible local officials and police.
He confirmed that every effort will be made to track down the owner of the bar in Phuket and bring him back to Thailand to face justice.
He said that Thailand has now put in place a national referral mechanism to assist with identifying victims and to help victims work with the justice system while also receiving care.
In recent years, the Royal Thai Police has underlined consistently that underage prostitution in the kingdom will not be tolerated.
At the same time, Thailand continues to be a targeted international centre for human trafficking and prostitution with women from poorer countries in central Asia, Russia and Africa being trafficked into Bangkok and key tourists hotspots often by foreign gangs linked with Chinese criminal networks as well as Western and Russian freelance operators and criminal elements.
Rampant human trafficking of adult women into a broader, bigger sex industry and prostitution, meanwhile, is booming with Thailand at its centre
These women are often set to work in Thailand's prostitution industry as freelancers on the streets and escorts but also in a growing cyber sex industry that is being developed in countries bordering the kingdom which these groups appear to be able to access and where assiduous law enforcement is absent or can be bought off through corruption.
This activity involving foreign human trafficking victims has become a focus for many western NGOs working in Thailand to help those exploited in the prostitution industry. 
These groups often involve volunteers from western countries who work closely with the anti-human trafficking division of the Royal Thai Police.
A particularly disturbing case which has yet to be fully resolved involves a woman from Kyrgyzstan, 30-year-old Anara Seitaleva who was trafficked into Bangkok on July 15th 2022 with the promise of a ฿20,000 a month job in Thailand's 'tourism industry' and within days found herself first sold into an online sex ring in Laos where she ended up under armed guard and later to a Chinese led prostitution ring in Bangkok.
Case of the Kyrgyz woman cries out for justice and goes to the heart of modern-day human trafficking linked with Thailand and the evil it represents
The unfortunate young woman managed to escape her Chinese controllers on September 11th last year and fled, seeking refuge with a couple, a Thai woman and a German man she had befriended living in Pattaya.
They diligently advised her to lodge a complaint with the police in the resort city which she filed on Tuesday, 13th September 2022. She told police officers she was living in fear of two Chinese women and a man from Hong Kong.
Her body was found days later at a luxury condominium complex on Thap Phraya Road in Pattaya surrounded, curiously, with Thai-denominated money which had fallen to the ground with her body.
This led to a series of arrests by police in both Pattaya and Bangkok. 
In the meantime, a fuller and deeper explanation of what happened to this young Kyrgyz woman cries out for answers and justice.
Further reading:
Freak death of Kyrgyz woman in Pattaya linked to Chinese gang who forced her into prostitution
Police in Kanchanaburi arrest two for sex trafficking as officials question US tier standards after demotion
DSI arrests: Women warned of sex trafficking snare – massage job offers abroad from prostitution 'brokers'
Government reviewing prostitution laws, public consultations expected in 2021 amid reform calls from workers
Murder of a Thai woman in Portugal is troubling as police probe further and seek body parts taken by abettor
Scotsman known as 'Big Daddy' escapes Thailand before arrest warrant issued for human trafficking
Assets of brothel bosses sequestered by Thai court which deemed them illicit proceeds of vice and crime
Thailand eyes up the sex trade with ongoing raids and a new drive against human trafficking
Thai woman masterminded a sex ring that sparked the biggest police raid in German history
Child prostitution gang that ran a sex racket that terrorised children smashed by armed police
Calls to legalise prostitution in Thailand after Pattaya sex raid on Walking Street this week
Record year for Thai tourism but not so good for Thailand's bar girls and luxury hotels as market has changed
Police raid on prostitution bar in Udon Thani linked with serving policeman and his Thai wife
Activist slams Air Asia ad campaign in Australia that she claimed promoted Thai sex tourism at Aussie blokes
Thai police raid a sex for sale hotel in Loei province staffed by Laotian women working as prostitutes
IL PRIMO ECOMMERCE SPECIALIZZATO IN DELIZIE AL TARTUFO E CAVIALE – CAVIAREAT.COM