The Kempinski Hotel Bahía journey began 24 years ago this March, when the doors to this prestigious hotel welcomed its first guests into its grand lobby. With spectacular views out over the Mediterranean sea, its unique beachfront setting and architecture and its extensive gardens, it soon gained a reputation as a paradise for both locals and international visitors, many of whom feel as if they had been transported to another world. From welcoming royalty, heads of state, celebrities, musicians, families, couples celebrating weddings and honeymooners, to prestigious brand launches, beach polo events and classical-music concerts, to even appearing in a rather famous Spanish film, the hotel has a thousand stories to tell, and thousands more memories have been made here. Happy anniversary, Kempinski Hotel Bahía!
Your can read The Luxury Editor profile review of Kempinski Hotel Bahía here.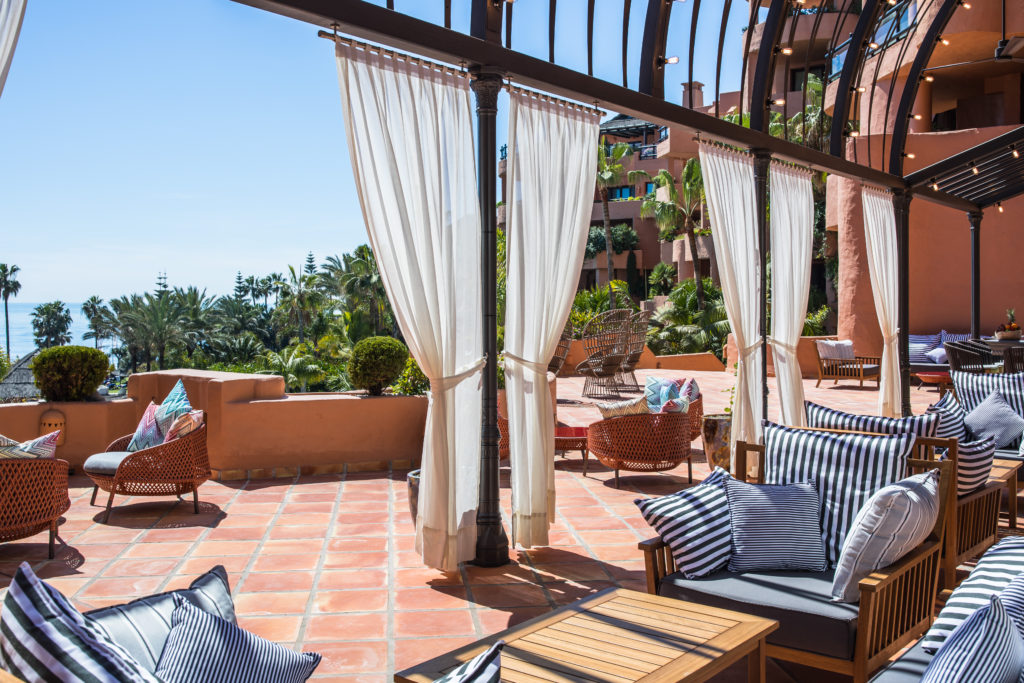 Designed by architect Melvin Villarroel
Designed by the renowned architect Melvin Villarroel, the hotel's architecture reflects its front-line beach position, with uninterrupted views towards Africa, Gibraltar and the Málaga coastline. The architect also took inspiration from both Morocco and Andalucía as he pays homage to the land by reflecting its terracotta colour throughout the building, as well as delicate touches in the form of arches and turrets. For inspiration, Villarroel also looked to the ancient Almenara watchtower, nestled in the subtropical gardens, having proudly guarded the coastline since the 16th century.
El Paseo del Mar destination dining
As the first international-branded five-star hotel to open in the area, Kempinski Hotel Bahía has a relationship with the town of Estepona that has grown over the years. From creating careers to celebrating weddings, many locals have a fond connection with Kempinski Hotel Bahía, and that also includes a number of staff who are celebrating their 24th work anniversary at the hotel as well! The hotel retains its European luxury feel – intimate but friendly, elegant and attentive to guests' every need – and its 127 rooms and 18 suites are comfortably yet classically decorated. During 2018, the hotel's key spaces, including the lobby and two restaurants, underwent an extensive refurbishment, creating a modern and inviting dining hub, El Paseo del Mar, which consists of Black Rose The Bar, Baltazár Bar & Grill and Spiler Beach Club, all of which are open to the public. Spiler Beach Club has recently become a popular destination for those looking to escape the crowds and enjoy a more sophisticated yet laid-back pace of life.
Connected directly to the promenade which runs along the coast, the beach club has seen a surge in guests dropping in for a drink and a bite to eat whilst out walking or cycling along this enchanting path. Many now come to spend the day under the swaying palm trees and enjoy the sunbeds for the day as well as the extensive gardens, three swimming pools and spa facilities, with an indoor relaxation pool, gym, steam room and sauna included in the day pass.  
Anniversary March guest offers
During the month of March, the hotel is delighted to announce a number of celebrations to mark this milestone moment. In the anniversary month, you will be able to enjoy two 'Kempinski Birthday' cocktails for EUR 24 in the incredible Black Rose The Bar, whose terrace overlooks the pools and extensive gardens in all their glory and directly out over the Mediterranean.
From 20 to 26 March at Spiler Beach Club, Executive Chef Adrian Topan will craft four traditional tapas with a twist, including a drink, for EUR 24 per person. The beach club, which is open to the public, is ideal for those strolling or cycling along the promenade to stop and take a seat on the terrace with uninterrupted sea views.
For those looking for a short break from the hustle and bustle of everyday life, why not take advantage of the 24% discount on all bookings* made during March 2023 (24% Anniversary Discount). Three perfect reasons to visit Kempinski Hotel Bahía this March!
Contact Details
Website: www.kempinski.com
Address: Kempinski Hotel Bahía Estepona, Carretera de Cadiz KM 159, 29680, Estepona.
Andrew is a Marketing Communications consultant, working within the wellness, travel & lifestyle sectors. His track record in PR, marketing and branding spans over 25 years. He writes regularly on international wellness, travel, and lifestyle themes with a particular passion for the Mediterranean and the Americas. Originally from the UK, Andrew Forbes has lived in the US and France but now calls southern Spain his home, where he is Travel Editor for Spain's leading English language newspaper. For Andrew, luxury is many things; most importantly genuine hospitality, authenticity and thoughtful service. Web: www.andrewforbes.com