Japan's Prime Minister Fumio Kishida visited Kyiv in war-hit Ukraine on Tuesday to meet with President Volodymyr Zelenskyy, according to Japan's Foreign Ministry, just a day after Chinese leader Xi Jinping arrived in Russia.
Kishida was seen boarding a train from the Polish station of Przemysl near the border with Ukraine at around 1.30 a.m. (local time) after concluding a meeting in India, Japanese broadcaster NHK reported.
The Japanese Foreign Ministry said in a statement that Kishida's visit to Ukraine was at the invitation of the Ukrainian leader and that he will visit Poland on Wednesday before returning to Japan.
Kishida will use the visit to convey Japan's "solidarity and unwavering support for Ukraine" while "resolutely rejecting Russia's aggression against Ukraine and unilateral changing of the status quo by force."
The ministry stated that the Japanese leader would also reaffirm his commitment to defending rules-based international law.
Due to the limitations of Japan's pacifist constitution, this trip was arranged secretly. The Ukraine visit made Kishida the first Japanese postwar leader to enter a war zone.
In a statement on Twitter, U.S. Ambassador to Japan Rahm Emanuel praised Kishida for making such "an historic visit" to Ukraine and for standing up for freedom amid the ongoing Russian war in Ukraine.
"Approximately 900 kilometers away, a different and more nefarious partnership is taking shape in Moscow, where Xi Jinping is visiting to protect [Russian President] Vladimir Putin from the International Criminal Court and pardon him from international public opinion against this war," he stated.
Xi Meeting Putin in Russia
The summit between Kishida and Zelenskyy occurs while Xi meets with Putin in Moscow.
Xi's Russia visit, set to run through to Thursday, March 23, is his first visit to Russia since Putin launched a full-scale invasion of Ukraine in February 2022.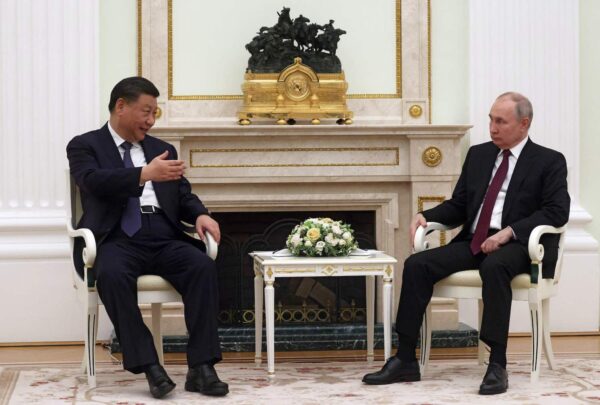 China and Russia are not in a formal military alliance, but they announced a "no limits" partnership just weeks before Russia launched its full-scale invasion of Ukraine. The ties between China and Russia seem to have increased months after Russian forces entered Ukraine.
The Chinese Ministry of Foreign Affairs has described Xi's visit to Russia as an effort to promote a peaceful end to the ongoing fighting in Ukraine. But U.S. officials believe his visit will serve a longer-term goal of solidifying a partnership and power alignment with Russia.
"I think in the short term, you know, China's trying to insert itself into the Ukraine conflict and present itself as a peacemaker," congressman Mike Waltz (R-Fla.) told NTD News on the sidelines of a House Republican Party retreat in Orlando, Florida on Monday.
"But really, I think in the longer term, it's cementing this alignment of authoritarianism that we're seeing with China, Russia, Iran, North Korea, with the [Chinese Communist Party] as the leader of the pack and the leader of the axis of evil, so to speak," he added.
Japan's Support of Ukraine
Japan has strongly condemned Russia's invasion of Ukraine and imposed a series of sanctions to pressure Moscow to back off. It banned Russian banks from the SWIFT global interbank network, blocked the assets of Putin and several other Russian leaders, and prohibited exports to Russian entities.
Due to its pacifist principles, Japan's support for Ukraine has been limited to non-combative military equipment such as helmets, bulletproof vests, drones, and humanitarian supplies, including generators.
Japan has contributed more than $7 billion to Ukraine, accepted more than 2,000 displaced Ukrainians, and helped them with housing assistance and support to get jobs and education—a rare move for a country known for its strict immigration policy.
In October last year, Zelenskyy signed a decree recognizing Japan's sovereignty and territorial integrity, including the disputed Kuril Islands, which have been under Russian control since 1945.
Japan has claimed that the Kuril Islands "have never been held by foreign countries" and that they have been under illegal occupation by Russia and by the former Soviet Union before that since 1945.
The two countries never formally signed a peace treaty due to the dispute. Japan initiated peace talks with Russia that the Kremlin terminated after Japan imposed several sanctions against Russia over the Ukraine war.
Ryan Morgan and the Associated Press contributed to this report.