With an election called this week, the prime minister told reporters that he was particularly proud of tens of billions in foreign investment into advanced Thai industries such as those being developed in the country's flagship Eastern Economic Corridor (EEC) project in Chonburi, Chacheongsao and Rayong. However, the picture is not quite as rosy as the government would have us believe with Thailand left trailing behind Vietnam and Indonesia for vital investment and employment opportunities.
The Thai Prime Minister's Office, on Friday, announced what it claims was a spike in inward foreign investment for the first two months of 2023 against a backdrop of a net outflow of economic investment in the country during the calamitous 2020 economic shutdown. Since then, foreign direct investment figures or pledges through the Board of Investment (BOI) have been rising steadily although economic inward investment, in real terms, according to published figures from the Bank of Thailand, while it has improved, is low compared to other countries in ASEAN, erratic and with less of on emphasis on developing the kingdom's vital manufacturing and export sector as seen in both Vietnam and Indonesia because of a lack of competitiveness while the country is certainly a magnet for financial inflows which can easily be reversed.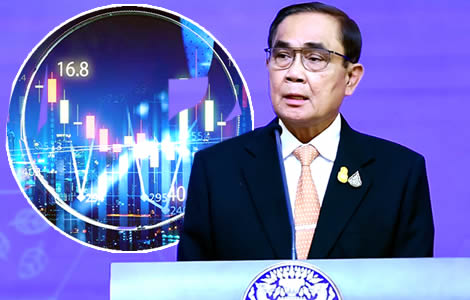 Prime Minister Prayut Chan ocha announced on Friday that foreign direct investment in Thai business concerns has shot up by 305% for the first two months of 2023.
He welcomed confirmation that foreign firms from across the world had committed ฿26.756 billion in investment funds and indicated that this was a vote of confidence in the country's economic future and the government's development policies.
Top spokesman for the PM hails ฿26.76 billion in investment pledges to create 1,651 jobs in two months
Top spokesman for the Prime Minister's Office, Mr Anucha Burapachaisri, highlighted a report from the Department of Business Development (DBD) under the Foreign Business Act for January and February 2023 affirming that 113 new international investors had applied for and secured business licences, 37 instances where a business certificate had been issued and in total, 76 foreign concerns which had pledged investment worth ฿26.756 billion in projects which will create 1,651 jobs.
The PM's office noted that this was a significant increase from 2022 when there were only 22 investors in the same period and total inward funds of ฿6.6 billion with 1,239 jobs created.
For the two months, the country with the largest number of investors at 25 was Japan with total funds committed of ฿8.545 billion, Singapore with 19 concerns and inward investment of ฿3.09 billion followed by the United States with 13 external investors committing ฿3.2 billion.
Total pledges for the 12 months of 2022 were ฿129 billion or an average of ฿21.5 billion per two-month period with Japan being Thailand's biggest investor
In fourth place was China with 7 investments although Thailand's northern neighbour was responsible for the highest level of inward investment with ฿10.987 billion pledged.
Switzerland, a key player in Thailand, came in as the fifth largest external investment country of origin with 4 projects and funds committed of ฿966 million.
In respect of the government's flagship Eastern Economic Corridor (EEC) project, there were 21 different investors representing 19% of the total for the first two months of the year with ฿2.078 billion committed.
Figures released by the Ministry of Commerce for 2022 show that foreign direct investment has, however, been improving since early 2022 with business projects processed through the Board of Investment (BOI) increasing by 56% to ฿129 billion. That's an average of ฿21.5 billion per each two months period with a slow start to the year in 2022.
Japan led the way with ฿39.5 billion, China with ฿23.3 billion and Hong Kong with ฿18.2 billion.
Job creation from projects in 2022 was down 4% from 2021 as the Board of Investment (BOI) focuses on firms with plans that match the country's strategy
Total jobs created last year, however, were a disappointing 5,252, a decrease of 4% from 2021.
The United States committed ฿15.48 billion with Singapore accounting for ฿21.93 billion.
In terms of projects, there were no less than 151 Japanese investors out of 581 while 71 came from Singapore with only 31 coming from China although the amount committed was second on the table behind Japan.
All the investment projects were in line with the country's development goals aimed at infrastructural development, key growth industries and projects aligned with Thailand's key national interests.
In overall economic terms, Bank of Thailand figures suggest that in 2020 there was a net outflow of capital investment from Thailand of $4.85 billion
Thailand's level of net foreign direct investment flows, in overall economic terms, has been improving since the economic shutdown in 2020 when the country suffered a net outward flow of investment of $4.85 billion as Thai firms and individuals transferred or invested more money abroad than foreign investors ploughed into the economy overall.
The net investment for 2021 increased to $12.16 billion while in 2022, figures from the Bank of Thailand from the 4th quarter of 2021 to the 3rd quarter of 2022 suggested a net inward investment of $12.375 billion for that 12-month period.
It is important to differentiate between inward capital flows and investment in new business startups under the Thai government's development schemes operated by the Board of Investment (BOI).
These investments are still on the drawing board and have been given the green light for various government concessions and tax breaks.
However, they do give a clearer idea of potential investment in the country's vital manufacturing and export sector.
Japan remains Thailand's leading investment country of origin in overall projects and financial inflows
For those 12 months, according to published figures from the Bank of Thailand, Japan was by far the largest inward investor with $4.926 billion being transferred although, in one three-month period, Japanese entities withdrew over $1 billion in capital suggesting that these are predominantly liquid investment flows or Thai firms are investing in Japan.
This was followed by Singapore at $3.316 billion, again suggesting that inward investment flows to Thailand are primarily financially based.
After this, in third place, was the United States with $1.434 billion in funds landing in Thailand.
The 28-member European Union bloc of nations accounted for 8.46% of the capital inflow for this period in fourth place with $1.047 billion.
Fifth was China with $968 million followed by Hong Kong at $917.76 million.
Figures compare poorly with investment trends in both Vietnam and Indonesia, the kingdom's Asean competitors who are winning out over Thailand
The figures compare poorly to Vietnam which saw a $22.4 billion inflow into that country from worldwide sources in 2022, mostly aimed at developing the country's economy rather than financial investments. The manufacturing and tourist sectors were key targets.
Similarly, the other competitor country Thailand faces for attracting jobs and wealth creation into the economy, is Indonesia.
Thailand, on the other hand, with an ageing workforce, challenges in education such as a reduced proficiency in English, political instability, higher labour costs, reduced market access compared to Singapore and Vietnam and chronic issues with corruption, is losing the battle to attract the same level of inward investment in industry.
Firms moving out of China and the far East
This is coming at a time when industrial projects are moving from China and the far east into the ASEAN community which is being seen by many global companies as a hedge amid rising geopolitical tension, particularly in the Indo-Pacific.
Indonesia received $43 billion in inward investment in 2022, the highest in the country's history, highlighting a growing trend with a 41% rise from 2021.
In the Muslim country, much of this was ploughed into the country's economy, particularly the country's metal industry with a special focus on mining nickel.
Prayut welcomed investment pledges for January and February 2023 pointing to a transfer of technology and knowledge which will benefit the kingdom
Nevertheless, on Friday, from Government House in Bangkok, the PM's spokesman was upbeat in a week when a General Election was called and after General Prayut told reporters that he believes his legacy will be seen as laying in place a new economic base for Thailand and billions of baht in inward investment.
'The Prime Minister was pleased that in the first two months of 2023, there was an increase in foreign investment. Especially in businesses that are in line with the country's infrastructure development. In addition to helping to develop the economy, significant employment has occurred. It also helps to transfer technology, which is a body of knowledge from the investing country to the Thai people as well. This success reflects the implementation of policies to promote investment in Thailand for economic development, enhancement of the country's competitiveness and for the benefit of the Thai people,' disclosed Mr Anucha.
Further reading:
Thailand's financials are sound but the economy is exposed if another world banking crisis emerges
Thai economic woes grow with a 10-year high trade deficit as January exports slumped by 4.5%
Credit crunch as firms seek more bank loans with tightened lending criteria and recession fears
Even as the baht surges, Thailand faces economic recession in mid-2023 with lower earnings
Soaring baht as the Thai economic spirit rises with one of the world's lowest levels of inflation
Finance Ministry unveils green bonds as it seeks ฿900 billion for investment over four years
Former minister questions export growth data as Bank of Thailand plans to rein in consumer loans
Warning to central bank to preserve Thai foreign exchange reserves for a brewing 2023 economic storm
Baht slide continues as Bank of Thailand sticks to its dovish and soft approach to interest rates
Prawit stuns the cabinet demanding a ฿35 to the dollar rate and action from the Finance Minister to stop the slide
Low spending tourists and slowing export growth but 'intact' economic recovery stays on track say officials
Central bank reassurances as ex-minister raises loan quality with China's economy in trouble
Thailand with a falling baht caught in stagflation spiral with high inflation and low GDP growth this year
Good economic news, test now is how to emerge from stagflation with large price shock looming as inflation rises
Prolonged Ukraine war to see Thai inflation at 6.3%, a stalled economy and a possible downgrade
Oil still boss as Thailand's economy faces a return to 1970s stagflation over the ongoing Ukraine war
Fears for Thailand's economy over Ukraine war with rising inflation rates and loss of confidence
Thailand should move more towards a circular economy as the country faces intractable hurdles
Inflationary fears for Thailand more muted than in the United States but planners should prepare
Foreigners in Thailand have nearly ฿600 billion in the bank as inequality and poverty rise alarmingly
A dead mother beside her children and a taxi driver who slept, show us a nation riven by an extended crisis
Thailand to reopen to 'big fish' tourists as a cryptocurrency friendly haven says promotion agency boss
IMF urges government to loosen nation's purse strings as finances tighten with the tax take down
IL PRIMO ECOMMERCE SPECIALIZZATO IN DELIZIE AL TARTUFO E CAVIALE – CAVIAREAT.COM