The search for the third accused in the New Jersey fraud scheme ended in Phuket where 54-year-old Peter Coker junior was taken into custody on Wednesday by Crime Suppression Division (CSD) police after a warrant for his arrest was issued by the Criminal Court in Bangkok at the end of December 2022. In October 2022, a lawyer, who has previously represented Hollywood mogul Harvey Weinstein, told CNBC in the United States that no party lost money in the fraud when his client, Mr Peter Coker senior was granted bail by the New Jersey District Court.
A US fraud suspect with citizenship of the West Indies island state of St Kitts and Nevis will be deported back to the United States to face a fraud trial in the State of New Jersey after his arrest on Wednesday in Phuket by the Crime Suppression Division (CSD). Peter Coker junior took flight four months ago when authorities brought the curtain down on an elaborate stock fraud operation centred on a small deli shop in Paulsboro, New Jersey.
Thai police on Wednesday arrested a 54-year-old man in connection with stock fraud and manipulation in the United States on foot of a warrant issued on December 27th by the Criminal Court in Bangkok.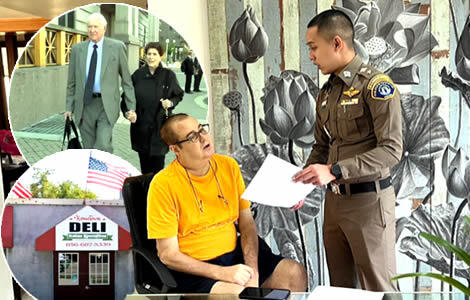 The US man was arrested by a team of Crime Suppression Division (CSD) officers at a hotel near Surin Beach in Phuket led by Police Major General Montri Khetkhan.
When confronted by the warrant, Mr Peter Coker admitted that he was the person identified in the Interpol Red and Black notices ordering his arrest.
Mr Coker told police officers he was the person identified in the Interpol Red and Black notices when confronted on Wednesday with an arrest warrant
He is expected to be deported swiftly from Thailand to the United States to stand trial.
Mr Coker, in 2021, became the manager of a small deli in New Jersey as part of a stock market scheme to access US capital markets using two corporations Hometown International, the owner of the deli offering Italian specialities in Paulsboro, New Jersey which had a financial turnover of only $35,000 in the previous two years, and E-Waste Corporation, the holding company of the group. 
The firm claimed to have a market capitalisation of $110 million.
Central Investigation Bureau (CIB) chief General Jiraphop Phuridech told reporters the arrest operation was launched at the request of the FBI in Bangkok
Details of the arrest operation in Phuket were given by the Central Investigation Bureau (CIB) chief Police General Jiraphop Phuridech who said the Royal Thai Police became involved after the Federal Bureau of Investigation (FBI) based in Bangkok alerted them to the fact that Mr Coker may be living in Thailand.
The American, who is a citizen of the island country and Federation of St Kitts and Nevis, was wanted on Interpol arrest notices following the arrest of his father Mr Peter Coker senior and a Mr James Patten last year in relation to the alleged fraud which occurred on the OTC Link Alternative Trading System, a trading platform used by securities firm and agencies in the United States which was established under the 1934 Securities Exchange Acts.
It is understood that based on reports of connections with a Luxembourg entity and an interest in electric vehicles for use in the defence industry linked with an Israeli firm, the promoters of the companies, through specialist operators, had managed to boost the value of its shares by as much as 939% to 1,990% or from $1.25 a share initially the value of Hometown International when launched on the market planning to open more deli shops to a range of $12.99 to $2,485 also based on additional reports circulated of a reverse merger of the firm and a potential killing for investors.
Share fraud scheme involved selling 6 million restricted shares to an entity in Macau and use of an established share trading system in the United States
In the meantime, it is reported that 6 million restricted shares in the firm had been sold to an entity called Global Equity Limited located in the Chinese-controlled territory of Macau for $30,000 with 3.5 million of these shares controlled by Mr Coker and those involved in the fraud.
In October 2022, both 80-year-old Peter Coker senior and 63-year-old James Patten appeared in a New Jersey court located just twenty minutes from the now-closed deli shop.
The group had originally purchased the deli which had plans to expand and secure further funding from a friend of Mr Pattens through a transaction involving a promissory note.
The man duped the specialist deli owner into thinking this was the easier and more effective path for the expansion of the business.
New Jersey court in October 2022 heard Peter Coker junior was at large or in Hong Kong as his father and co-accused James Patten were granted bail
The court heard that Peter Coker junior was at large and thought to be resident in Hong Kong while his father was represented by well-known defence lawyer Marc Agnifilo who also represented the infamous pharmaceutical investor Martin Shkreli and former Hollywood mogul Harvey Weinstein.
Mr Patten was represented by the former lawyer for Ponzi scheme investment manager Bernie Madoff, Mr Ira Sorkins.
In the course of exchanges after the court hearing, Mr Coker's lawyer Mr Agnifilo claimed that no financial loss was suffered by any party to the scheme.
'I'm not sure why they would pursue a case where no one lost any money,' he told US TV network CNBC.
The two men were granted bail by the court on a surety of $100,000 and were ordered not to leave the country.
Coker junior fled to Thailand in September 2022
Warrants for the arrest of the three defendants had been issued in September 2022 by a state court in New Jersey for 'conspiracy to commit securities fraud'.
The charge could see the three men, if convicted, face a jail sentence of up to 20 years.
It is understood that Peter Coker junior fled the United States at that point, ending up in Thailand until his arrest this week by the Royal Thai Police.
Further reading:
Big Joke briefs reporters on ฿6 million fraud to secure bail for a detained UK man using his name
Crowdfunding effort for alleged Dutch fraudster to bail him out of jail and fight fraud charges in court
On the run German drug cartel chiefs arrested in Immigration Bureau dual swoops on Phuket and Ko Phangan
Brit to be deported as Immigration Bureau boss ordered to get tough with dangerous foreigners in the kingdom
UK man on a tourist visa arrested for offshore gun terror and serious drug charges on Ko Samui after day out
Danish man arrested, facing charges after Pattaya drug dealing sting at local hospital coffee shop
Nigerian drug dealer betrayed in Phuket as local police receive tip-off that led them to his arrest
Criminal probe launched in Bangkok after six drug users were found dead after suffering acute cardiac issues
Gamblers and hosts at illegal gambling dens are being jailed as massive crackdown proceeds apace
Sadistic murderer 'Ice Metal Casket' sentenced for rape of a woman at gunpoint in latest conviction
Ministry asks Covid-19 unit to halt travel from the UK over new 'Kent' strain found among a family
Top Thai and US drug suppression officials warn of the use of cryptocurrencies in the drug trade
2-year-old shot dead by gold robber Thursday night as 3 die, 4 injured in mass shooting with silencer gun
Bizarre and macabre tragedy in Udon Thani as deranged man murders his wife and daughters over college debt
Death sentence for a serial murderer who killed 5 including his pregnant wife and her father in a family row
Parents call for the execution of man who murdered two young teachers at their Rayong home for a motorbike
Drug police put retraction behind them to smash billion baht Myanmar drug operation in Bangkok raid
Use of cocaine and cannabis is still highly illegal in Thailand with very serious legal consequences
Sex, drugs and alcohol as Chiang Rai party-goers arrested in the midst of the growing virus emergency
One of the biggest drug dealers in the South flees home as Thai police and army move against him
Evil drugs trade in Songkhla sees Thai woman burned alive by her family for 300 grams of ice missing in village
Thai man burns down his family home: Thailand's drugs problem is still a very real threat to society
About the Author
James Morris is a pename for an international writer based in Bangkok who works on various international news media. He is a sub editor with the Thai Examiner news website since it began in 2015. Son Nguyen is an international writer and news commentator specialising in Thai news and current affairs. He commenced working with the Thai Examiner News Desk in May 2018.