On Tuesday, the Commander of Army Region 4 Lieutenant General Santi Sakuntanak defended the decision to return fire after the suspect began shooting not long after negotiations brokered by Muslim leaders in his locality failed to convince him to surrender peacefully to security services who had surrounded his home in the Than Tho district of Yala.
The family of a Muslim insurgent and bombing suspect in Yala province on Tuesday managed to retrieve his remains from an emergency vehicle under police control after an early morning shootout at his village in the Than Tho district of the southern province which is plagued by an ongoing and increasingly violent campaign of resistance against rule from Bangkok. The suspect is believed to have made the explosive device which saw a police colonel killed last Friday and four others injured in the Banang Sata district, at the centre of the mainly Muslim landlocked province, one of four in revolt.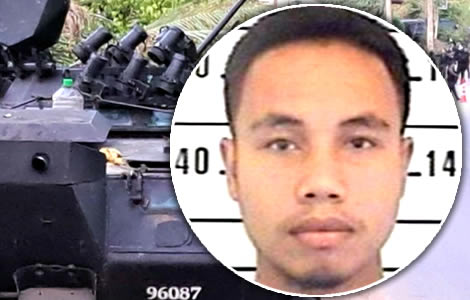 Thai security forces in the South have given details of an operation on Tuesday morning in which a suspected bomb maker and terrorist was killed after police in Yala's Than Tho district entered a village surrounding his home.
The man was wanted in connection with a fatal bombing incident in the Banang Sata district of the province last week in which a senior police officer was killed and four others injured.
Police colonel died in an explosion on Friday thought to have been caused by a device built by Mr Ibrahim 
The murdered officer was Police Major Prasarn Khonprasit, who was the investigation chief at Bannang Sata Police Station.
This incident occurred on Friday 17th February.
Intelligence sources suggest that the man killed on Tuesday morning was an expert bomb maker who has also been linked to the bombing of a government-owned PTT petrol station, also in the Than Tho district of the province.
After a combined police and military force surrounded the suspect's home on Tuesday in Reh village Moo 1 in the Than Tho district at approximately 4.30 am, they sent Islamic leaders in to negotiate and get him to surrender his weapons and himself peacefully to authorities who sought his arrest.
The talks were not successful.
Bomber opened fire at 5.45 am and died in a hail of returned fire. Police found a 9mm gun near his body
At 5.45 am the man began firing a weapon from inside the house in what security services believed was a possible decoy to facilitate his escape.
However, it resulted in the force outside the home returning fire which killed the 42-year-old insurgent identified as Mr Ibriham Salae.
Police found a 9mm pistol at his side when they entered the residence.
There followed a scene as family members of Mr Ibriham attempted to break through a cordon of police standing guard outside the home to retrieve his body for Muslim burial rituals which stipulate that the deceased must be laid to rest within 24 hours.
Police set out to transport Mr Ibraihim's remains in an emergency services vehicle to the local hospital for an autopsy in line with normal protocols.
Body intercepted by villagers and family as police transported it to hospital. Seized for Islamic funeral rites with police standing down to calm tensions
However, this was intercepted and the body of the deceased terror suspect was removed by his family and taken away for religious rites.
After this, senior officers made the decision not to interfere out of fear of provoking a dangerous clash and raising tensions further.
Lieutenant General Santi Sakuntanak, the Commander of Army Region 4, said later on Tuesday that the defence forces in Yala had acted appropriately when they returned fire after the surrounded man used his weapon from inside the house.
The senior officer said the security forces had acted cautiously initially but were forced to return fire as there was a danger to officers involved in the operation.
Dead man regarded as a specialist in improvised explosive devices and wanted on other charges
It is understood that Mr Ibrahim was a specialist in building improvised explosive devices.
He was already the subject of an arrest warrant related to another bombing and police will now examine the 9mm gun to trace its origin and see if it can be linked to other cases.
General Santi said every effort was made to resolve the standoff peacefully and it is the policy of security services to allow all suspects to surrender and face justice through appropriate legal proceedings.
He thanked members of the public for providing information to authorities and encouraged anyone who witnessed any illegal act or suspicious behaviour to report such incidents to the police or security services.
He expressed his condolences to the family of Mr Ibrahim and told reporters that several foreign nationals found at the scene who may be seeking asylum in Thailand would be processed according to the law.
Further reading:
Narathiwat bomb explosion leaves one senior police officer dead. PM demands tighter security
Pattani bombs put Thai security agencies on alert as they gear up for APEC Summit in Bangkok
Top insurgent leader suspected as behind Monday night's large bomb attack on Pattani district
2 killed in 15-minute firefight between security forces and insurgents as Pattani siege is ended
Killer gang linked to murdered family holed up at a Pattani resort but refuse to surrender peacefully to task force
3 'innocent' relatives dead in a horrifying terrorist attack on a main road in southern Thailand
Suspect arrested linked to Yala outrage as top brass face up to a new threat in the South
Thai court issues warrants for two southern insurgents linked to ฿85 million gold heist in Songkhla
Rapid progress being made on Bangkok bomb probe with 9 suspects already being held by police
Bizarre coincidence as schoolboys cause Friday's Bangkok bomb that put workers in hospital
Two Muslim men questioned as security officials link Friday's bombing to southern insurgency
Bombs and fires set off in Bangkok designed to cause early morning terror in the Thai capital
About the Author
James Morris is a pename for an international writer based in Bangkok who works on various international news media. He is a sub editor with the Thai Examiner news website since it began in 2015. Son Nguyen is an international writer and news commentator specialising in Thai news and current affairs. He commenced working with the Thai Examiner News Desk in May 2018.