Recent assurance from Minister of Tourism and Sports Phiphat Ratchakitprakarn that foreign tourists cannot be arrested for using vaping devices is at odds with what we have seen happening and what many visitors have been told by police officers, even on January 4th last in Bangkok in the case of Taiwanese movie actress Charlene An or An Yu Qing. The shocking story of French woman Cecilia Cornu in February 2019 in Phuket should also be looked at and seen as a cautionary tale to foreigners in Thailand of exactly what can happen when visitors find themselves on the wrong side of the law that does not appear to be clear even to the police with the Metropolitan Police Bureau this week saying the Taiwanese actress should have been arrested.
A senior Thai cabinet minister called for the legalisation of e-cigarettes on Friday following this week's dramatic events linked with the damaging extortion case involving Taiwanese actress Charlene An or An Yu Qing. Digital Economy and Society Minister Chaiwut Thanakhamanusorn said a move to legalise the currently illicit activity would help to raise money for the government and eliminate a dangerous breeding ground for corruption. His view appears to contradict sentiments expressed by Deputy Prime Minister Anutin Charnvirakul, the Thai public health minister who controversially made cannabis legal in Thailand last year. Anutin told a conference in August 2022 that e-cigarettes should remain prohibited as a threat to public health despite being used regularly by over 80,000 Thai adults, many of them young while it is perfectly legal in most countries.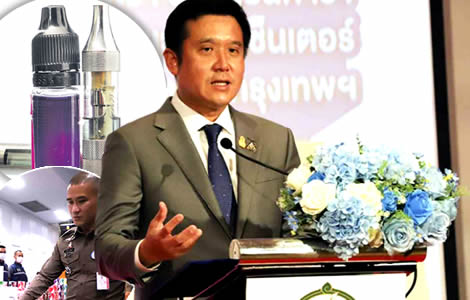 A senior cabinet minister and member of the Palang Pracharat Party has promised that if his party returns to power after this summer's General Election, it will move to legalise vaping and e-cigarettes.
The comments from Digital Economy and Society Minister Chaiwut Thanakhamanusorn come after the rolling controversy over police extortion of foreign tourists which was highlighted this last week by the case of Taiwanese actress Charlene An or An Yu Qing which came to head in the last 72 hours when senior police officials in Bangkok accepted that the Chinese movie star had been extorted of ฿27,000 at a police checkpoint in Bangkok on January 4th last.
Unsuspecting tourists unaware of the law in Thailand face a nightmare situation when confronted by police seeking to extract them, pay up or be jailed
Another case which is under investigation in Pattaya involving Chinese tourists threatened with arrest and prosecution under the country's 2014 anti-vaping provisions, has caused the focus to shift from police corruption to the basis for the corruption caused by laws that leave unsuspecting foreign tourists in impossible situations often involving the real prospect of being jailed, over minor infractions of the law in Thailand without knowing that they are breaking the law.
The situation regarding the Taiwanese actress crystallised on Wednesday when the Singaporean boyfriend of Ms Charlene An or An Yu Qing gave a press conference introduced by corruption whistleblower Mr Chuwit Kamolvisit which was followed, shortly after, by the arrest of six police officers who were brought before the Criminal Court on Thursday and sent to jail after the court refused them bail based on criminal extortion charges.
A crackdown on the widespread dealing and use of vaping products in Thailand has also been launched after authorities tacitly accepted that the products are readily available for sale in Thailand's casual markets and that the local population appears to be ignoring the law.
Press conference given by Singaporean tourist who paid the bribe to police on January 4th made the situation undeniable and further damaged confidence
This was the story told by Mr Sky from Singapore on Wednesday after he told reporters that three e-cigarettes or vaporisers, at the centre of the extortion of the movie star, had been purchased at a market in the Huai Khwang district of Bangkok where they were seen to be ubiquitously used, to the eyes of the visiting foreign tourists including Ms Charlene An.
In light of the public debate in Thailand in the aftermath of the scandal which has caused serious harm to the perception of the country abroad and undermined confidence, the public in the kingdom has begun to question the basis for the legal provisions outlawing vaping products in the first place which are based on health concerns.
It comes as Thailand, in the process of legalising medical marijuana use this year, inadvertently created a culture in the kingdom where cannabis is now being sold openly and widely advertised on shop fronts and outlets throughout the country, particularly in Bangkok and tourist haunts despite vast opposition from the medical community, local population and international studies suggesting the drug is a danger to the mental health of those who use it regularly.
Vaping or e-cigarettes popular among 18 to 24-year-olds in Thailand with at least 80,000 adult users in the kingdom despite health risks and the law
On Friday, Minister Chaiwut pointed out that the use of e-cigarettes or vaping was popular among some age groups and demographics in the country. He pointed to the fact that the devices are legal in many foreign countries.
The minister admitted that e-cigarette use has become a problem for authorities wherever the devices are banned, creating a breeding ground for corruption.
Currently, vaping is illegal in the following countries as well as Thailand: Argentina, Bhutan, Brazil, Brunei, Cambodia, Colombia, Ethiopia, Gambia, India, Iran, North Korea, Kuwait, Laos, Lebanon, Mauritius, Mexico, Nepal, Nicaragua, Oman, Palestine, Panama, Qatar, Seychelles, Singapore, Sri Lanka, Suriname, Syria, Timor-Leste, Turkmenistan, Uganda, Uruguay, Vatican City and Venezuela.
E-cigarettes are also outlawed in Australia and Japan but can be used in the former with a doctor's prescription and in the latter provided a liquid that does not contain nicotine is used.
Current law is a perfect situation for police to leverage power over those caught with e-cigs threatened with jail and deportation from the country
The outlawing of vaping and vaping products, a social activity pursued by people who are likely to be potential smokers or ex-smokers, is a perfect climate for petty corruption and police extortion in other countries just as we have seen in Thailand.
'We need to stop acting like…. We are still having trouble solving the issue,' revealed the minister on Friday in a frank and open manner. 'Most importantly, I believe that legalising vaping will enable the government to collect taxes from e-cigarettes for the benefit of the general public.'
Minister Chaiwut said the move would not only help generate funds for the government's coffers but would be a blow against corruption and bribery in Thailand.
'Decriminalising e-cigarette use and amending related laws to better suit people's lifestyles would also aid in reducing corruption and bribery. In addition, I will work to have the decriminalisation of vaping included in the Palang Pracharath Party's platform for the upcoming general election,' declared Mr Chaiwut, who is also a deputy party leader with Palang Pracharat, the right-wing ruling party led by Deputy Prime Minister, General Prawit Wongsuwan.
Police force acts to suppress vaping and e-cigarettes while alerting officers to the current situation
In the meantime, in reaction to the arrest and charging of six serving police officers on Thursday and the embarrassment suffered by the Royal Thai Police over extortion claims relating to vaping, the crackdown on the widespread sale of e-cigarettes is gathering pace.
Police Major General Theeradet Thammasuthee the Commander of the Investigation Centre of the Metropolitan Police Bureau confirmed that all 88 police stations in the capital have been alerted to deal with the issue.
Meanwhile, an investigation is proceeding apace into the alleged extortion of Chinese nationals who were threatened with arrest for possession of an e-cigarette.
A senior sergeant major in the traffic corps at Pattaya Police Station has been assigned to other duties.
Chinese tourist case in Pattaya, ฿30,000 'fine' was allegedly paid over by holidaymakers to police officer who denies any wrongdoing in the matter
He allegedly demanded ฿60,000 from a group of Chinese tourists with a tour group and later offered to reduce this to ฿30,000 which it is now understood the Chinese group agreed to pay to avoid being detained and having to face legal proceedings.
It is not clear what the status of Chinese tourists is now but up to recent days, the accepted alternative was thought to have been incarceration unless bail was granted and paid until a court hearing while after this, on conviction, under the 1979 Immigration Act, such tourists faced further detention before being deported from Thailand.
On Thursday, the Minister of Tourism and Sports, Phiphat Ratchakitprakarn and a well-known Thai legal expert and lawyer, Kirdphon Kaewkird, came forward to make it clear that foreign tourists cannot be arrested for being in possession of an e-cigarette device but instead must be reported to the local provincial court.
This directly contradicts what happened in at least one case that we are aware of and what the party with the Taiwanese actress was told by police officers in Bangkok at the now notorious police checkpoint on January 4th last.
Indeed, just this week, senior police officers within the Metropolitan Police Bureau told the media that the Taiwanese actress and her party should have been arrested on that date if the police officers present had acted with propriety.
Legal situation has not been clear
At the very least, this has not been a consistent practice up to now or in recent years and warrants further confirmation not least to the various Thai police forces throughout the kingdom.
This was, for instance, not the fate of French tourist Cecilia Cornu in February 2019, a story that should serve as a warning for all visitors to Thailand to be careful about ending up on the wrong side of the country's criminal justice system.
The latest case in Pattaya developed after a TV exposé on Thailand's popular Channel 3 TV service and prompted an order from the Head of Chonburi Provincial Police, Police Major General Kampol Leelaprapakorn to have a full investigation launched by Pattaya's police department.
Continued illegal status of e-cigarettes in Thailand supported in August 2022 by Minister of Public Health Anutin Charnvirakul at Bangkok conference
E-cigarettes were invented by a Chinese pharmacist in 2003. 
Thailand outlawed the devices and activity in 2014 through legal provisions including a ban on the importation of vaping devices under the customs regulations as well as an update to the Public Health Ministry Act and an official statement by the Ministry of Commerce that year declaring vaping devices and associated products as illegal.
They were further banned by the introduction of the Tobacco Product Control Act in 2017.
Foreign tourists are warned on flights arriving in Thailand that e-cigarettes are illegal and there have been reports of passengers jettisoning such devices immediately after landing at Suvarnabhumi Airport.
In Thailand, e-cigarettes have become popular with 18 to 24-year-olds who are believed to account for a significant number of the up to 80,000 Thai adults who use e-cigarettes despite the ban on their use, based on an estimate provided by the National Statistical Office of Thailand in 2021.
In August last year, the controversial minister who steamrolled through the revolution in cannabis use in the kingdom, Minister of Public Health, Anutin Charnvirakul, ruled out legalising vaping on the basis of the threat posed to public health and in particular to young people.
Top Thai doctor warns of severe ill health effects from vaping backed by medical studies and the WHO
'This clearly showed vaping has created new smokers, especially young people, while a growing number of international studies found smoking e-cigarettes has negative effects on young people's brains,' Mr Anutin said in August 2022 at a conference in Bangkok.
He promised that a crackdown on the activity would continue but accepted that e-cigarette products were appearing on the country's huge black market.
At the same conference in Bangkok last year, Professor Dr Vijj Kasemsap, the director of Tobacco Control Research and Knowledge Management Centre (TRC) referred to World Health Organisation (WHO) guidance and no less than 6,971 medical studies when he warned his audience about the health dangers posed by the activity.
He said that it increased the danger of heart disease by a factor of 1.8 while causing a 49% higher risk of pulmonary disease with a 39% higher risk for asthma.
He said that the nicotine used in such activity posed significant risks to unborn children who risked developing nervous disorders and low birth weight.
'Vaping during this period of life decreases brain development by three to four times the normal development rate,' Dr Viji concluded. 
Further reading:
Extortion of tourists over e-cigarettes sees police teams probing cases in Bangkok and Pattaya
Police admit bribe was paid by Taiwanese actress in Bangkok but say she should have been arrested
Confidence and trust in Thailand damaged by Chinese VIP tourist services advertised online
Viral Chinese video says VIP arrival with a police escort can be bought when holidaying in Thailand
US and Thai agencies forge closer ties as cabinet tackles corruption within the Royal Thai Police national ranks
Royal Thai Police Sergeant Major arrested on Ko Samui, charged with the rape of female detainee
Top Thai and US drug suppression officials warn of the use of cryptocurrencies in the drug trade
Illegal Chinese fraudsters use fake banking app to steal millions of baht from gulled online SCB users
Drug police put retraction behind them to smash billion baht Myanmar drug operation in Bangkok raid
Use of cocaine and cannabis is still highly illegal in Thailand with very serious legal consequences
Sex, drugs and alcohol as Chiang Rai party-goers arrested in the midst of the growing virus emergency
One of the biggest drug dealers in the South flees home as Thai police and army move against him
Evil drugs trade in Songkhla sees Thai woman burned alive by her family for 300 grams of ice missing in village
Thai man burns down his family home: Thailand's drugs problem is still a very real threat to society
UK man arrested on drugs charges by CSD police in Pattaya claims ex Thai wife set him up
UK drug dealers living it up in Thailand to be deported back to the UK after arrests in Pattaya
Kiwi taken into custody on drug charges in Chiang Mai after police raided his bar and restaurant
Drug lords using an Australian gang to ship concealed drugs to Australia and Canada – more arrests promised
Double life of a UK man who became a drug dealer in Udon Thani
UK man watched his ceiling as a downpour of money spelled his downfall and jailing in Thailand
American man and Thai wife arrested for selling 'ice' in Pattaya after police swooped on Bang Lamung condo