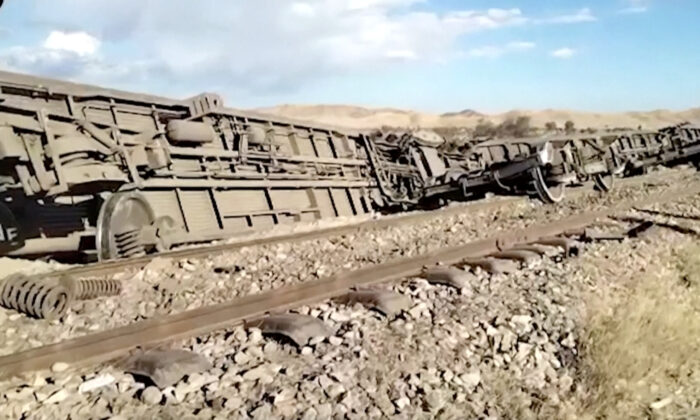 Detailed train carriages in Balochistan, Pakistan, on Jan. 20, 2023, in a still from video. (Medical Emergency Response Centers 1122 Balochistan Handout via Reuters/Screenshot via The Epoch Times)
QUETTA, Pakistan—At least fifteen people were injured when a bomb blast derailed a passenger train in the southwestern Pakistani province of Balochistan on Friday, a provincial government official said.
The attack—which was claimed by the Baloch Liberation Army, a regional separatist group—derailed eight carriages including the locomotive, Deputy Commissioner Bolan Agha Samiullah told Reuters.
He said a rescue team was facing difficulties as the site was in a mountainous area.
The Baloch Liberation Army's (BLA) stated aim is complete independence for Balochistan, an arid mountainous province that is Pakistan's largest by territory but smallest by population.
Pakistani security forces have been the separatist militants' main focus, through they have also targeted Chinese interests, given Beijing's increasing economic footprint in the region.
Among China's major projects in Balochistan is the port of Gwadar located near the Strait of Hormuz, a crucial oil shipping route in the Arabian Sea.