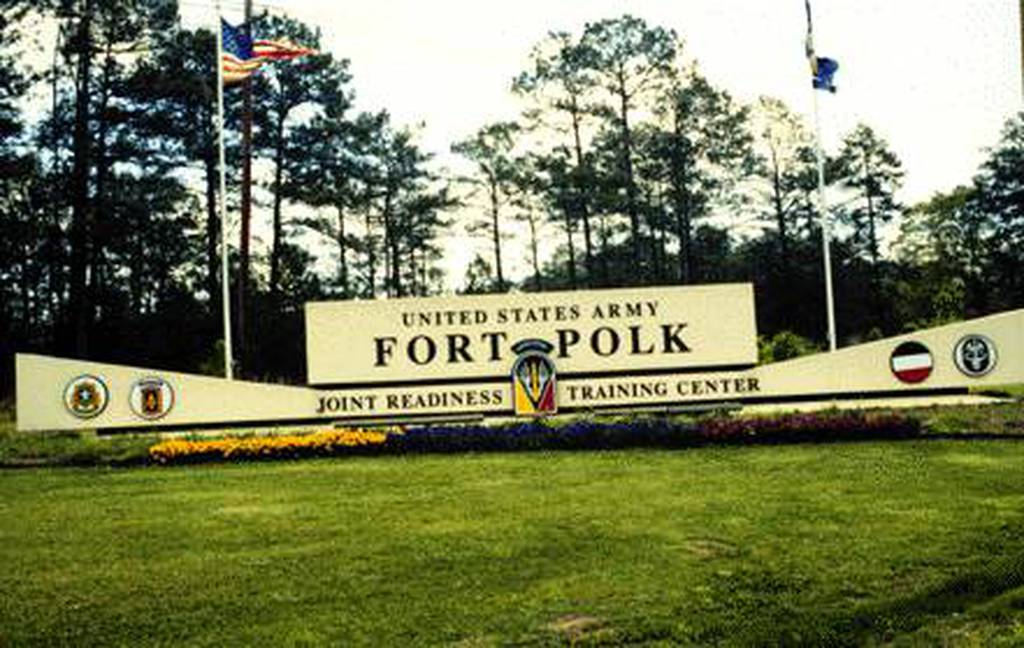 Fort Polk, Louisiana is one of nine Army bases that are changing their names and removing all Confederate references. (via Military OneSource)
The cost of renaming the nine Army bases that honored the Confederacy has nearly doubled, an Army official told lawmakers Thursday.
The Army expects to pay $39 million, said Lt. Gen. Kevin Vereen, Army deputy chief of staff for installations. In 2022, the congressionally-mandated Naming Commission estimated it would cost $21 million to rename the nine Army installations.
The Defense Department initially gave the Army $1 million to change the names, but "that's not anywhere close to what we need," Vereen told members of the House Appropriations Subcommittee on Military Construction, Veterans Affairs and Related Agencies.
The renaming involves replacing names not only at the installation gates, but on facilities, streets, numerous smaller signs, and technology, he said.
Service officials have until the end of the year to remove the names, symbols, displays, monuments, and paraphernalia that honor or commemorate the Confederacy or any person who served voluntarily with the Confederacy.
Garrisons won't have to foot the bill, Vereen said, nor will they have to pay the costs upfront and then request reimbursement.
"The Army is trying to solve the funding piece, and we're trying to solve it internally," he said. "We'll take the funds from the department."
RELATED
Bases slated for renaming:
Fort Benning, Georgia — Fort Moore, after Army Lt. Gen. Hal Moore and his wife, Julia Compton Moore. Hal Moore received the Distinguished Service Cross for heroism in the Vietnam War. Julia Moore was an advocate for military families.
Fort Bragg, North Carolina — Fort Liberty.
Fort Gordon, Georgia — Fort Eisenhower, after President Dwight D. Eisenhower, who was also a five-star Army general and served as the Supreme Allied Commander of forces in Europe during World War II.
Fort A.P. Hill, Virginia — Fort Walker after Dr. Mary Edwards Walker, the first female surgeon in the Civil War, and the only woman awarded the Medal of Honor.
Fort Hood, Texas — Fort Cavazos, after Army Gen. Richard E. Cavazos, who received the Distinguished Service Cross for heroism in the Vietnam War.
Fort Lee, Virginia — Fort Gregg-Adams, after Lt. Gen. Arthur Gregg and Lt. Col. Charity Adams. Gregg was a key figure in the integration of black soldiers into the Army. Adams was one of the highest-ranking female soldiers in World War II.
Fort Pickett, Virginia — Fort Barfoot, after Army Tech Sgt. Van T. Barfoot, who received the Medal of Honor for his actions with the 45th Infantry Division during World War II in Italy in 1944.
Fort Polk, Louisiana — Fort Johnson, after Army Sgt. William Henry Johnson, who received the Medal of Honor posthumously for action in the Argonne Forest of France during World War I.
Fort Rucker, Alabama — Fort Novosel, after Army Chief Warrant Officer 4 Michael J. Novosel, an aviator who received the Medal of Honor for a medevac mission under fire in Vietnam where he saved 29 soldiers.
Karen has covered military families, quality of life and consumer issues for Military Times for more than 30 years, and is co-author of a chapter on media coverage of military families in the book "A Battle Plan for Supporting Military Families." She previously worked for newspapers in Guam, Norfolk, Jacksonville, Fla., and Athens, Ga.