A Chinese national suspected of holding the rank of lieutenant colonel in the Chinese air force has been arrested for his involvement in a scheme to produce fake green cards, according to a federal filing.
Du Zesheng, a 41-year-old dual-passport holder of both China and the Caribbean island St. Kitts and Nevis, is accused of forging at least two U.S. permanent resident cards for himself and his girlfriend. Belongings from his luggage link him to the Chinese air force, according to a court complaint (pdf).
Customs officers at the Miami International Airport found Chinese military uniforms in Du's luggage during a routine secondary examination on Jan. 19, consisting of pants and a long-sleeve heavy shirt in a blue-gray urban camouflage pattern, the document says. On the uniform pieces are serial numbers and a tag with Chinese writing, appearing to indicate the outfits as "training uniform."
Both the shirt and the pants have buttons inscribed with the letters "PLA," the shorthand for China's principal military force, the People's Liberation Army, and the uniform shirt's left breast pocket bears an insignia resembling a pair of wings around a central shield, which the law enforcement identified to be a Chinese air force badge.
The uniform's discovery prompted Customs and Border Protection to search the three phones and a laptop that Du carried, which further revealed pictures showing him in a Chinese air force uniform. In one of them, Du donned a uniform with a badge identifying him to be an air force lieutenant colonel, according to the complaint.
Du had concealed such affiliations when applying for his non-immigrant U.S. visa, answering "no" to the question of whether he had served in the military.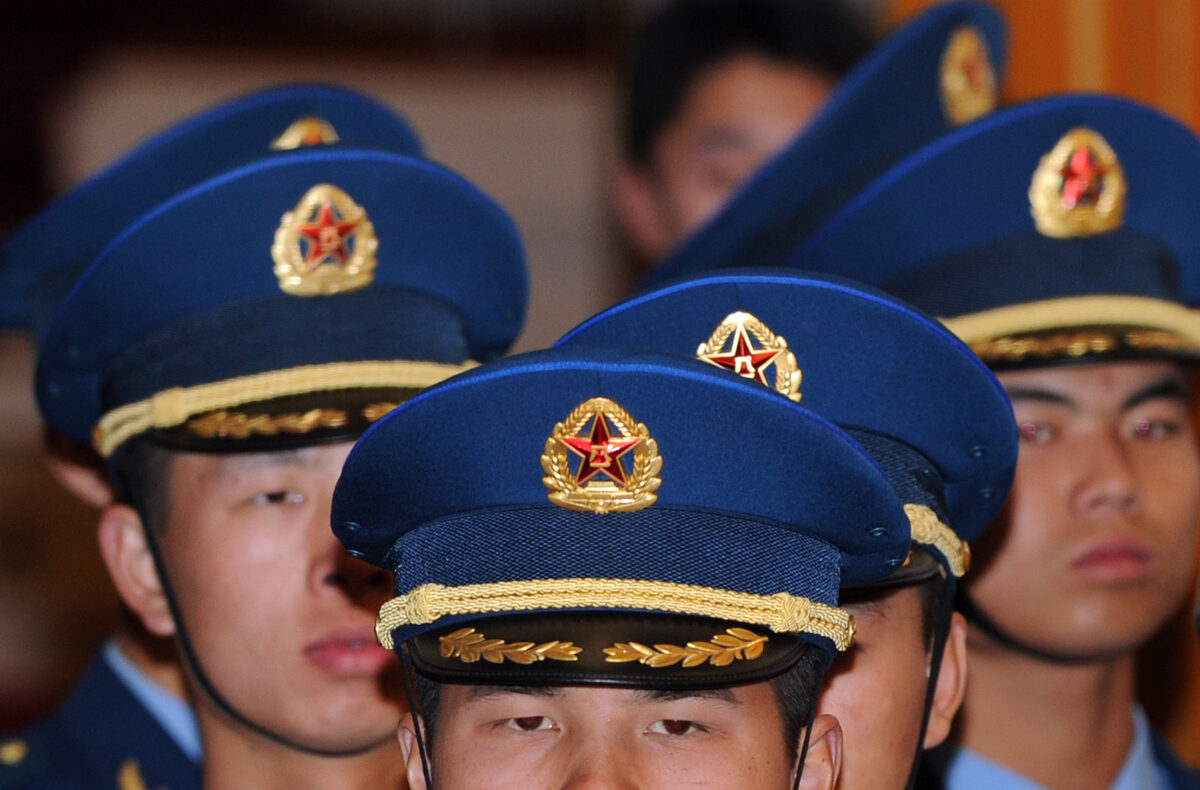 His arrest was first noted by Seamus Hughes on a Substack newsletter he maintains called Court Watch.
He has been conspiring to unlawfully produce identification documents, according to an updated filing (pdf) dated Feb. 14. If convicted, Du could face a punishment of up to 15 years in prison with up to three years of supervised release, along with a maximum fine of $25,000. He would also lose any U.S. properties derived from the offense or those that had contributed to the act.
Green Card Forgery
Du lived in China intermittently until 2019 when he moved to St. Kitts and Nevis, the court filing says.
Officers found on one of his phones extensive conversations from September 2022 through January with a Chinese-born U.S. permanent resident about how to create a fraudulent green card. The man shared both copies of his own green card and that of his son.
When questioned, Du claimed that he had asked for these photos to make a green card for his daughter, who he intended to bring to St. Kitts and later the United States to study. He couldn't answer why he would need a green card to apply for his daughter's Chinese passport.
Du used software such as Photoshop and AdobePro to edit these photos, the complaint says. One version includes Du's headshot, name, birth date, and a card number for a third-party female.
In that fashion, Du admitted he produced two electronic green cards for himself and his girlfriend.
The U.S. Attorney's Office for the Southern District of Florida didn't respond to The Epoch Times's request for comment by press time. Du's attorney, Celeste Higgins, declined to discuss the issue, stating it's her policy to not comment on any case.
This article has been updated with a response from Du Zesheng's attorney.