ISLAMABAD—Pakistani troops on Friday raided a terrorist hideout in a former stronghold of the Pakistani Taliban terrorist group, in the country's northwest and near the border with Afghanistan, the military said. The raid triggered a shootout that killed two terrorists.
The shootout in North Waziristan, a district of Khyber Pakhtunkhwa Province, came days after a suicide bomber attacked a mosque within a police and government compound in the city of Peshawar, the provincial capital, killing 101 people and wounding at least 225. The attack was one of the deadliest in years in the volatile region.
The military said the terrorists killed in the raid had been involved in past attacks on security forces, without providing details. Such raids, most often against the Pakistani Taliban, also known as the Tehrik-e-Taliban Pakistan or TTP, are routine in the country's northwest.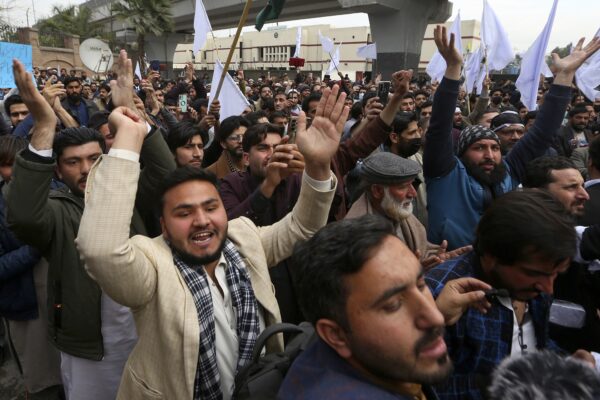 Also on Friday, Pakistani Prime Minister Shahbaz Sharif said he invited his predecessor and now opposition leader, Imran Khan, to talks next week about how the country should respond to the surge of violence.
Sharif's government has blamed the TTP for the Peshawar bombing on Monday, when a suicide bomber detonated his explosives inside the mosque in the police compound. Most of the casualties were police. The bomber wore a police uniform and the guards at the site assumed he was a police officer—their colleague—and did not search him, authorities said.
The Pakistani Taliban are a separate group but are allies of the Afghan Taliban, who seized power in Afghanistan in August 2021 as U.S. and NATO troops were in the final stages of their pullout. The Taliban takeover in Afghanistan has emboldened the Pakistani Taliban, who have stepped up attacks since November, when they ended a cease-fire with the government.
There was no immediate response to Sharif's invitation for talks from Khan, who was ousted in a no-conference vote in Parliament in April last year.
During his term in office, Khan had approved peace talks with TTP and even released some of the group's members held in Pakistani jails in a gesture of goodwill. The talks, hosted by the Afghan Taliban, collapsed in November.
On Friday, more than 2,000 supporters of Khan's opposition Pakistan Tehreek-e-Insaf party, rallied in Peshawar to denounce the surge in violence and demand peace. Similar rallies were also held elsewhere, organized by civil society groups.
IL PRIMO ECOMMERCE SPECIALIZZATO IN DELIZIE AL TARTUFO E CAVIALE – CAVIAREAT.COM