The United States said on Monday that its security supports for regional allies serve no hostile aim toward North Korea, rejecting North Korea's claims that joint military drills in the region are "provocative" actions.
U.S. State Department spokesperson Ned Price said that North Korea's recent missile launches pose a threat to the United States and its regional allies, but the United States will not change its stance on North Korea.
"It is the DPRK that, time and again, at an unprecedented rate, has engaged in provocations, including multiple tests of ICBM systems, other ballistic missiles, and other provocative activities that have posed a threat to peace and security in the Indo-Pacific and, in some ways, even well beyond," Price said, using the acronym of North Korea's official name, the Democratic People's Republic of Korea.
"Even as we have pointed out the threat that we and our partners in the region face from these programs and these dangerous provocations, we have made clear that we have no hostile intent towards the DPRK," he added.
Price said the United States has offered to engage in direct talks with North Korea "without preconditions" for over a year, but North Korea rejected the U.S. diplomatic overtures and only responded with provocations.
"Our diplomatic overtures remain. We would like an opportunity to discuss these issues face-to-face if that's the preference," Price told reporters.
"We believe in diplomacy, even as we have made clear, in word and in deed, that we are going to stand by the security commitments that we have to our treaty allies, to Japan, to the Republic of Korea, to our allies around the world," he added.
The United States has pledged to maintain close cooperation with South Korea and Japan to deter North Korea's provocations, including joint drills and deploying military assets to the region.
On Saturday, the U.S. nuclear-powered submarine USS Springfield made a port call in Busan, South Korea, after North Korea launched four "strategic" cruise missiles last week.
The USS Springfield is one of five Los Angeles-class fast-attack submarines based in Guam. The vessel and its crew routinely conduct maritime security operations in support of national security interests.
North Korea Condemns US Joint Drills
North Korea condemned U.S. joint drills as "rehearsals for an invasion" and warned that increased presence of U.S. strategic assets on the Korean peninsula will push the security situation to an "extreme red line."
The North Korean regime vowed to retaliate against any military action according to its principle of "nuke for nuke and an all-out confrontation for an all-out confrontation."
"If the U.S. continues to introduce strategic assets into the Korean Peninsula and its surrounding area, the DPRK will make clearer its deterring activities without fail according to their nature," the North's Foreign Ministry spokesperson said on Feb. 16.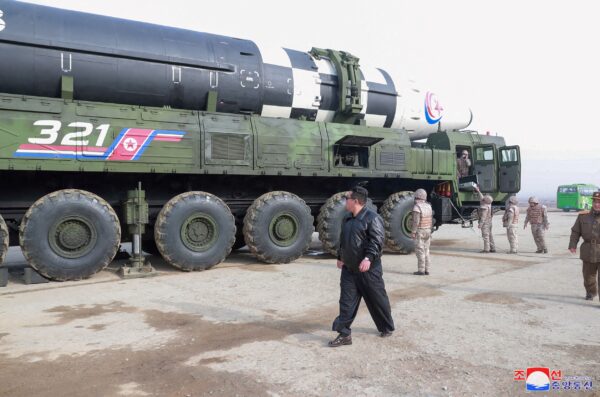 On Feb. 18, North Korea launched an intercontinental ballistic missile (ICBM) that landed outside Japan's exclusive economic zone. Japan said the ICBM had the capacity to strike the United States.
The United States then staged joint air drills with South Korea and Japan on Feb. 19, to which North Korea responded by firing two "tactical nuclear" missiles into the sea.
North Korea fired more than 70 missiles last year, one of which reportedly flew over Japan and triggered alerts warning citizens in the Hokkaido and Aomori prefectures to take shelter.
South Korea and Japan have strongly condemned the North's missile launches and urged North Korea to stop its provocative acts.
North Korean leader Kim Jong Un previously said that his country has no intention of engaging in dialogue with enemies that pose military threats to North Korea, despite their continued efforts to do so.
The country adopted a first-use nuclear doctrine on Sept. 8, 2022, which Kim stated would make North Korea's status as a nuclear weapons state "irreversible.
Kim rules the totalitarian state of North Korea, where people must seek his permission to enter or exit the country. Basic liberties are withheld from the populous of 24 million people, with more than half living in extreme poverty and suffering abuse in the forms of threats of execution, wrongful imprisonment, enforced disappearance, and forced labor. The hermit kingdom's annual GDP per capita is around $1,800.