Australian and French leaders have agreed to work towards restoring bilateral relations, agreeing to support Pacific priorities, including climate change while strengthening military cooperation.
Australia's Foreign Minister Penny Wong and Defence Minister Richard Marles met their French counterparts Foreign Affairs Minister Catherine Colonna and Armed Forces of France Minister Sebastien Lecornu in Paris on Jan. 31.
Following discussions, the ministers hinted at a renewal of relations, which soured after the cancellation of the $90 billion (US$60 billion) submarine programme with French defence contractor Naval.
Marles said the meeting had been conducted with a "high degree of warmth," indicating a "new era" in French-Australia relations.
"There is no more important place for this cooperation to be given expression than in the Pacific, where both France and Australia live," he told reporters.
"This is not only in deepening the relationship between our defence forces in the Pacific but working together in deepening our respective relationships with the defence forces of the Pacific Island countries, countries such as Papa New Guinea, Fiji, Tonga."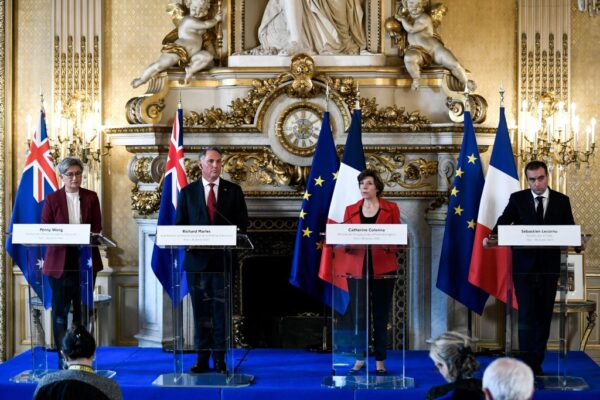 France and Australia have discussed and endorsed initiatives to improve cooperation between their defence forces, building infrastructure, and stepping up joint military exercises.
"Training is a real opportunity for France and Australia to work together to build the capability of the defence forces of Pacific Island countries," Marles said.
Wong said that France, a global power and major player in the European Union, was also an Indo-Pacific power.
The ministers highlighted the importance of climate change, according to a joint statement.
Wong also thanked Colonna for France's support for Australia hosting the Conference of the Parties 31.
"Climate change is, as we all know, an existential issue," she said. "We want to work with Pacific Island nations to elevate their voices in the international forum on climate change, because they bring to that discussion a very acute and existential understanding of what climate change means."
Commitment to Support Ukraine
The ministers reiterated their condemnation of Russia's invasion of Ukraine and announced joint military support to bolster Ukraine's defence.
The two countries will be jointly providing 155-millimetre artillery shells.
"Several thousand 155 millimetres shells will be manufactured jointly," Armed Forces of France Minister Lecornu said.
The agreement is expected to be a "multi-million-dollar project," where Australia will supply the gunpowder.
"There are some unique capabilities that exists in Australia, and some synergies that can be achieved by Australia and France working together in relation to the supply of this ammunition," Marles told reporters.
"So, they're actually complementarities between our defence industrial bases which allow this to happen."
Lecornu and Marles did not reveal any further details into the joint production of the ammunitions saying it was to maintain "discretion to Ukraine on these strategic functions."
"The idea for us is to bring aid that is significant," Lecornu said. "And even more so, an effort that is continuous over time because what our Ukrainian friends tell us is that … the Ukrainian army needs regularity, predictability, and reliability in deliveries made."
The moves come after 70 Australian soldiers set off to Britain to join partner nations in conducting military training for Ukrainian troops.
The program, led by the United Kingdom, aims to train up to 20,000 Ukrainian soldiers this year.
"Operation KUDU builds on Australia's military support for Ukraine, with the previously gifted Australian-produced Bushmaster protected mobility vehicles proving their worth as highly valuable military vehicles," Marles said.
Australia has been one of the largest non-NATO contributors to Ukraine, providing about $655 million in support, including $475 million in military assistance.
IL PRIMO ECOMMERCE SPECIALIZZATO IN DELIZIE AL TARTUFO E CAVIALE – CAVIAREAT.COM