Background
In December Forge opened for weekend tasting evenings, which became fully booked very quickly. Following the demand for this dining experience, Middleton Lodge reopened this restaurant in early February. It is the second restaurant on the lovingly restored 200-acre estate which has been brought back to life by the Allison family.
Head chef, Jake Jones and head pastry chef, Antony Johnson have created something very special here. Bringing together their wealth of experience, knowledge, and tailored skills.
Sustainability and raising awareness of this is very important at Forge, this is evident with the ingredients you discover in each course, all are connected to the estate in some way. Inspiration clearly comes from the surrounding Yorkshire landscape and the estate's kitchen garden which was redesigned by Tom Stuart-Smith.
Reservations can be made for hotel residents and those in the surrounding communities. There are vegan and vegetarian menus available also.
The team at Forge has also worked closely with the founder of Barrique Fine Wines, Edd Simpson to develop and perfect a wine list and pairing.
Location
Forge sits behind the Farmhouse on the estate, you're welcomed to the warmth of an outdoor fire which crackles away in the courtyard as you walk to the entrance of the restaurant. In the original estate's, Forge stone building there is something mysterious and fascinating about the setting. Every detail has been touched upon, there is even parking nearby.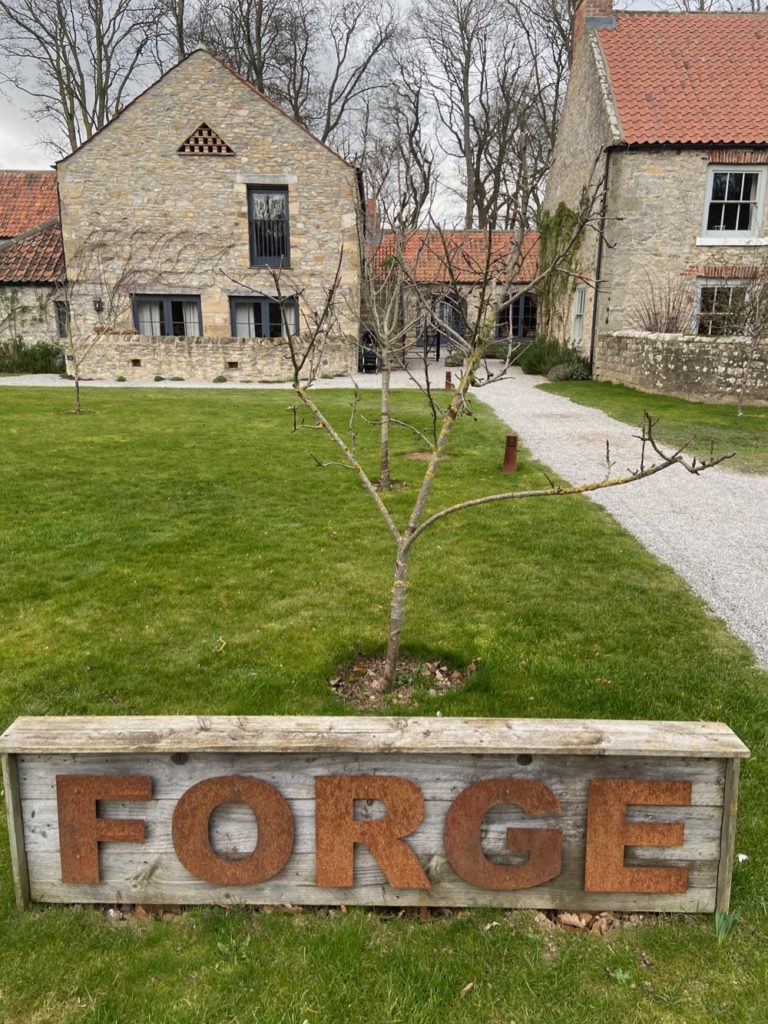 The Restaurant
Forge has been redesigned by the estate's creative director. The walls are still open brick, a large fire adds drama and almost a theatre like setting, the lights are dimmed to heighten the senses, so you are consumed by the story the tasting experience tells. Beautiful timber roof trusses add texture, it is stylish and refined.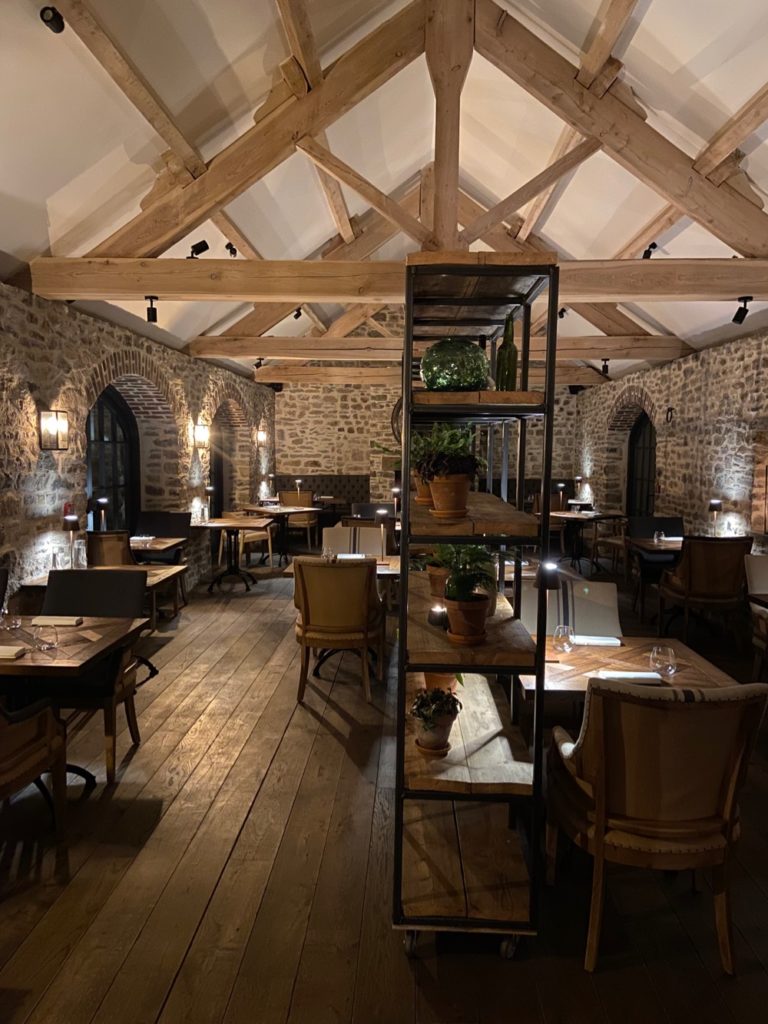 Like any good restaurant, Forge has its own bar which has an elemental and natural feel, green leather seating and large mirrors against the natural wood contrast perfectly, you could sit here late into the night with the marvel of wonderful estate inspired cocktails and magic wines.
The Menu
Jake has created a nine-course menu which is delicate, and created with purpose as you learn as each course (which is presented like a work of art), is served.
The team has been perfecting this menu for the past six-months and in our opinion, has executed this to an outstanding level.
Each course presents an artistic use of local ingredients for example courses include:
Thumbelina Carrot Tartlet – Ingot – Sea Buckthorn
English Mushroom Biscuit – Barncliffe Mascarpone – Black Winter Truffle
Jorvik Blonde Bread – Old Winchester Custard – Beer Vinegar – Shiitake'
Dry Aged Roe Deer – Celeriac – Blackberry Vinegar – Pine – Preserved Summer Berry
Forced Yorkshire Rhubarb – Apple Marigold
See the picture below for the full menu.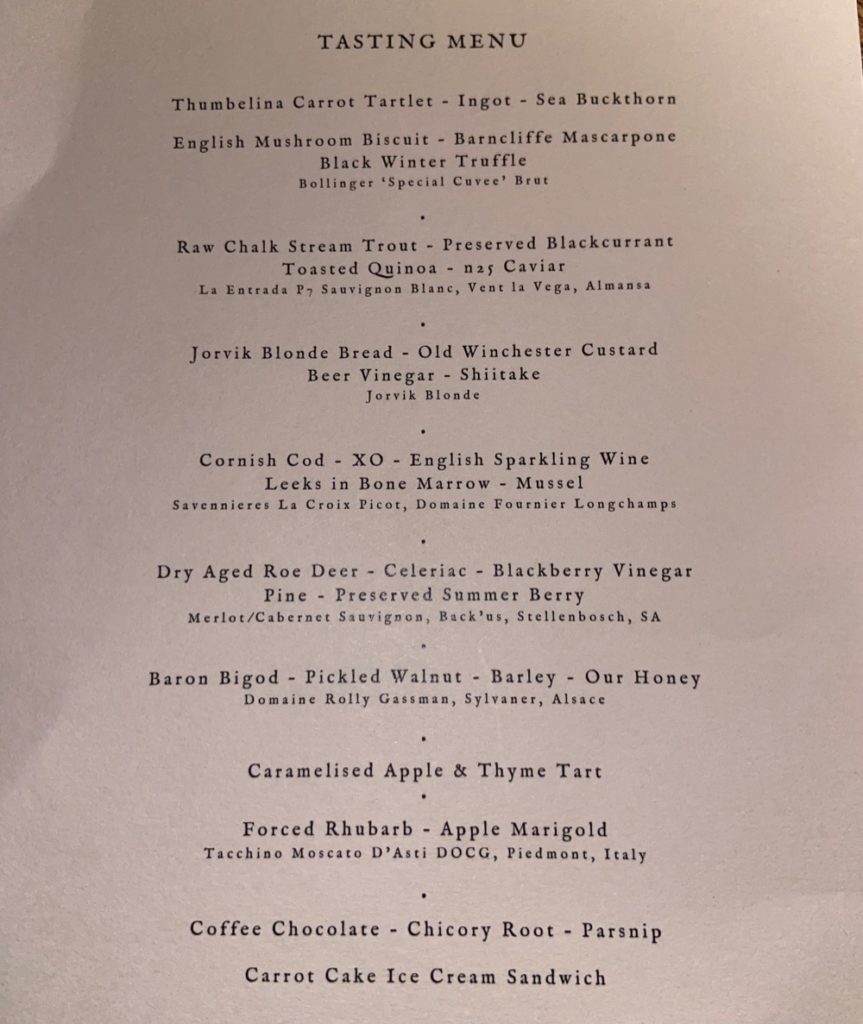 The restaurant team presents each course in a knowledgeable manner explaining the intricacies of such beautiful and delicious dishes. I was hooked on every word and left wanting more with every mouthful.
Often with tasting menus, there is always one or two courses I try but tend to skip as they're just not to my preferences however this was not the case with tonight's menu. I genuinely struggled to choose which was my favourite as I loved each one in equal measure. Even with the cheese course (which I'm not ordinarily a fan of) I cleared my plate. It was a Baron Bigod – a brie-style cheese served cold and was drizzled with the estates own honey. Yum!
If I really had to pick just one, I think (as I say it is a tough call!) my favourite would be the 'Forced Rhubarb – Apple Marigold'. Such a perfect balance of natural flavours, aromas, and textures. Heavenly!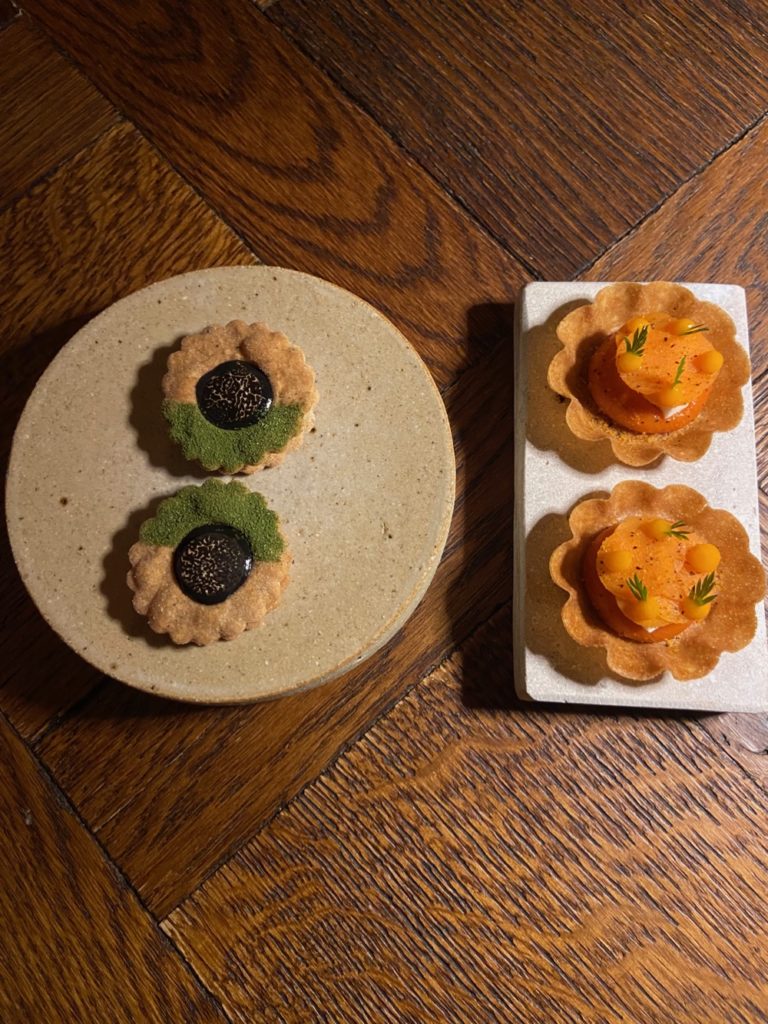 The menu is bursting with creative culinary flair as is the way in which diners are encouraged to eat each dish – triggering different senses.
For example, the home-baked bread is served with a savoury 'custard' which we were encouraged to 'dunk' into – just like the Vikings would have done whilst they swigged their Jorvik beer which is also part of this fun and tasty course.
Even the tableware used for each course is made from natural materials – again another connection to the earth and environment which is very much at the heart of this exceptional dining experience.
Timing at this kind of dining is key and the pace with which each course was served was perfectly timed. We didn't feel rushed, and we weren't left wondering when the next course would appear.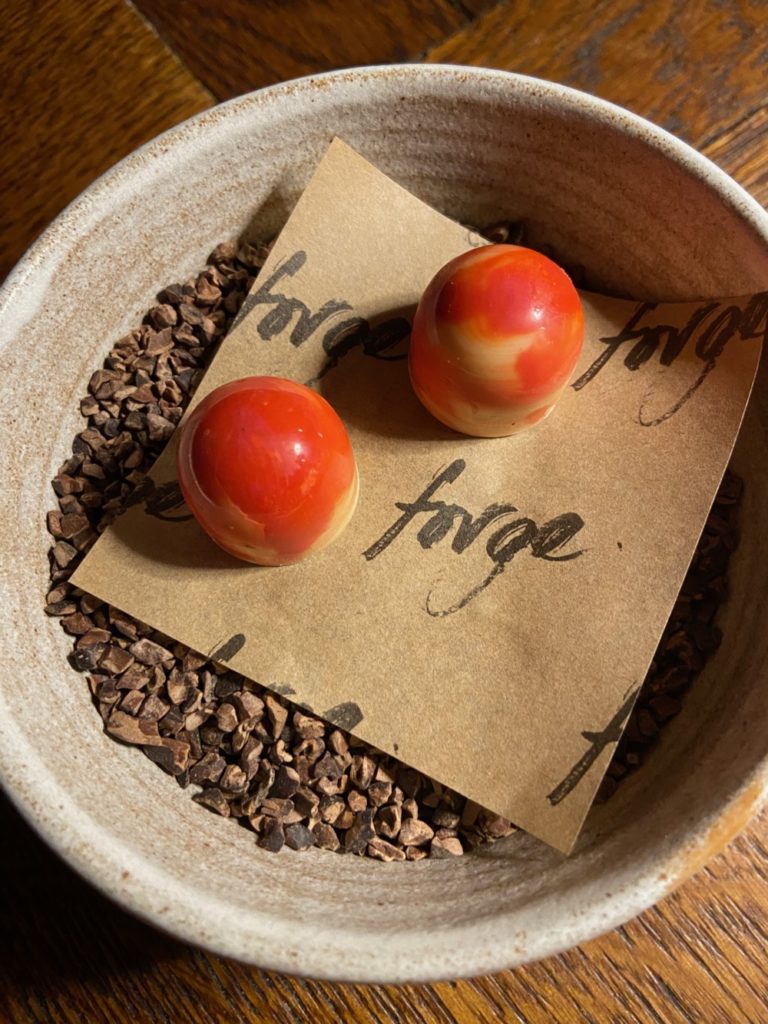 Diners can also choose the wine pairing experience; we didn't opt for this so the Sommelier helped us pick a glass or two that would complement as many dishes on the menu as possible.
Final Thoughts
We truly hope that this restaurant is 'Forge by name and by nature'. The team have created something that truly deserves to be strong, long-lasting, and hugely successful. We highly recommend this exceptional dining experience.
Further Details
The tasting menu is priced at £125pp with an optional wine pairing, which is an additional £95pp. Reservations are required, vegan and vegetarian menus are available on request. Diners can book to stay the night at the award-winning hotel. Room rates start from £235, bed and breakfast.
IL PRIMO ECOMMERCE SPECIALIZZATO IN DELIZIE AL TARTUFO E CAVIALE – CAVIAREAT.COM