JERUSALEM: Israeli Prime Minister Benjamin Netanyahu on Sunday (Mar 26) sacked Defence Minister Yoav Gallant, triggering mass protests, a day after Gallant broke ranks with the government and urged a halt to a highly contested plan to overhaul the judicial system.
As news of the dismissal spread, tens of thousands of protesters, many waving blue and white Israeli flags, took to the streets late at night across the country. Crowds gathered outside Netanyahu's home in Jerusalem, at one point breaching a security cordon.
Some three months since taking office, Netanyahu's nationalist-religious coalition has been plunged into crisis over the bitter divisions exposed by its flagship judicial overhaul plans.
"State security cannot be a card in the political game. Netanyahu crossed a red line tonight," opposition leaders Yair Lapid and Benny Gantz said in a joint statement.
They called on members of Netanyahu's Likud party not to have a hand in "the crushing of national security".
In announcing Gallant's dismissal, Netanyahu's office did not name a replacement nor give any other details. "Prime Minister Benjamin Netanyahu has decided this evening to dismiss Defence Minister Yoav Gallant," it said.
Shortly afterwards, Gallant, 64, wrote on Twitter: "The state of Israel's security has always been and will always be my life's mission."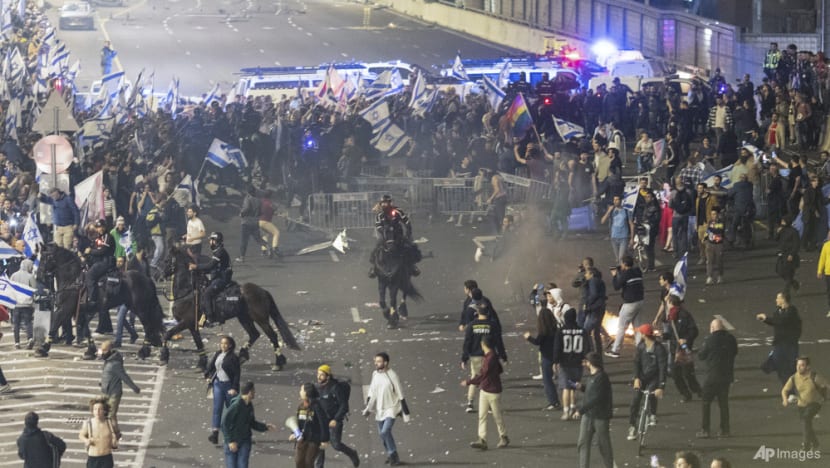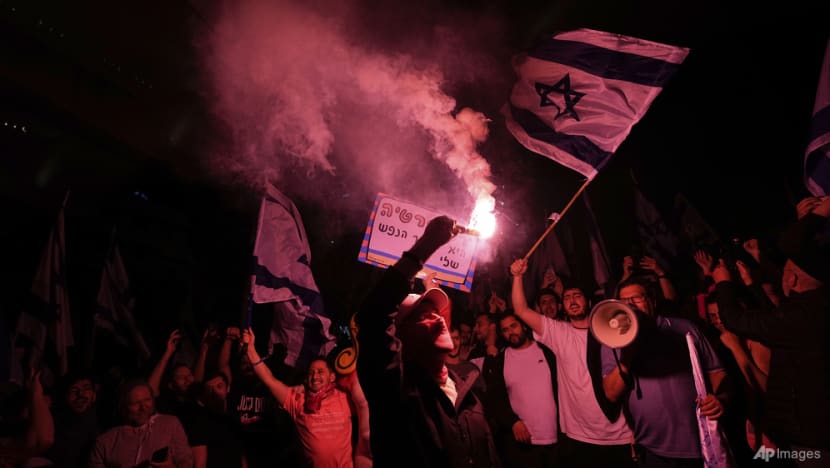 POLICE USE WATER CANNON
Netanyahu made the decision to sack Gallant after the former navy admiral warned on Saturday that the overhaul plans risked "a clear, immediate and tangible threat to the security of the state" and called for them to be halted.
"At this time, for the sake of our country, I am willing to take any risk and pay any price," Gallant said in his televised address.
Netanyahu acted in response on Sunday night as he was poised to ratify a central part of the overhaul package, a bill that would tighten political control over judicial appointments, handing the executive wider freedom to name judges to the Supreme Court.
Earlier this month, President Isaac Herzog, the head of state who is supposed to remain above politics, warned that the country faced "disaster" unless a broader consensus could be reached on how to overhaul the judiciary.
But Netanyahu, on trial on corruption charges that he denies, has vowed to continue with a project he says is needed to rein in activist judges and restore the proper balance between an elected government and the judiciary.
The United States said it was deeply concerned by Sunday's events and saw an urgent need for compromise, while repeating calls to safeguard democratic values.
As protesters poured into the streets, police used water cannons to push them back from Netanyahu's residence in Jerusalem, while in Tel Aviv, where hundreds of thousands have taken to the streets since the beginning of the year, protesters lighted several bonfires on a main highway.
The protests dwindled as the night went on, and eventually, police forcefully removed a smaller crowd that refused to leave.
It was not immediately clear whether the protests would affect the government's tactics. At least three Likud ministers said publicly that it was time to reevaluate their strategy and they would support halting the legislation if Netanyahu decided to do so. The head of the parliamentary committee deciding on the legislation said discussions would continue on Monday.
The crisis came as Israel's security establishment has been bracing for potential violence in the coming weeks as the Muslim holy month of Ramadan overlaps with the Jewish Passover and the Christian Easter celebration.
Over the past year, Israeli forces have been conducting nearly daily raids in the occupied West Bank, killing more than 250 Palestinian fighters and civilians, while more than 40 Israelis and foreigners have been killed by Palestinian attackers.
DIPLOMAT RESIGNS
Gallant on Saturday became the most senior member of Netanyahu's right-wing Likud party to say he would not support the judicial overhaul, saying protests that have included growing numbers of military reservists were also affecting regular forces and undermining national security.
In recent weeks senior Finance Ministry officials have warned of an economic backlash and business leaders have sounded the alarm for their companies' future.
Adding to the pressure, the head of the Histadrut labour federation, the umbrella organisation for hundreds of thousands of public sector workers, said he was "astonished" by Gallant's removal and promised a "dramatic" announcement on Monday.
Israel's consul-general in New York said he was resigning over the dismissal. Israel's research universities announced they would stop holding classes due to the legislative push, calling for its immediate freeze.
Some of Netanyahu's hard-right coalition partners had called for Gallant to be sacked, but a number of other Likud lawmakers have backed his call for a halt to the reforms.
The turmoil comes at a key moment in the passage of the legislation with a bill giving the executive more control over the appointment of judges expected to be brought for ratification this week in the Knesset, where Netanyahu and his allies control 64 out of 120 seats.
But how – or even whether – that as yet-unscheduled vote will proceed has been thrown into question by the wave of protest sparked by Gallant's removal and the deepening splits within the coalition.