Japanese explosive experts have reportedly been called in to examine a large spherical object of unknown origin that washed up on a beach in Japan on Tuesday.
A local woman found the mysterious ball on Enshu Beach in Hamamatsu City and alerted the police. The object was described as an "iron ball" with a diameter of 1.5 meters, NHK News reported.
According to local reports, the iron ball appears rusty and has a latching point that would allow it to be hooked to something.
Police cordoned off the area in a 200-meter radius around the object and called in bomb experts to inspect it for explosives. The team used X-ray technology to examine the object and found it to be hollow.
The restrictive access was lifted at around 4 p.m. on Tuesday after authorities determined that it did not pose an explosive threat, FNN reported.
But the origin of the iron ball remains unknown.
A local resident told NHK News that he had spotted the ball on the beach a month ago.
Concerns over suspicious objects have intensified after the United States shot down a suspected Chinese spy balloon on Feb. 4. Beijing claimed that the balloon was a civilian airship that had been blown off-course.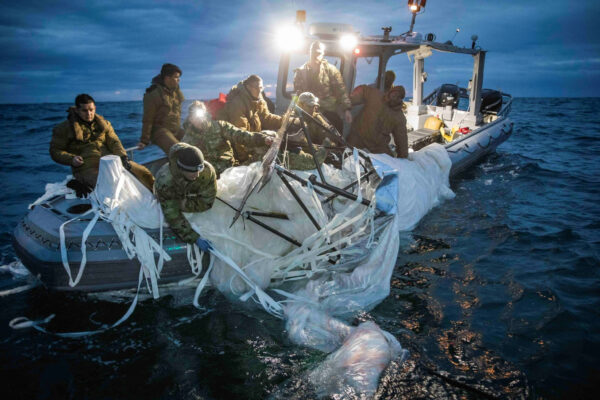 Since then, three more unidentified airborne objects were shot down over the Alaskan northern coast on Feb. 10, over Canada's Yukon on Feb. 11, and over Lake Huron on Feb. 12.
U.S. authorities said the objects were downed because they posed a threat to civil aviation. President Joe Biden said the balloons were likely "tied to private companies, recreation or research institutions."
"We don't yet know exactly what these three objects were, but nothing right now suggests they were related to the Chinese spy balloon program or they were surveillance vehicles from any other country," he said on Feb. 16.
Japan Reports Chinese Balloon Incursions
Japan's Defense Ministry said on Feb. 14 that it "strongly" suspected Chinese surveillance balloons had entered Japanese airspace at least three times between 2019 and 2021.
According to local reports, the first balloon was spotted on Nov. 20, 2019, in Kagoshima prefecture, which hosts Japan's nuclear power plant and a Ground Self-Defense Forces (SDF) camp.
The second balloon was detected on June 17, 2020, in Miyagi prefecture, which hosts Japan's military facilities.
The third balloon was spotted on Sept. 3, 2021, in Aomori prefecture, where Japan's maritime self-defense force naval base is located.
Japan's government had contacted the Chinese Communist regime to verify the incidents and demanded that such an incursion never occur again.
Japan's ruling Liberal Democratic Party last week approved a proposal to ease limitations on the military use of weapons against unmanned aircraft that violate Japanese airspace.
Currently, SDF law allows "necessary measures" to be taken against foreign aircraft that invade Japan's airspace, but the use of weapons is only allowed in cases of legitimate self-defense or an act of necessity.
The proposed policy would permit the use of weapons against drones and balloons that pose a hazard to civil air traffic, even if doing so does not constitute legitimate self-defense.
The ministry said that it would take into account the safety of citizens and civilian aircraft flights before approving any use of weaponry against unmanned aircraft under the new policy.
Defense Minister Yasukazu Hamada has said the military would be allowed to use weapons, including air-to-air missiles, against foreign balloons that violated Japan's airspace in accordance with the SDF law.
"In taking this measure, the appropriate equipment will be used in accordance with the situation," he told reporters at a press conference on Feb. 14.
Reuters contributed to this report.
IL PRIMO ECOMMERCE SPECIALIZZATO IN DELIZIE AL TARTUFO E CAVIALE – CAVIAREAT.COM