Japanese and Canadian leaders on Thursday discussed expanding bilateral trade and economic cooperation, as well as their approach to the increasing military assertiveness of the Chinese Communist regime in the Indo-Pacific region.
Japanese Prime Minister Fumio Kishida met with his Canadian counterpart Justin Trudeau in Ottawa on Thursday as part of his tour to the G7 nations, marking his first visit to Canada as Japan's head of government.
The two leaders agreed to expand cooperation in food, energy, critical minerals, and technology while emphasizing "the growing and exciting business potential" between Japan and Canada, according to a statement from Trudeau's office.
At a joint press conference, Trudeau said that Canada would host a business delegation from Japan this spring to discuss investment opportunities in the battery and mining industries. Canada will also send a trade delegation to Japan in October.
Kishida said that he aims to boost energy cooperation and source liquefied natural gas (LNG) from Canada to reduce Japan's reliance on Russian natural gas, which accounts for 9 percent of Japan's total LNG.
Japan's Mitsubishi Corp., through a subsidiary, owns a 15 percent stake in the LNG Canada joint venture led by Shell, which Trudeau said was the "largest private investment in Canada." The LNG terminal is being built in British Columbia to supply Canadian natural gas to Asia.
During the meeting, Kishida and Trudeau agreed on the importance of "a coordinated approach" to security challenges in the Indo-Pacific, citing growing concerns over the Chinese Communist Party's (CCP) military assertiveness.
Japan's Foreign Affairs Ministry said the two leaders strongly opposed unilateral attempts to change the status quo by force in the East and South China Seas and pledged close coordination in addressing issues related to the CCP.
Both sides also reaffirmed their support for a complete and irreversible dismantling of North Korea's nuclear weapons.
"Now that the international order is facing various challenges and the security environment is becoming more severe, we will further strengthen our cooperation with Canada in order to maintain and strengthen the peace and stability of the international community as a whole," Kishida said.
Trudeau welcomed Japan's new National Security Strategy, which refers to China as Japan's "greatest challenge" and calls for the possession of counterstrike capabilities.
On Dec. 16, 2022, Japan unveiled its biggest military build-up since World War II with a $320 billion plan that will buy missiles capable of striking China and ready it for sustained conflict.
Canada's Indo-Pacific Strategy, published in November 2022, describes the CCP as "an increasingly disruptive global power" and pledges closer cooperation with other nations in confronting the CCP on a range of issues.
Japan-Britain Defense Pact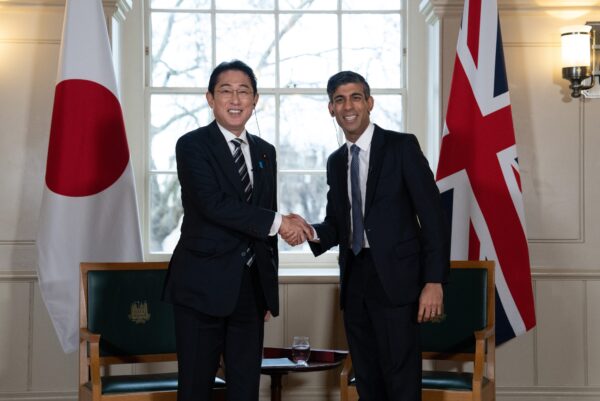 Prior to his meeting in Canada, Kishida signed a defense agreement with British Prime Minister Rishi Sunak in London, making the United Kingdom the first European country to have a reciprocal access agreement with Japan.
The pact is part of the UK's defense and foreign policy "tilt" toward the Indo-Pacific region, following an integrated review in 2021 that recognized the growing impact of China in the area.
The signing comes just weeks after the UK and Japan collaborated, along with Italy, to develop the next generation of combat air fighter jets under the new Global Combat Air Program.
"The relationship between our two countries is stronger than ever, not just across trade and security but also our values," Sunak said in welcoming Kishida to the Tower of London, where the agreement was signed.
He said the Reciprocal Access Agreement is "hugely significant" for both nations, as "it cements our commitment to the Indo-Pacific and underlines our joint efforts to bolster economic security, accelerate our defense cooperation, and drive innovation that creates highly skilled jobs."
Alexander Zhang and Reuters contributed to this report.
IL PRIMO ECOMMERCE SPECIALIZZATO IN DELIZIE AL TARTUFO E CAVIALE – CAVIAREAT.COM