One of my favorite facts about Denny's is that, due to its 24-hours-a-day service model, many locations existed for decades without any locks on the doors. Eventually they all had them installed, but that ceaseless, all-in commitment to diner food is what has always tickled me about Denny's. Now, in honor of its 70th anniversary, the chain is marrying its midcentury diner vibes with both modern flavors and modern technology, rolling out a new menu that includes—what else?—an augmented reality component.
The AR menu, a press release explains, is designed to "take guests on a vibrant visual tour with the turn of each page." It goes on:
Denny's designed its AR menu feature to bring the brand to life through a memorable and mouth-watering journey as part of the dining experience. A multitude of opportunities to interact, access exclusive deals, and learn about the brand and its storied 70-year history are now at guests' fingertips with a single scan.
New menu items include a spicy version of Moons Over My Hammy (featuring spicy chorizo), a strawberry cheesecake milkshake, a skillet full of mac and cheese and brisket, and lots more stuff that frankly sounds pretty delicious.
This isn't the first time in recent memory that a restaurant has tried to add some high-tech pizzazz to the ordering process. Last summer, a video from 2021 with the caption "The current use of augmented reality in [dining]" went viral online, showing diners interacting with a 3D interface that lets them see the dishes exactly as they'd appear when they hit the table so that there are no surprises. Yet while the 2021 technology involved a small projector placed directly on the table, Denny's AR is accessed entirely through mobile devices, displaying the food on your phone screen where it doesn't exist on the table IRL.
G/O Media may get a commission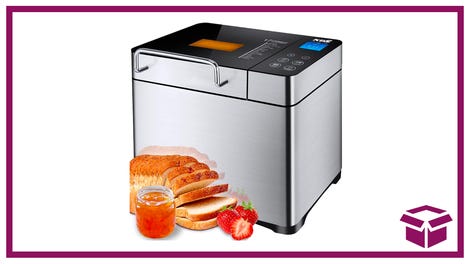 33% off
KBS Large 17-in-1 Bread Machine
Baking doesn't have to be intimidating.
You already let robots vacuum. Let this robot make your bread: with adjustable settings for crustiness and type of bread, and even a setting to proof.
The upside of this tech is that you don't have to create a Denny's account or download a Denny's app to access it, nor do you have to provide any biometric data through face or fingerprint scans, as some popular apps require. A spokesperson for Denny's confirmed to The Takeout that the menu will be on a web-based AR platform, meaning it functions entirely within your phone's internet browser (a plus for those of us with too many apps and accounts already). It can only be accessed in-restaurant for on-site dining.
While there are currently no special offers or promotions exclusive to the AR menu, Denny's noted that this could always change in the future. A rep also noted that the company intends to regularly update the AR experience so that there's always a new reason to give it a spin—and if people respond positively to it, the tech might just stick around for good.
At the end of the day, Denny's AR menu might succeed on the grounds of curiosity alone. After all, I haven't been to a Denny's in roughly 11 years, but now I'm mentally planning a trip to the far-flung suburbs of Chicago just to check out this technology for myself. It's like Pokémon Go, but instead of Mewtwo you snag Moons Over My Hammy. (And now you have the option to make it spicy.)