Three years under the Chinese Communist Party's zero-COVID policy is a disaster to local finances.
Southern China's Guangdong Province directly spent $22 billion on the central government's COVID containment measures, such as mass testing and forced vaccination, over the last three years.
Guangdong, China's economic powerhouse, spent a total of 146.8 billion yuan ($21.65 billion) on epidemic prevention in the past three years, according to its 2022 budget report released on Jan. 12.
From 2020 to 2022, the epidemic prevention and control campaign costs were 30.278 billion ($4.47 billion), 45.376 billion ($6.69 billion), and 71.139 billion ($10.49 billion) respectively, increasing by about 50 percent year by year, Chinese media Caixin reported.
This total expenditure exceeded investment in Beijing's national chip fund—the China National Integrated Circuit Industry Investment Fund, also known as the Big Fund.
Big Fund was established in 2014 with an initial investment of RMB 138.7 billion ($21 billion).
Huge Burden to Local Finance
Local governments in China convened their 2023 annual legislative sessions for budget planning and growth targets in the first two weeks of January, in preparation for the upcoming national political meeting, Two Sessions, in March.
Huge expenditure to support the zero-COVID policy will be a ubiquitous characteristic of local government balance sheets.
Beijing's local authorities, for instance, spent nearly 30 billion yuan ($4.5 billion) in 2022—a 140 percent increase over 2020's spending. The city did not disclose its 2021 spending in COVID containment.
Fujian Province spent 13.04 billion yuan ($2 billion) in 2022—a 56 percent increase from 2021. These charges amounted to 30.5 billion yuan ($4.6 billion) for the province over the past three years.
Shanghai, which suffered a two-month lockdown in April and May last year, reported that its Songjiang District expenditure on zero-COVID exceeded that of public healthcare in 2022. The district, home to the factories of several global chip-making giants including TSMC and SMIC, spent 4.45 billion yuan ($664 million) on COVID-related measures.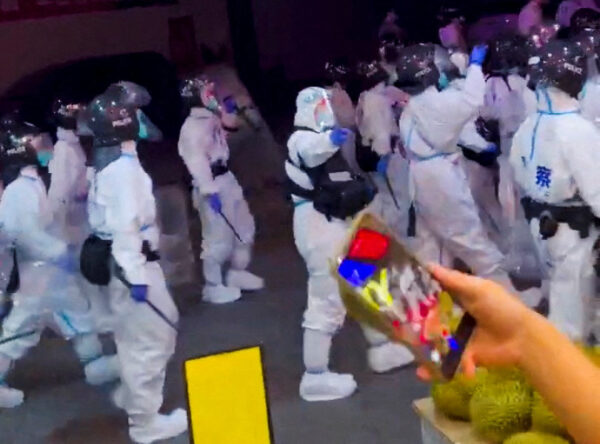 CNN Business reported that China's broad fiscal deficit for the first 10 months of 2022, combining deficits for both the central and local governments, reached 6.66 trillion yuan ($944 billion), nearly tripling from a year ago, based on data from China's Ministry of Finance.
Economist Zhao Wei estimated that the broad fiscal deficit could surpass 10 trillion yuan ($1.4 trillion) in 2022, the largest in history, according to CNN Business.
Failed Zero-COVID
State media Xinhua News in a Jan. 8 article touted the regime's adjustments in its now anti-COVID campaign, which unintentionally admitted the failure of the three-year zero-COVID policy. This presented an opportunity for the outside world to learn about the regime's policy shift.
The article mentioned the huge costs of zero-COVID.
"New cases continued to emerge, the rapid transmission became more and more prominent … zero-COVID is highly difficult to sustain, and the social cost of epidemic prevention and control elevated," the Xinhua report said.
The London-based Spectator magazine speculated on the reason for Beijing's abrupt easing of its cornerstone zero-COVID policy: "For the first time ever, the Chinese government appears to have admitted the real reason—zero COVID was failing to control the Omicron variant," it stated.
Zhang Ting contributed to this report.