The Chinese communist regime officially reported on March 17 that it has for the first time detected a duel infection of COVID-19 Omicron BA.5.2.48 and BF.7.14 subtypes.
The Chinese Center for Disease Control and Prevention's said in a notice on its official website that the case of duel infection was detected in samples collected and submitted for inspection by the Third Affiliated Hospital of Chongqing Medical University on Feb. 14.
According to the notice, the patient reported poor appetite on Dec. 23, 2022, developed fatigue and a cough, and tested positive for COVID-19 on Dec. 29. On Jan. 4, the patient developed chills and fever with a body temperature 102°F, accompanied by coughing.
He was admitted to Chongqing Yunyang County Hospital of Traditional Chinese Medicine but his condition did not improve. He was discharged on Jan. 5. But on Jan. 6, the patient was admitted to the Department of Infectious Diseases, the Third Affiliated Hospital of Chongqing Medical University. From Jan. 6 to Feb. 12, he was tested eight times for COVID-19 and all the tests were positive.
Researchers collected upper respiratory samples from patient on Jan. 28 and Feb. 7. Both samples contained specific defining traits for the Omicron subvariants BA.5.2.48 and BF.7.14, indicating that the patient was infected with both simultaneously.
According to the Chinese CDC's notice, the severe acute respiratory syndrome (SARS) currently prevalent in Chongqing is mainly caused by the virus strain BA.5.2.48 (>90 percent), followed by BF.7.14 (about 3.8 percent). So far, there have been no other reports of duel infection with both BA.5.2.48 and BF.7.14 subvariants in China.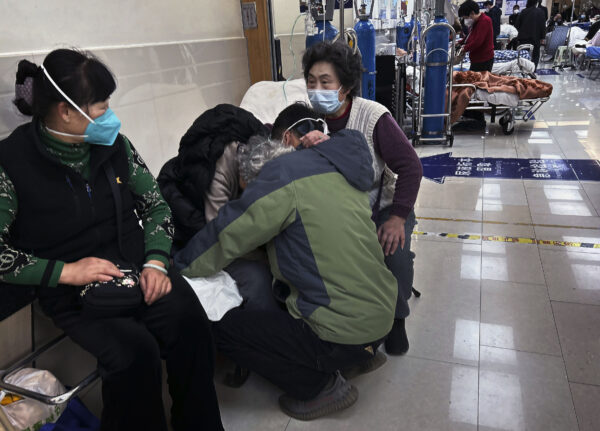 Netizens Respond
The topic became one of the most searched online in China on March 18, sparking heated discussions.
Mainland Chinese netizens reacted differently to official claims of the first duel-infection case.
One said in a post: "No big deal, don't make a fuss. In fact, there are many new variants, and now we don't make any COVID-19 tests anymore. People don't know about many new subvariants after they appear. And there is actually no need to know because they still don't have a very effective way to control it. So just go with the flow and do what you need to do."
Another post read, "Stop adding chaos to the world. They just want to sell medicine and vaccines."
Some people think that the pandemic is not over and that people need to stay vigilant.
"The COVID-19 has not disappeared. It is still mutating, so everyone should take personal protection."
"Isn't Influenza A running rampant recently? It's really frightening that the epidemic comes one after another," another one said in a post.
Influenza A or COVID-19
Earlier this month when the CCP's top Two Sessions political meeting was taking place, a large-scale outbreak of influenza A occurred across mainland China.
In many places, patients who were diagnosed with influenza A saw in CT scans or X-rays that large parts of their lungs had turned white, which is a typical symptom of severe chest infection. So-called "white lung" had been fatal for many COVID-19 patients earlier in the pandemic.
Many netizens questioned whether the wave the government was saying was influenza A could actually be a mutant strain of the COVID-19.
Zhang Wenhong, China's top virologist, admitted in an interview when attending the CCP's Two Sessions meeting that the next wave of COVID-19 may come in May or June this year. Since the virus has been downgraded to "Class B", it will be collectively treated in fever clinics.
Since the CCP has been concealing the truth about the COVID-19 pandemic in China, the outside world is skeptical about official data that the regime has released.