Kuala Lumpur is Fun to Visit, but Some Months Are Better Than Others
Living in Bangkok, Thailand, I visit Kuala Lumpur (KL), Malaysia often. I don't usually have the luxury of choosing when I can go as, most of the time I travel there on business. For the average tourist though, choosing the best times to visit Kuala Lumpur can have a huge impact on how much you enjoy your trip.
Some times of the year are better, some times of the year are worse, but here are the best times to visit Kuala Lumpur.
Best Months For Good Weather
One consideration for tourists when choosing to visit somewhere is what the weather will be like. For Kuala Lumpur, the weather is much the same all year round – hot, hotter and hottest. If you're choosing the best times to visit Kuala Lumpur based on weather though, you might want to avoid the months of April, September, October and November as they tend to be the months with the most rainfall.
The rest of the year, expect it just to be hot (average temperature is in the 90s most of the year). But, as many places are well air-conditioned including shopping malls, restaurants, hotels and some of the most popular tourist destinations, it really is not that unbearable.
Best Times to Visit Kuala Lumpur for Fun Malaysian Festivals
Depending on what you enjoy, you might want to decide to visit Kuala Lumpur when it's time for a Malaysian festival.
One of the most popular festival days is National Day, held on August 31st every year. National Day celebrates Malaysia's independence and Kuala Lumpur goes wild on that day. Parades, concerts, dance performances, Malaysian music, arts and crafts and, of course, tons of amazing food. There are some excellent mall sales too.
Chinese New Year is another wonderful time to visit KL, as the Chinese live it up in style. You'll see fireworks, lion dancers, food festivals, parades, Chinese acrobats and lots of Chinese goodies for the foodies out there.
The date of the Chinese New Year changes every year but is usually celebrated in January or February depending on the Chinese lunar calendar, and goes on for 15 days.
Deepavali is celebrated by the Hindus in Malaysia, and is another wonderful excuse for incredible Indian food, dancing exhibitions, craft shows and lots more.
Malaysia has many festivals throughout the year, both religious and cultural. Figure out what might be going on in months you're interested in going to Kuala Lumpur, and plan your trip accordingly.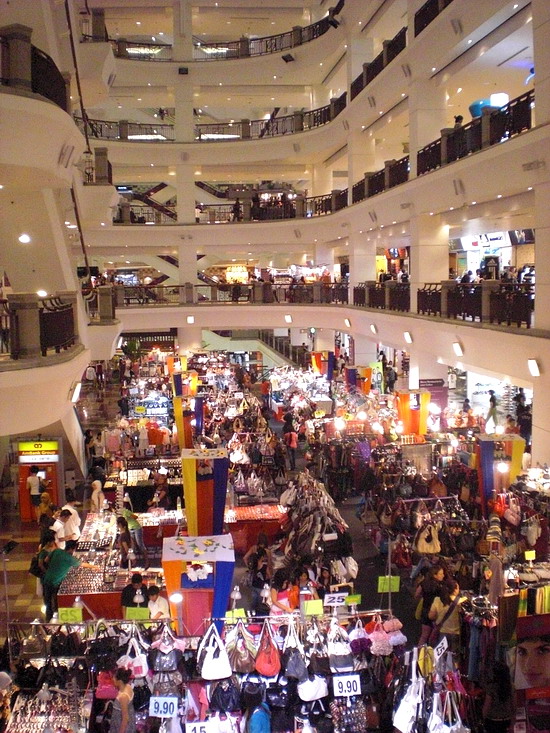 The Shopping Carnival
Another of the best times to visit Kuala Lumpur is during the Shopping Carnival. That is when Asians from all over Asia travel to Kuala Lumpur as the bargains are superb. Bargains? What bargains, you might ask.
Well…The Shopping Carnival is an annual sale that goes on all over Malaysia, but particularly in Kuala Lumpur.
Almost every mall takes parts, and many of the city's stores. Prices are slashed up to 60% and more, with some incredible bargains to be gained if you're willing to look.
Usually held in October and November, it has been known to change, so check if it's being held this year before you book your trip to KL.
Fires in Indonesia
Times to avoid travel to Kuala Lumpur include August, when fires are often raging in Indonesia to clear forest land, and the resultant smog drifts over Malaysia and into Kuala Lumpur. The smoke can be so bad you have to wear a face mask on the street just to be able to breath.
Every year, Indonesia promises it won't happen this year and every year it does. The best way to avoid it is just don't book a trip to KL in August.
These are just a few of the best times to visit Kuala Lumpur, and when not to.
But remember, whenever you decide to go, check out what's going to be going on in the city before you book and then book accordingly.times