A destination well known for its beaches, Buddhist temples, spa massages, exciting nightlife and yes, shopping. A place famous for its chicken rice and also for being an inexpensive yet very luxurious destination. Any guesses? Yes, Thailand is being talked about and how! The beaches are as beautiful as it gets and the islands are what dreams are made of. Another interesting thing about this more than perfect destination is the culture and this all was what Anvesh was looking for, for his honeymoon and he says 5 days in Thailand for couples are sheer bliss and we couldn't agree more.
We wanted to take an international trip and when we were shortlisting our options, Thailand seemed like a one in all destination. It was budget friendly and also offered so much to try and explore. From food to locals, the landscapes to our hotels, everything about our honeymoon was nothing but perfect. We had the most hassle-free and comfortable experience. Like all the other couples we wanted our 5 days in Thailand to be the most beautiful experience and the most memorable time of our life and we are happy that it turned out to be exactly that.
Weather In Thailand In April
The weather was not our best friend on our trip to Thailand. We had a great experience though. The weather in Bangkok was not favourable and pretty hot but that doesn't ruin 5 days in Thailand for couples for when in love and having the best company, nothing else matters and as we had already checked Bangkok weather in April, we were prepared. And it got so much better when we went to Phuket. As we landed there, it was raining cats and dogs which made us all happy and excited. We took a beach walk in the evening because the weather was absolutely amazing.
Details Of Our 5 Days Thailand Honeymoon
Trip Type: Romantic Trip
Cost: INR 48999
Duration: 7 Nights, 6 Days
Inclusions: Sightseeing, Transport, Lunch, Dinner
Exclusions: Visa, Airfare
Travel Agent From TravelTriangle: Journey Routers
Customized Itinerary For 5 Days Thailand Honeymoon
Day 1: Arrival; Sightseeing
Day 2: Damnoen Saduak Floating Market; Chao Phraya Dinner Cruise
Day 3: Arrival At Phuket; Leisure
Day 4: Phang Nga Bay
Day 5: Phi Phi Islands
Thailand In September: A Pocket Guide For An Amusing Vacation In 2022!
Our Experiences On Our 5 Days Thailand Honeymoon
If you are wondering what is there to do for 5 days in Thailand for couples and if it is a destination that one must be spending that much time at, then maybe reading about our experiences would help you. We did 5 exciting things, one each day and that is how balanced out and amazing our trip was.
1. Exploring Safari World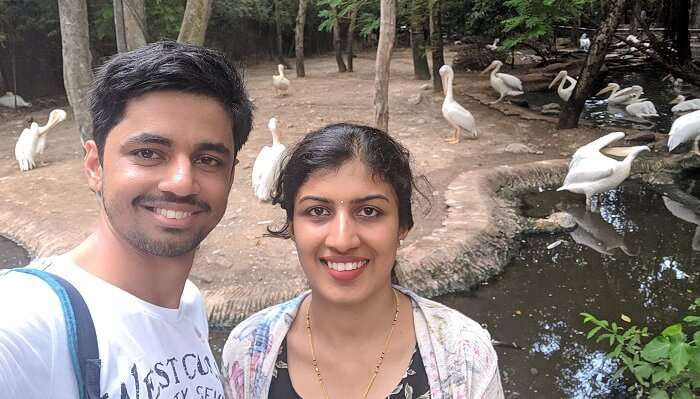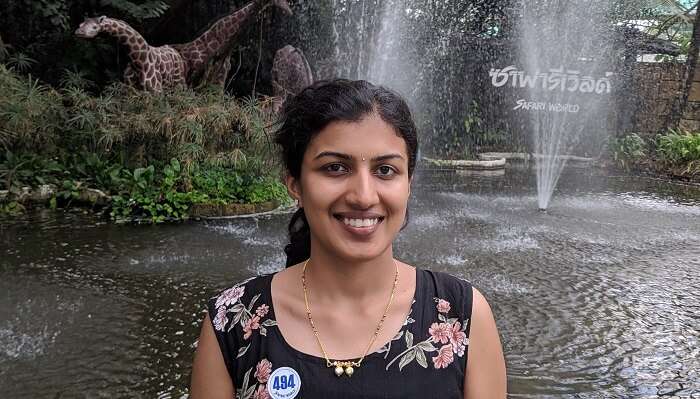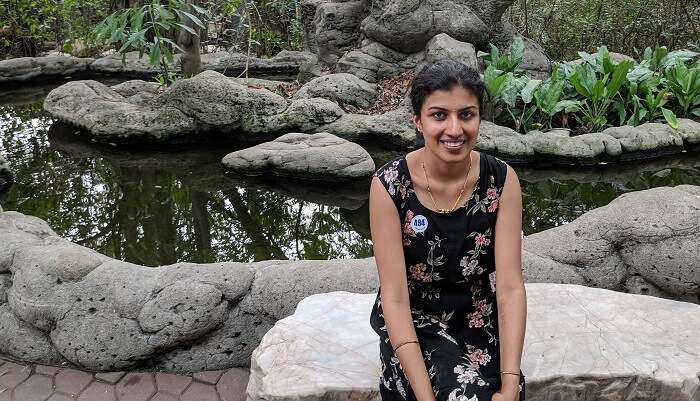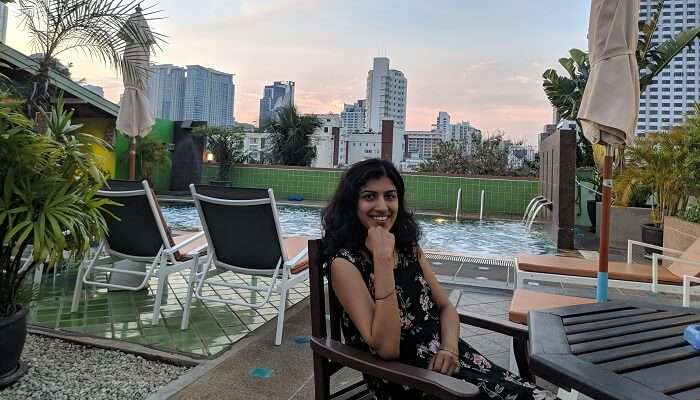 Exploring Safai World was one of the best things we did on our 5 days Thailand honeymoon. Safari World is divided into 2 areas. The Park is an open space where one can drive around and explore the wildlife in its natural habitat and there is a Marine Park that houses a zoo, a variety of animal shows, restaurants and more. We began with the Dolphin show and later jumped on to the Orangutan show then the Elephant show and ended it on a high note with the Sea Lion show. Out of these the Orangutan show stole our hearts. We were flabbergasted with the number of Indians present in the park and to our surprise in one of the shows, the show runners played an Indian song to please the audience. After the Marine Park tour ended we explored the Safari Park in our SIC (Seat-in-Coach). It lasted for somewhere around 45 minutes during which we saw tigers, bears, zebras and many more wild animals. They were mostly lazing around trying to get away from the heat. After reaching the hotel, we succumbed to our exhausted selves and just relaxed in the rooftop pool.
2. Shopping At Damnoen Saduak Floating Market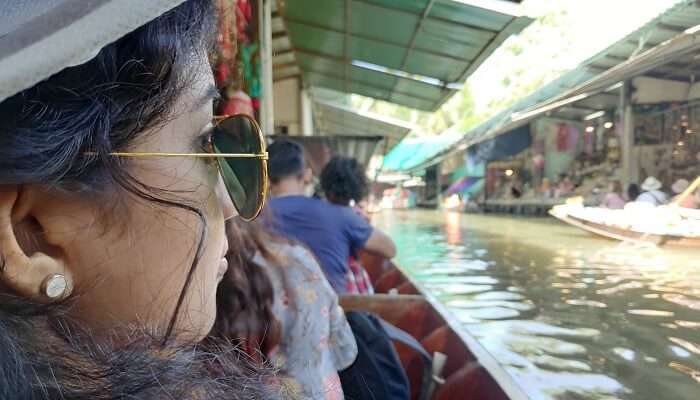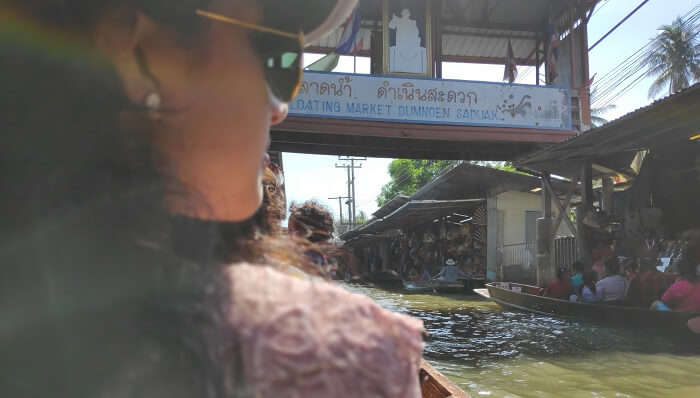 Although we were pretty excited to visit the infamous Damnoen Saduak Floating Market, we were not particularly thrilled to wake up at 6 in the morning. But the market is situated 85 kilometres off the main city and an early morning vibe is definitely worth it. So we embarked on the journey in a new SIC (Seat-in-Coach) and then a decorated long-tail boat until we reached the market. The boat driver slows down to let you appreciate the winding waterways and get a brief glimpse of the homes situated alongside the river. The market has lots of shops selling overpriced fruits, souvenirs both sides of canal. But the experience was authentic and mind blowing. Paddle Boats are needed to go around the market.
Paddle Boats
Cost For 4 People: 900 Baht (INR 2105)
Cost For 2 People: 700 Baht (INR 1637)
7 Attractive Cruises In Thailand For A Wonderful Trip To The Land Of Smiles
3. Rejuvenating At Chao Phraya Dinner Cruise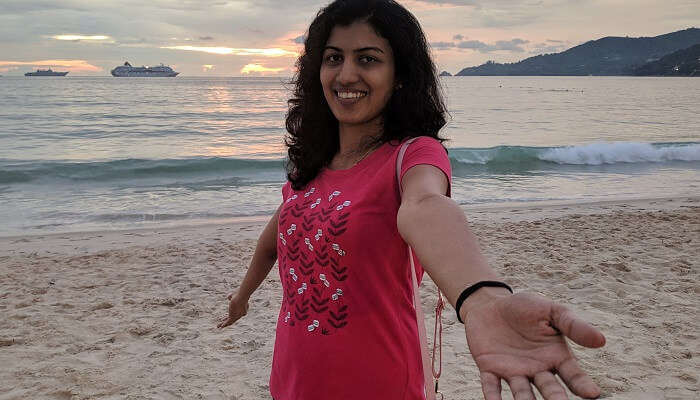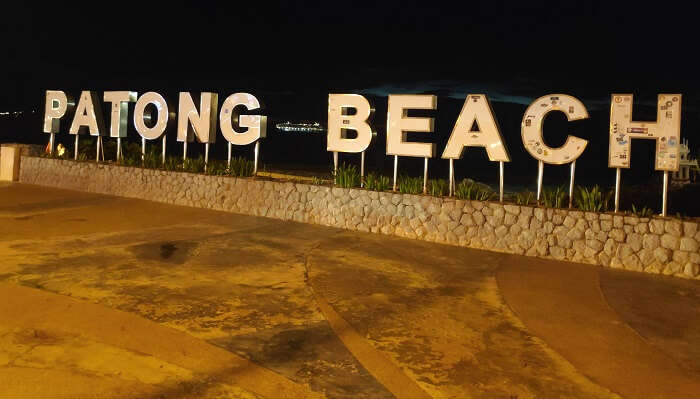 Spending some time at a cruise was one of the most delightful experiences one can have if they are looking for the best things to do in 5 days in Thailand for couples. Tried and tested. Chao Phraya Princess VI was the name of the dinner cruise we went aboard and it was surreal. The experience we had was something we will always remember. Since we had made an early booking, we got the upper deck window seat and the view was lovely. It lasted for roughly 2 hours and the food was a delight. There were tons of options and the host sang Bollywood songs and the mood of the cruise was pleasant. But unfortunately since the Thai King's coronation was in we were not allowed to see the Wat Arun but nonetheless the experience was one to remember.
4. Trying A Big Boat At Phang Nga Bay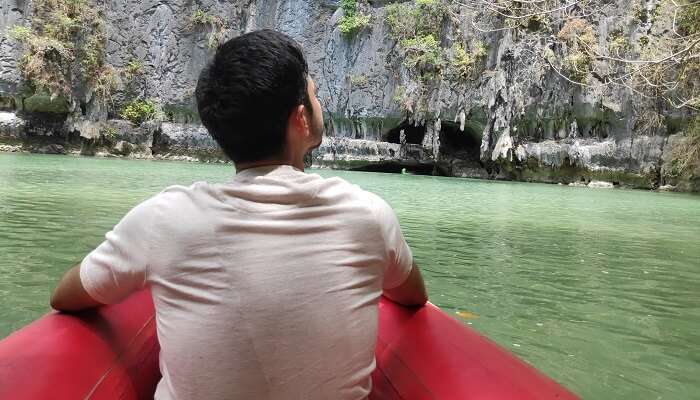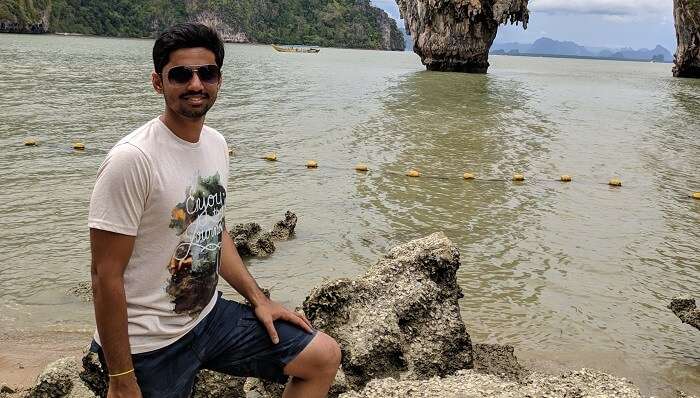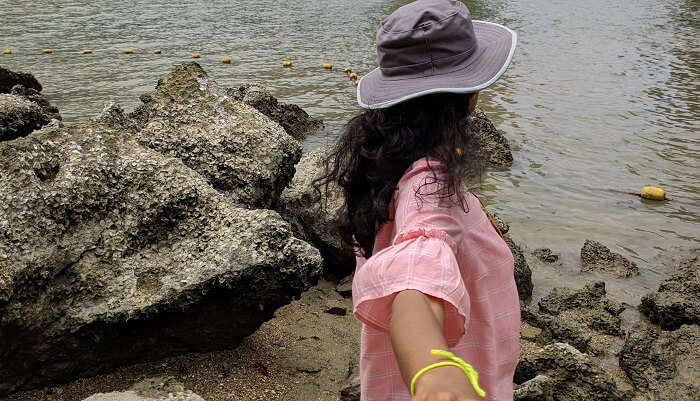 One of the main reasons we chose Thailand was for its iconic vertical limestone structures coming out of emerald green waters. The past days were just foreplay; this was the reason we came and it was breathtaking. Watching those huge structures created by nature made us feel tiny yet enthralling. Then there was the iconic James Bond Island. Its signature rock was indeed a sight to behold. And the sea canoeing where you enter through a cave and exit a paradise was phenomenal. I tried to capture its essence as much as I can in the video. Do check it out if you plan on spending 5 days in Thailand.
5. A Speed Boat Experience At Phi Phi Islands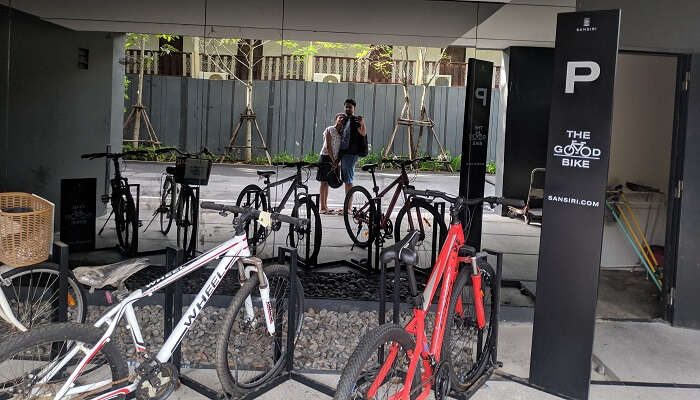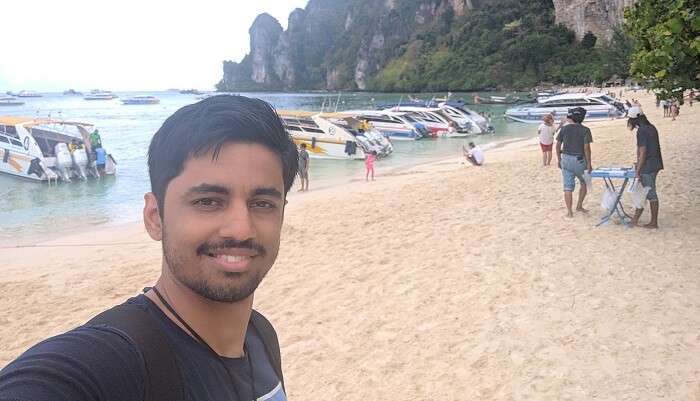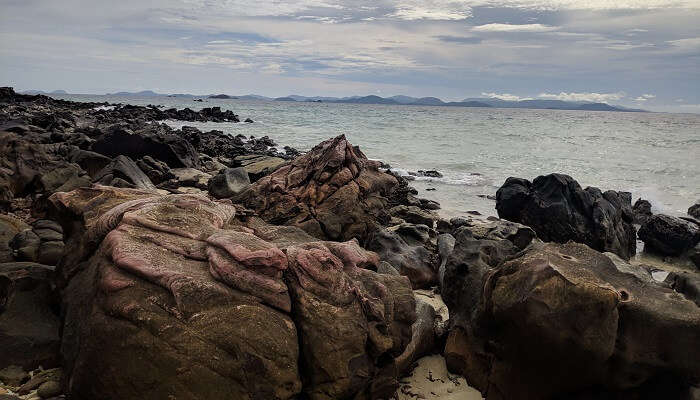 After enjoying the green waters, the cruise experience and a day of lazing around and relaxing, we entered another kind of sea. I had only seen it in the movies and heard about the deep blue sea. But up close, the serene feeling it gives can only be experienced. It's not that I can't explain how it feels like but rather it loses its meaning if I try to put into words. It's unfortunate what happened to Maya bay. I hope it recovers soon. The snorkeling was not as enjoyable as I imagined but the amazing paradise like views made up for it quite well. We bet you will fall in love with the Phi Phi Islands as it is one of the best places to visit in 5 days in Thailand for couples.
22 Exciting Things To Do In Bangkok – Thailand On A Holiday In 2022
Hotels In Thailand
We stayed at the Woraburi Sukhumvit Hotel in Bangkok. It was a 3 star hotel and the services were as we expected. There's free Wifi and a rooftop pool which was amazing.. It is very close to Nana Plaza for if you are an adventurous bachelor. In Phuket however we stayed in The Deck Condo. It had an amazing balcony view since we booked in the topmost floor and a kitchen with all cooking utensils, induction stove etc. So we cooked our own food from the supplies we had taken from home. It was a bit expensive but totally worth it.
Food In Thailand
Thailand is a paradise for non-vegetarians. It has so many non-vegetarian options that we were nothing but surprised. However, since we were vegetarians, we had limited options eating outside. But were able to find some really good Indian restaurants here and there. If you know where you are staying, you can use google street view to explore around and if you find restaurants, check the images. Somebody would have definitely posted the restaurant menu. So you won't be surprised with the prices when you visit there. In Bangkok we visited the Bawarchi Restaurant. The food was good but slightly expensive. When talking about food we suggest that you should definitely try banana pancakes which can be found easily at beachside.
Shopping In Thailand
A trip is not complete without buying some souvenirs. But in Thailand they literally overcharge you for everything if you are a tourist. But the thing is they expect you to bargain before you buy anything and everything. In Floating Market there was a shop that sells keychains some of which I really liked and bought too. We bought other souvenirs and shopping was one of the best experiences we had in 5 days in Thailand.
How To Reach Thailand
Thailand is home to six international airports and reaching the destination is a slice of cake. It really is that easy and is convenient for 5 days in Thailand for couples. The major and the most important airport in Thailand is the Suvarnabhumi International airport. We booked our flights from Bengaluru to Bangkok and returned from Phuket to Bengaluru. And it was all pretty easy and a hassle free experience.You can do the same.
 Sumit's Honeymoon Trip To Thailand Was Blessed With Nature's Beauty And Peace!
Thailand Travel Tips
Things rarely go as planned. Its ok to have some small discrepancies.
They are part of the trip. When you look back, you will only remember the best parts of your trip.
Bargain. It is considered healthy and most people expect you to bargain the prices for the services. But don't overdo it so as to piss them off.
Enjoy every minute of the trip.
Do not forget your camera at home for we know you too would love to capture the moments.
Keep some of the necessary medicines handy in case of an emergency.
Our Experience With TravelTriangle
Our experience with TravelTriangle was absolutely amazing and a memorable one. We wanted to have a hassle-free trip to the destination we had chosen and we are glad to say that we did. We will definitely recommend TravelTriangle and we say 5 days in Thailand for couples are lit and a never before experience.
14 Thailand Airports For Easy-Breezy Commute To The Tropical Paradise In 2022
With that Anvesh's beautiful experience comes to an end. We hope you enjoyed reading about what he had to say. If you did and you too are looking forward to spending some time in Thailand, then we hope what he had to say about 5 days in Thailand for couples made you feel enthralled. If you are looking for a honeymoon in Thailand then check out these customizable options and plan your trip with TravelTriangle.
IL PRIMO ECOMMERCE SPECIALIZZATO IN DELIZIE AL TARTUFO E CAVIALE – CAVIAREAT.COM