Telok Blangah Crescent Market and Food Centre is a foodie haven for those in search of a comforting meal. Located opposite Mt Faber Safra and near Mt Faber Hill and Henderson Waves, you can find popular and underrated eats raved by residents staying in the neighbourhood.
Primarily bustling during the day, Telok Blangah Crescent hawker centre offers a wide variety of hearty eats to fill hungry tummies. This southern hawker centre in Singapore has nourishing congee, springy fish ball noodles, and also one of the best char kway teow in Singapore.
Besides filling meals, the food centre also provides quick bites to those feeling peckish. For a savoury snack, look to renowned 45-year-old stall, Ah Boon Handmade Fish Cake, which sells fried handmade fishcakes and fried finger food. Otherwise, dig into Guan Seng's eggy black and white fried carrot cake or Uncle Lim Traditional Pancakes for sweet and fluffy min jiang kueh.
The night owls aren't left out either; a couple of hawker stalls are open past dusk to serve hungry diners. And they'll definitely satisfy your cravings. A line can always be seen at the one-man-helmed Hai Kee Char Kway Teow. Elsewhere, Fei Lou Porridge sells the piping hot comfort dish and an unexpected side of juicy fried chicken wing. Read on for the best stalls that Telok Blangah Crescent Market & Food Centre has to offer.
(Hero and featured image credit: @crappysotong)
1
/10
Hai Kee Char Kway Teow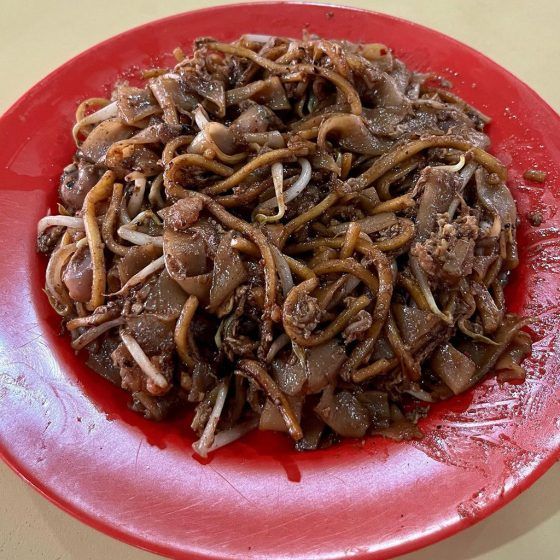 With more than 50 years of experience frying char kway teow, sole cook Mr Loh serves a mean plate of the dish. It's easy to locate his stall as you'll spot a queue even before he starts his business for the day. He fries each portion individually for quality and consistency on every plate before serving.
Although he omits fish cake and lup cheong (cured Chinese pork sausage),  the dish stands out with smokey wok hei, plump cockles and fragrant umami pork lard.
(Image credit: @monsieur_gastronome via Instagram)
Address
11 Telok Blangah Crescent, #01-102, Singapore 090011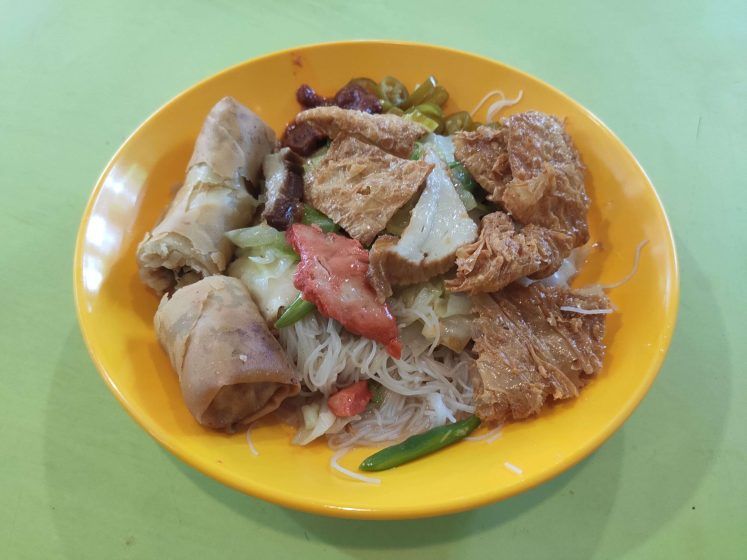 Vegetarian food may seem simple to prepare but it takes skill to make vegetarian dishes delicious. Customers who queue up at Su Yuan Vegetarian can't be wrong too. You select your desired sides to go with thin but firm bee hoon or choose a standard set with pre-selected sides.
For a medley of textures, go with crispy tofu skin, juicy mushrooms, and crunchy cabbage before topping it off with savoury mushroom gravy.
(Image credit: the.fat.guide Singapore)
Address
11 Telok Blangah Crescent, #01-113, Singapore 090011
3
/10
Song Heng Fishball Noodle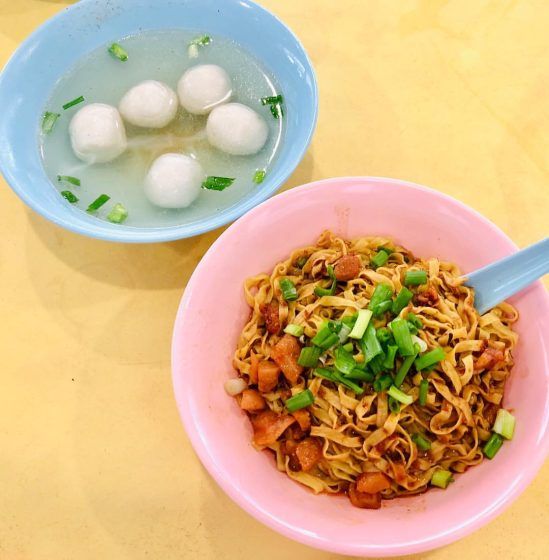 The fish ball noodles we typically have usually include sliced fish cakes and fish dumplings. But for Song Heng Fishball Noodle, the focus is on the al-dente noodles of your choice and their bouncy handmade fishballs glistening in a broth.
Go for the thin yellow noodles (mee kia) or flat yellow noodles (mee pok) if you're having the dry version. Both are tossed in a mixture of addictive chilli, tangy vinegar, and pork lard oil that'll have you slurping non-stop. Also yes, this is another store which has a seemingly endless queue throughout its operating hours too.
(Image credit: @jamietan04 via Instagram)
Address
11 Telok Blangah Crescent, #01-124, Singapore 090011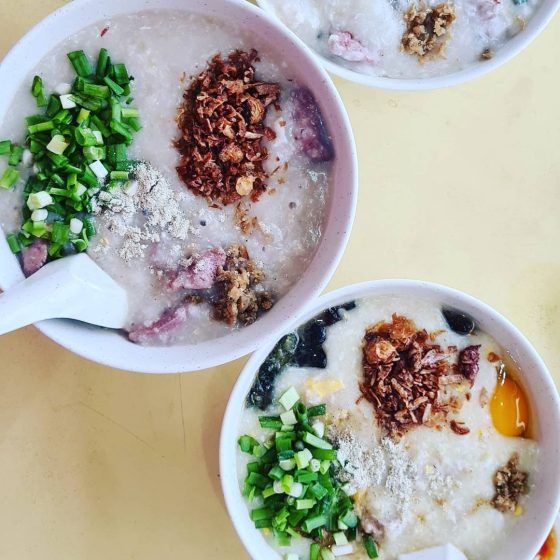 Despite Singapore's perpetual heat, customers can be seen flocking to Xiang Ji Porridge for a comforting bowl of porridge during the day. Favourite flavours include sliced and minced pork, shredded chicken, and sliced fish, but whichever you choose, you can be guaranteed a silky smooth porridge base. Its flavour is also enhanced by the sprinkling of fried shallots, preserved cabbage, and spring onions.
(Image credit: @xiangji_porridge via Instagram)
Address
11 Telok Blangah Crescent, #01-98, Singapore 090011
5
/10
Jiak Song Mee Hoon Kway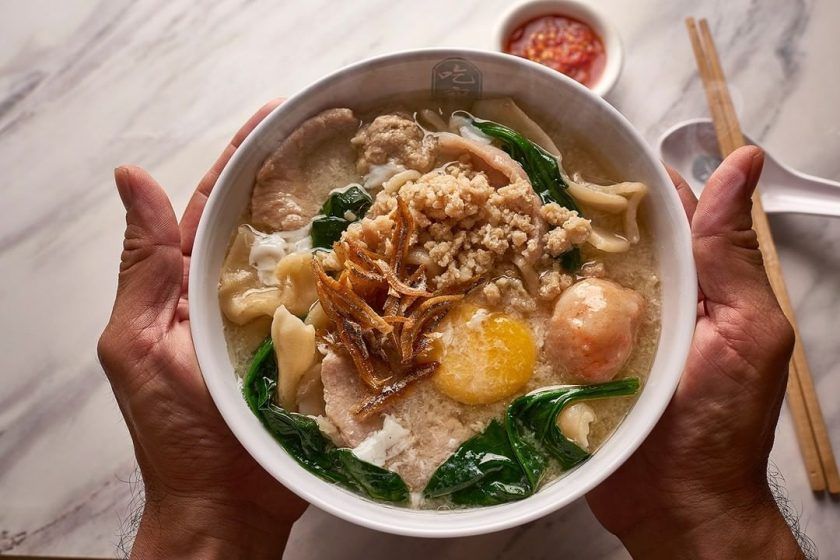 Founded by Masterchef Singapore finalist and alumni Aaron Wong, Jiak Song Mee Hoon Kway serves handmade and hand-pulled doughy noodles. We recommend the soup version, which thickens up thanks to the runny egg yolk as the noodles soak up the unique smokey broth essence. The basic option includes the usual minced pork while the upgraded signature set will see a top up of pork and prawn balls.
For more of the best mee Hoon kway recommendations, click here.
(Image credit: @jiak_song via Instagram)
Address
11 Telok Blangah Crescent, #01-108, Singapore 090011
6
/10
Uncle Lim Traditional Pancakes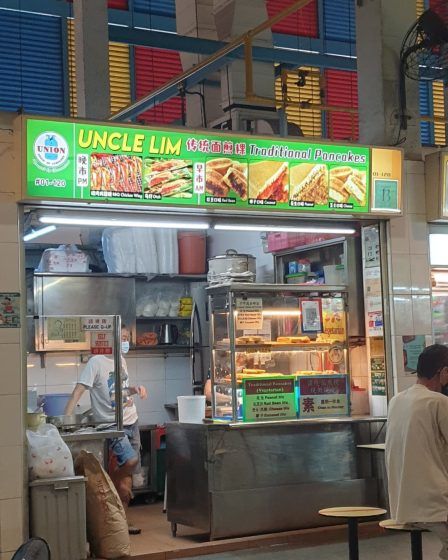 Known as min jiang kueh, this nostalgic confection has always been a sweet treat for locals. Uncle Lim Traditional Pancakes doesn't mess with tradition and presents the essential essence of a good pancake.
The most popular and best-selling peanut flavour sells the pancake stuffed generously with crunchy filling. Prefer a softer bite? Munch on the velvety red bean filling or the aromatic milky coconut options.
(Image credit: @birdsinthecorner via Instagram)
Address
11 Telok Blangah Crescent, #01-120, Singapore 090011
7
/10
Guan Seng Carrot Cake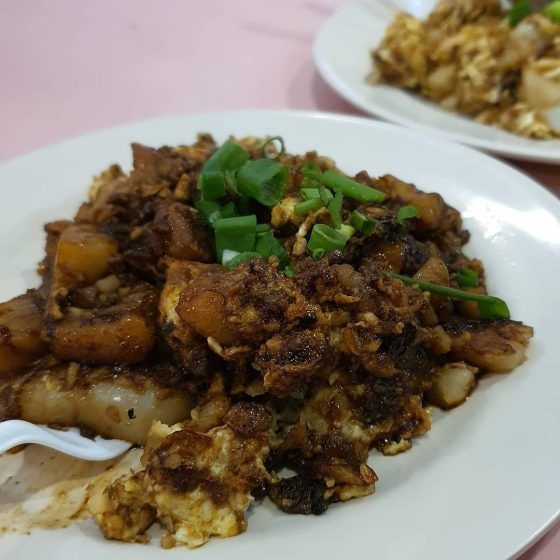 Can't decide between black or white carrot cake? You can have both at Guan Seng Carrot Cake. Both versions are fried with a generous amount of egg which cover the rice cake (kueh) pieces. While the white option tastes deliciously eggy, the black counterpart sports a deep flavour thanks to the caramelised sweet dark soy sauce that's intensified with lots of wok hei.
(Image credit: @lloyd_sn via Instagram)
Address
11 Telok Blangah Crescent, #01-81, Singapore 090011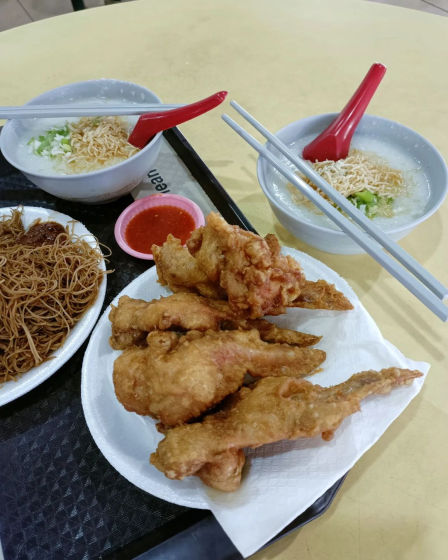 As one of the few hawker stalls that open for business in the evening, Fei Lou Porridge cooks a wide variety of dishes to refuel the exhausted after a hard day's work. Besides different porridge choices such as the soothing century egg and peanut option, they also provide alternatives like macaroni and bee hoon. A signature of this hawker stall is the fried boneless chicken wings, which is crispy and well-marinated and most importantly, easy to have in one bite.
(Image credit: @tamkokseng via Instagram)
Address
11 Telok Blangah Crescent, #01-116, Singapore 090011
9
/10
Noordima Malay Food Stall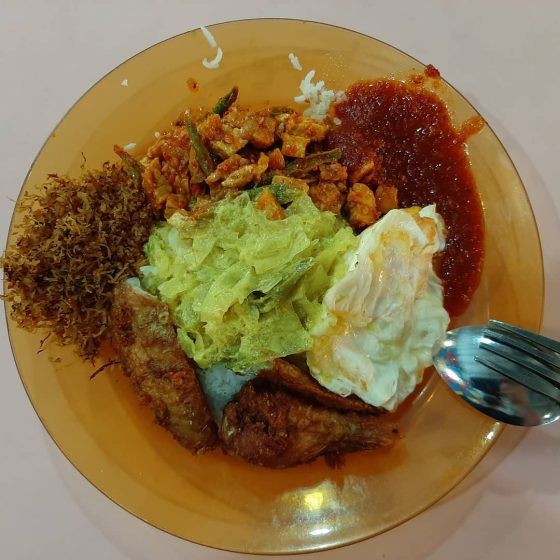 Sometimes simplicity is best. This can be used to describe the dishes at Noordima Malay Food Stall. Home-cooked Malay food is the star here, where familiar spices shine here without the unnecessary frills. The fragrant coconut-infused rice of the nasi lemak provides a perfect pairing to the sweet-spicy samba and fiery chilli omelette.
(Image credit: @ming_draws via Instagram)
Address
11 Telok Blangah Crescent, #01-178, Singapore 090011
10
/10
Ah Boon Handmade Fish Cake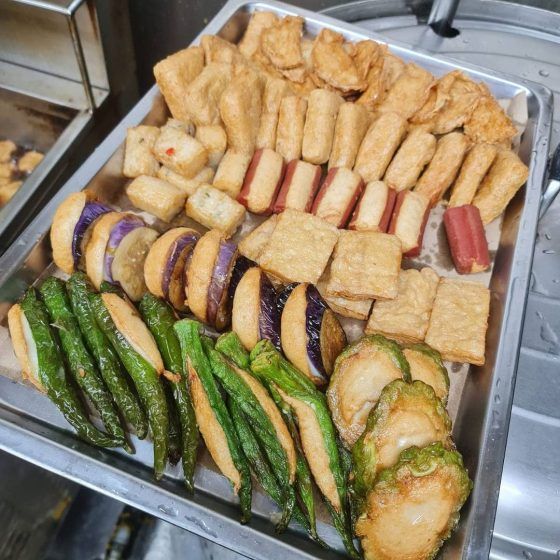 The family behind Ah Boon Handmade Fish Cake has been making their well-received handmade fishcakes and fish balls for two generations. Here, the fish meat has a bouncy texture, which is not diluted with water when making the paste. Besides their signature items, they also offer other delicious fried finger foods like ngoh hiang, yong tau foo,  and tau kee rolls (dried beancurd rolls).
(Image credit: @ahboonhandmadefishcake via Instagram)
Address
11 Telok Blangah Crescent, #01-125, Singapore 090011
IL PRIMO ECOMMERCE SPECIALIZZATO IN DELIZIE AL TARTUFO E CAVIALE – CAVIAREAT.COM