The New Zealand High Court has found three Chinese-New Zealand businessmen guilty in a political donation trial, while a former MP was acquitted of all charges.
Seven people were charged by the Serious Fraud Office (SFO) with making fraud donations to both major parties, Labour and National, on three occasions.
Zhang Yikun and twin brothers Zheng Shijia (Colin) and Zheng Hengjia (Joe) were found guilty of a fraud donation of $100,050 (US$57,000) to the National Party in 2018.
Additionally, Zhang was found guilty of lying to the SFO in his interviews during the investigation process, while Colin Zheng was found guilty of a fraud donation of $100,000 to the National Party in 2017.
All seven people were cleared of charges relating to a Labour Party donation through the purchase of five paintings for a total of $60,000 at a fundraising auction in 2017.
Justice Thomas Gault, who oversaw the trial, acquitted everyone because it could not be determined whether Labour obtained a benefit over the donation of at least $34,840.
This includes former National MP Jami-Lee Ross and three others who were granted name suppressions, of which two are currently Labour Party members.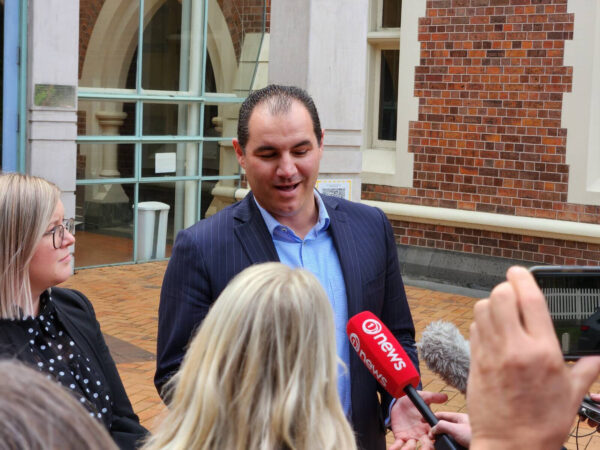 During the seven-week trial, the Crown argued that in all three cases, Zhang was the true donor whose donations were split among numerous fake donors to bypass the disclosure limit of $15,000.
The Zheng brothers, Ross, and the three whose names were suppressed were alleged to have facilitated the processes and covered up the deals.
Investigations began in 2018 when Ross blew the whistle on the party leader at the time, Simon Bridges, about a $100,000 donation after failing to secure a top job.
Ross accused Bridges of being a corrupt politician and went to the police with audio recordings of Bridges discussing fundraising. However, after investigations, the SFO ended up charging Ross instead.
Who is Zhang Yikun?
Zhang is the founder of Chao Shan General Association and a wealthy property developer who moved to New Zealand in 2000.
He is also a member of the Chinese People's Political Consultative Conference, an organisation under the Chinese Communist Party's United Front.
The United Front involves thousands of groups that carry out foreign political influence operations, suppress dissident movements, gather intelligence, and facilitate the transfer of technology to China, according to a report by the think tank Australian Strategic Policy Institute.
In 2018, Zhang was named a member of the New Zealand Order of Merit for his contributions to the New Zealand-Chinese community.
A spokesperson for Prime Minister Jacinda Ardern told Stuff news that she might consider advising the King to cancel the appointment of a person to an Order that would damage the reputation of the honour system, but did not refer to Zhang specifically.
IL PRIMO ECOMMERCE SPECIALIZZATO IN DELIZIE AL TARTUFO E CAVIALE – CAVIAREAT.COM