The Futuristic Samsung Neo QLED Television Turns Your Home Into An Office CEOs Dream About
If there's one thing that 2020 has taught us, it is that "a day at the office" takes on a whole new meaning. WFH today is the norm, and the home office has assumed greater importance. This is why the new range of televisions from Samsung is geared towards offering enjoyment and productivity like never before. It's no surprise that so much innovation has come from Samsung's stable – the tech giant is enjoying an unbroken 15-year dominance as number one in the global TV market, with market research firm Omdia reporting a 31.9 per cent share of the global revenue in 2020. Samsung's refined offering include 2021 editions of The Frame lifestyle television, this year's Neo QLED 8K and 4K (starting from RM8,499 for a 55") and the top-of-the-line MicroLED screens. Each of these will boost your home office life with a much more luxurious screen – versus the traditional PC monitor or laptop screen – to help you get work done quicker and better.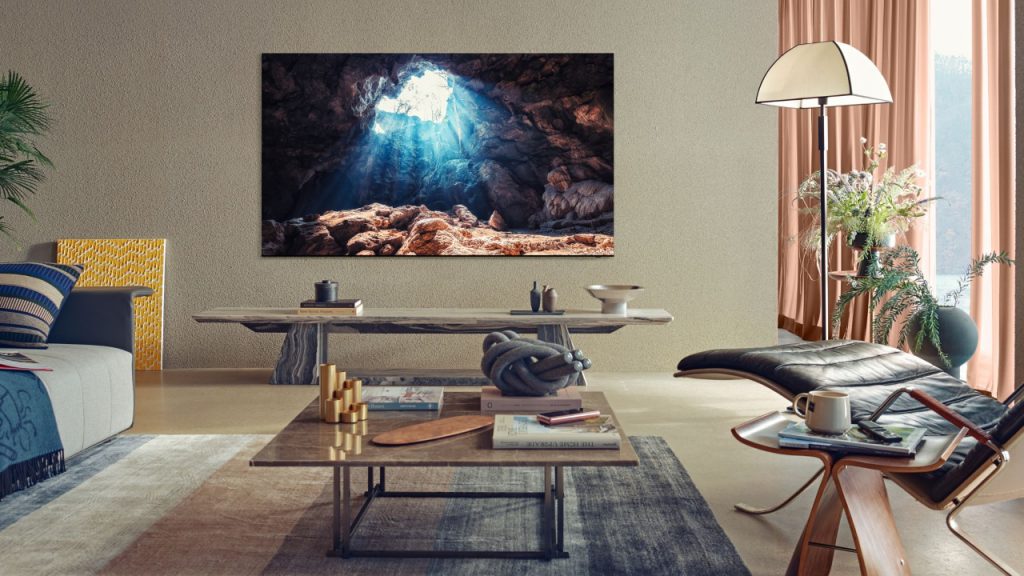 With the latest tech embedded in Samsung TVs, you simply wake up and enter virtual meetings via Google Duo for high-quality, high-speed videos calls of up to 32 persons, or work on Microsoft 365 documents with colleagues. Doing anything onscreen will become more enjoyable across the opulently sized screens. The Multi View function allows you to look at up to four screens including the one from your phone. You'll find visuals to be richer and truer-to-life, thanks to Samsung's latest advancements such as the Real 8K Resolution, AI Upscaling, Quantum HDR 64X, HDR10+ and 100 per cent Colour Volume, among others.
In addition, the 2021 QLED TVs have the distinction of being the first TVs in the world to receive an 'Eye Care' certificate from electrical engineering institute VDE in Germany when judged on international standards for safety and gentleness on the eyes, flicker level, uniformity and colour fidelity.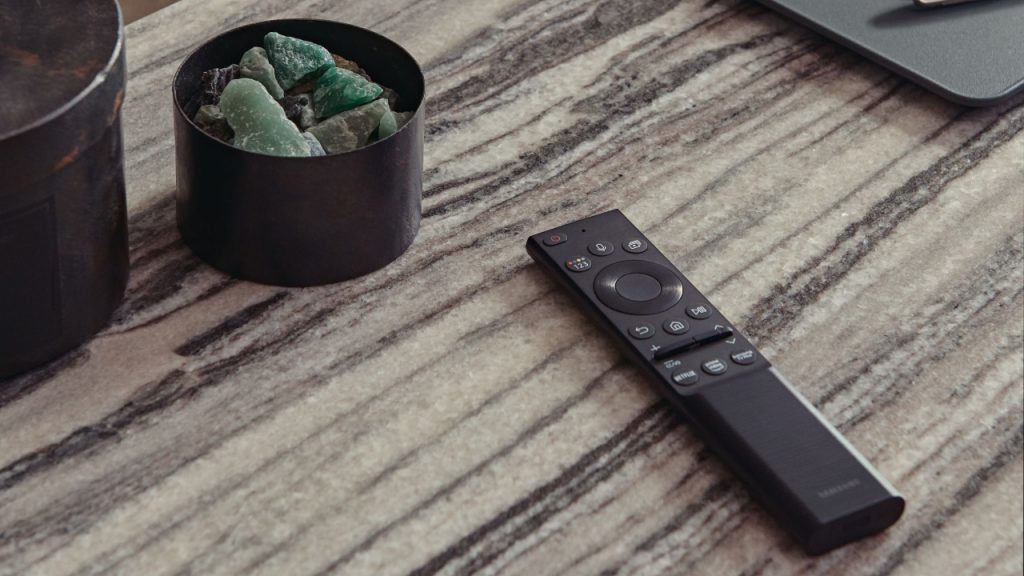 On the Neo QLED TVs, the world's first quantum matrix technology results in quantum mini LEDs which are 1/40 the size of a conventional LED. This fills more LEDs on a screen for ultra-fine image quality. What this means for the time-strapped and home-bound executive is a deep satisfaction of being able to see amazing clarity and vivid colours delivered in their everyday viewing, be it the expressions of their colleagues, or looking at presentations and videos with ease. 
And when it comes to switching from business to leisure mode, you will enjoy an impressive cinematic sound experience maximised via a 6.2.2 speaker system on the Neo QLED. Its Object Tracking Sound (OTS) Pro and SpaceFit Sound technology will first analyse the physical environment and optimise it accordingly. You'll feel closer to the action; be it at an online exercise class or even watching the New York Philharmonic play at New York's Lincoln Centre.  
With the Super Ultrawide Gameview, gamer working off the day's pent-up tensions will enjoy both the wide 21:9 aspect ratio and even the ultrawide 32:9 ratio. With its powerful Neo Quantum Processor and new Quantum Mini LEDs, you get ultra-realistic visuals and one of the lowest input lags in the entire industry with the Auto Low Latency Mode, as low as 10milliseconds, virtually non-existent. This gaming superiority is aided by the support for the AMD FreeSynch Premium Pro – enabling true HDR console and PC gaming off your Samsung Neo QLED. Bright scenes are enlivened by the HDR technology (with peak brightness of more than 1,000 nits) while dark scenes become more atmospheric with optimised contrast. A further innovation is the Motion Xcelerator Turbo+ with the capability to run 4K gaming at 120Hz for silky smooth graphics.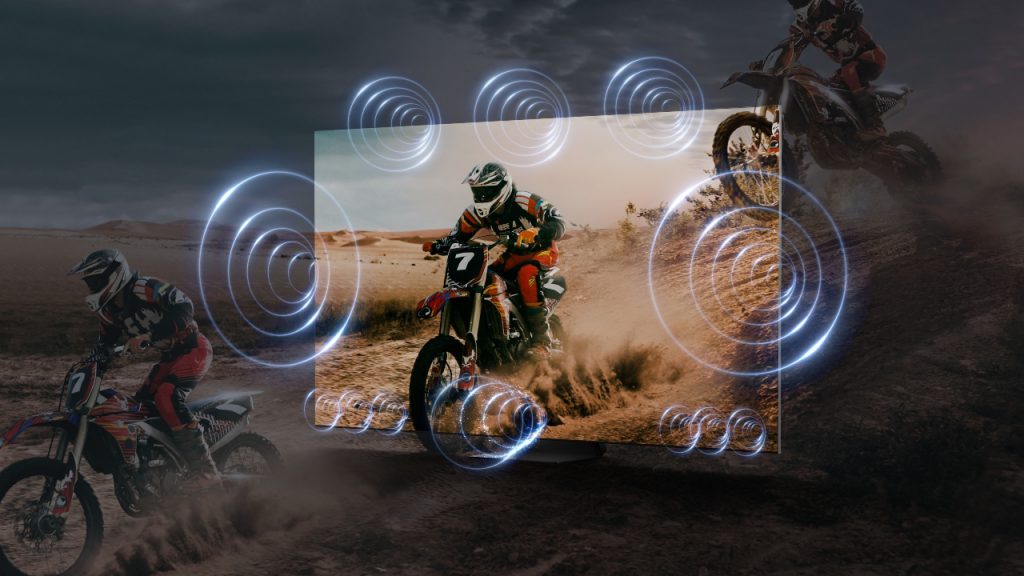 Samsung has also done the thinking in terms of providing leading aesthetics to match the high-end nature of its TVs. Its infinity screen design offers the slimmest profile yet (a 0.8mm bezel) on a TV screen and looks perfectly at home when wall mounted. Meanwhile, the Slim One Connect is a cable management system to keep everything neat and out of sight. 
At the top of the heap, the MicroLED technology employed on Samsung's new batch of screens offer the ability to luxuriate in giant screens, though not quite at the level of its 292-inch The Wall. Each micrometer-sized LED eliminates backlight. According to Samsung, these MicroLED produce light and colour from its own pixel structures, delivering the wide colour range of images as one might take with a high-end DSLR camera. Today, Samsung has made this technology available on a screen design which is edge-to-edge, almost bezel-less which blends into the living room. You can kick back after a long day and enjoy your favourite sports programming or the latest movie on a screen of either 99 inches (RM519,999) or 110 inches (RM599,999). Another advantage for the MicroLEDs which are inorganic is its greater durability over OLEDs which suffer from burn-in. Samsung believes that its mega MicroLED screens will be viable for 100,000 hours, or approximately a decade of regular use.
Best of all, the remote control which comes with your new Samsung TVs are now made from recyclable and 24 per cent upcycled plastic. These remotes uses solar energy, helping to reduce a projected 99 million AAA batteries in landfills over seven years.