Thai temple tour, via a jet ski on Bangkok's Chao Phraya | VIDEO
Health officials deny WHO investigation into Bangkok's Chatuchak market as potential origin of Covid

Published
9 mins ago
on
Thursday, February 25, 2021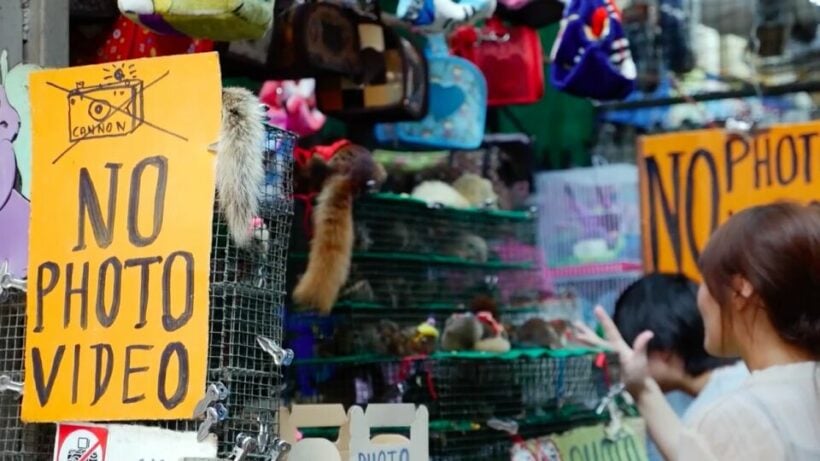 PHOTO: Aljazeera America
Health officials in Thailand are denying reports that the World Health Organisation is investigating Chatuchak market in Bangkok in ongoing efforts to establish the origin of Covid-19. The reports have surfaced in Danish media, following a WHO visit to Wuhan last month, with doubt hanging over the theory that the pandemic started in the central Chinese city.
Nation Thailand reports that the Department of Disease Control has held a press briefing in which it refutes suggestions the virus could have come from wildlife traded at Chatuchak market. The market has previously come under fire from animal welfare and wildlife protection organisations. In 2016, research by wildlife protection group Traffic pointed to the market's ongoing illegal trade in protected bird species, while an earlier report highlighted the market's role in the illegal trade of freshwater turtles and tortoises.
Despite several conservation experts pointing to the risks associated with the wildlife trade, Chawetsan Namwat from the DDC denies the suggestion the WHO is investigating the market for potential links to Covid-19. He says the media reports are based on evidence that the Thai horseshow bat carries another SARS virus that shares over 91% of its genetic code with the Covid-19 virus. He adds that this virus cannot be transmitted to humans, saying the DDC's advice continues to be that humans should not consume wild animals.
"This is just an academic assumption, not absolute truth. We are constantly monitoring the animal-trading zone in Chatuchak weekend market. Even if there is no clear evidence on the origin of this virus, we still need to be vigilant and maintain strong disease-prevention measures."
SOURCE: Nation Thailand
Keep in contact with The Thaiger by following our Facebook page.
Never miss out on future posts by following The Thaiger.
Pro-democracy activists rally against corrupt police promotion system

Published
22 hours ago
on
Wednesday, February 24, 2021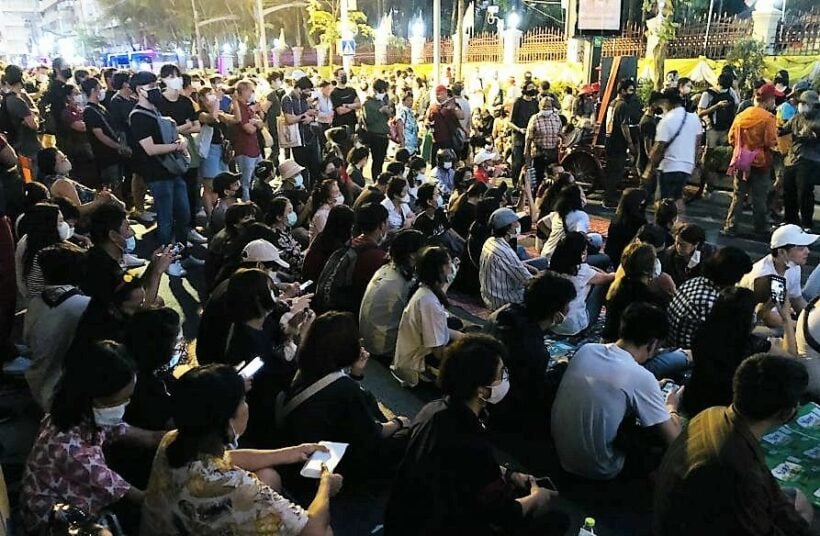 PHOTO: Nation Thailand
The pro-democracy group, Ratsadon, held a rally in Bangkok yesterday, this time with their sights set on Thailand's police force and the corrupt practices involved in promotion. The system in which officers have to pay bribes to senior figures, allegedly including senior politicians, was highlighted in a debate in parliament last week.
Activists met at the Ratchaprasong intersection in the capital at around 5pm and stayed there for an hour, according to a Thai PBS World report. However, most of the speakers were unknown faces, with more prominent leaders, such as Panasaya Sitthijirawattanakul, aka, "Rung", and Mike Rayong notably absent. Those who addressed the crowd called on "honest" officers to join them in the fight for justice, as they slammed the widespread nepotism and corruption that is allegedly rife in the police force.
Protesters then marched to the nearby headquarters of the Royal Thai Police and sat on the street outside while speeches continued. At one point, an activist read out a letter which the group says was written by a police officer and addressed to his colleagues. In it, the officer calls on his colleagues to decide if they are serving the people or those in power, and asks them if they think they've been fairly treated by their bosses or used for political purposes. After the reading, rally participants were given copies of the letter.
The protest dispersed peacefully around 8.30pm, with organisers saying another rally is planned for today. Activists are being asked to wear black and will gather in front of the Criminal Court in a symbolic show of mourning for the country's justice system. The "mourning" will last for 112 minutes, to protest Section 112 of Thailand's Criminal Code, also known as the lèse majesté law. Participants will also call for the release of 4 detained protest leaders, Parit Chiwarak, Anon Nampa, Somyos Prueksakasemsook, and Patiwat Saraiyaem.
SOURCE: Thai PBS World
Keep in contact with The Thaiger by following our Facebook page.
Never miss out on future posts by following The Thaiger.
Bangkok bars are back open, restaurants serving booze again

Published
22 hours ago
on
Wednesday, February 24, 2021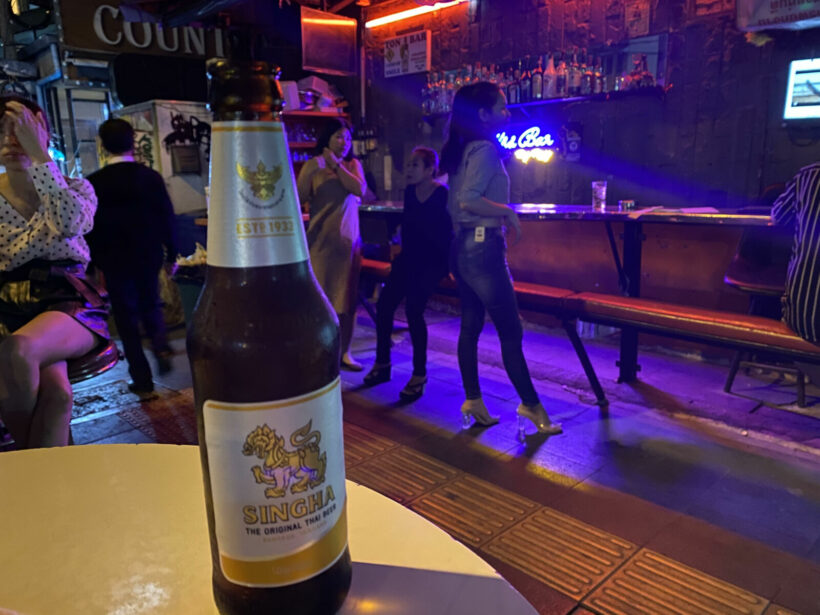 PHOTO: Caitlin Ashworth
Bangkok bars are back in business. People flocked to the city's streets last night after hearing the news that bars could reopen and restaurants could start serving alcohol again… as long as they close by 11pm. Some started rolling out their mobile bars stocked beer and liquor, setting it up along a busy street. Restaurants changed their signs, erasing 9pm and writing 11pm. Bars reopened, turning on the lights and turning up the music. Even a street performer dressed up in a robot costume (or maybe it was a knock-off Transformer) was out by the Sukhumvit-Asok intersection.
The easing of disease control restrictions officially set by the Centre for Covid-19 Situation Administration kicks in on Monday, but provincial authorities have been given the "okay" to the lift the restrictions earlier. In Bangkok's case, local officials gave the nod immediately.
Live music is now allowed, but customers are not allowed to dance. Bars, pubs, restaurants and other nightlife venues must close by 11pm. Click HERE to read the new disease control regulations by zone.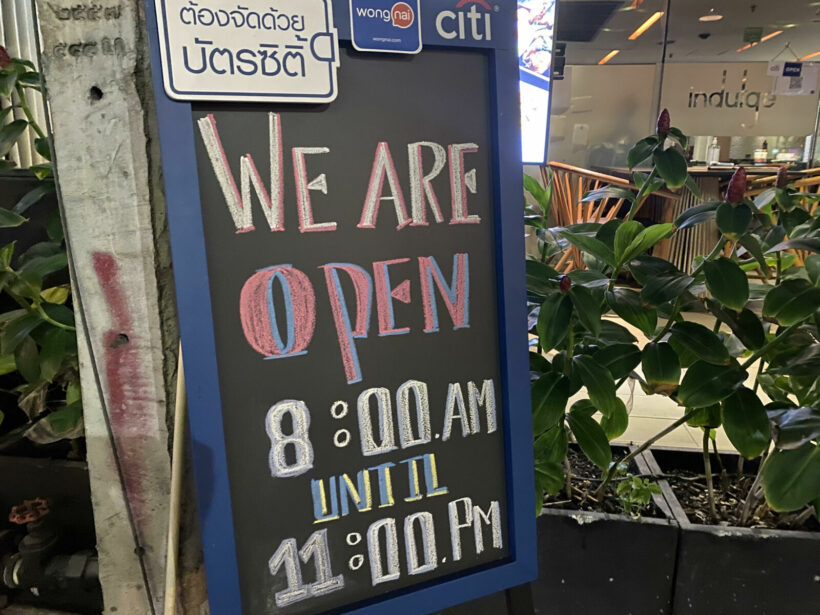 Keep in contact with The Thaiger by following our Facebook page.
Never miss out on future posts by following The Thaiger.