Thai social platform helps small eateries survive COVID-19 crisis
BANGKOK: The sound of a metal spatula against a wok was a familiar greeting to visitors at a small eatery on Samran Rat road. 
Aromatic smoke, sometimes with a spicy note of chillies, and the sizzling of food over hot flames used to fill its little unpretentious space on the ground floor of an old shophouse.
For five decades, its occupants – three sisters now in their 60s and 70s – have cooked and served an array of local dishes to generations of customers. Their eatery Three Aunties' is one of many in Bangkok's historic neighbourhood known as Pratu Pee or 'Ghost Gate' among Thais.
Once an exit way for dead bodies from Bangkok's old city, the area is home to numerous street-food legends, whose culinary fame and mouthwatering dishes such as Phad Thai noodles and Ba Chang sticky rice dumplings had long attracted throngs of foodies.
Today, the neighbourhood is unusually quiet. COVID-19 and various lockdown measures have dealt a heavy blow to the restaurants. People stay at home to avoid infections and many have less spending power than before. With hardly any walk-in customers for more than a year, small eateries are struggling to survive.
"We used to make 3,000 to 4,000 baht (US$92 to US$122) per day but right now, we can barely make 1,000 baht," said 68-year-old Wilailak Thanakitwibul from Three Aunties'. 
Scant income has caused the siblings to slip into debt and dejection. They owe their landlord two months' rent and have to live sparingly to get by. 
Knowing they may not have any customers, the three sisters have no choice but to open their eatery every day and hope for the best.
"We can't stop because the rent is more than 500 baht per day," Wilailak said. "It's so exhausting to earn some money these days.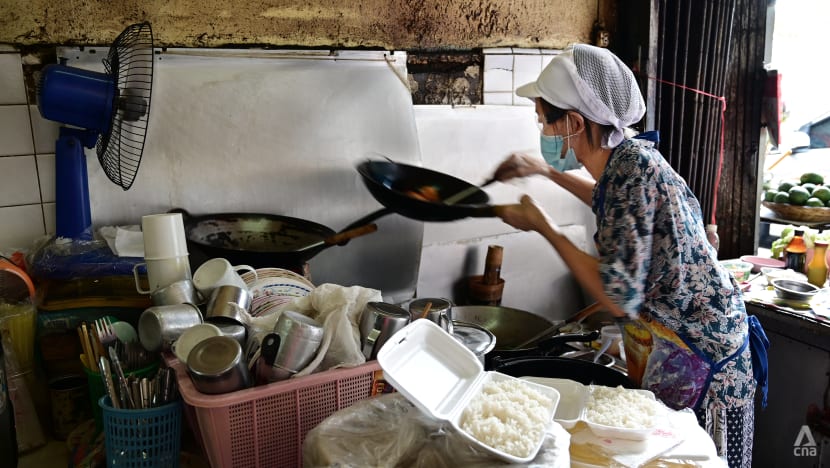 Still, there have been some lucky days with hundreds of orders, thanks to a community-driven platform called Locall.
According to its co-founder Peangploy Jitpiyatham, Locall is a by-product of the pandemic, formed in April last year by a civil society network named SATARANA. Its digital platform allows customers to place orders for select restaurants and cafes in different neighbourhoods, focusing on small and elderly sellers with no access to online delivery services.
They also engage unemployed community members who wish to deliver food from local sellers to customers.
Locall's food delivery function exists within the Line messenger app. Orders must be placed two days in advance to allow participating eateries enough time to prepare them.
They are processed by Locall's staff, who then proceed to inform each food seller of what they need to cook, how much is required and when it has to be ready for collection.
"Working with uncles and aunties has to be mostly non-digital because they lack the devices," Peangploy said. Many of them have to be reached by phone, she added, and explanation can take time. 
At a glance, Locall may seem like one of many food delivery platforms in Thailand which have grown exponentially since public movement became restricted due to the pandemic. 
But at its core, it functions as a social mechanism that connects and strengthens communities through inclusive businesses, with an aim to create economic opportunities for small people who would otherwise be left behind in the COVID-19 crisis.
"THEY FELT THEY HAD MISSED THE TRAIN"
In July, Siam Commercial Bank's Economic Intelligence Center (EIC) revised its forecast of Thailand's GDP this year from 1.9 per cent to 0.9 per cent. 
Citing the "critical" spread of the coronavirus locally, EIC said in its report that private consumption will be severely affected in the third quarter of 2021 and that the outbreak could take eight months to contain, starting from April.
According to EIC, the economic damage could cost private consumption more than 770 billion baht or about 4.8 per cent of the GDP and the government's relief measures remain "insufficient".
"We believe the impact of COVID-19 in terms of infections will continue for a while," said Peangploy.
"So, it's important to support each other so that we can all get by and be able to operate our businesses again when things are back to normal. This is what we intend to do."
Locall's operation centre is located at Once Again Hostel in Pratu Pee. Here, various ideas were brainstormed and multiple projects materialised. 
The hostel is a business branch of SATARANA, which used to welcome tourists from around the world until the pandemic disrupted international travel. 
Last year, its operators decided to continue their role as hosts who introduce visitors from outside the neighbourhood to the local life and culture as well as its history. Their original plan was to take their kitchen online. However, the team realised it takes the whole community for its members to survive.
According to Peangploy, many elderly food sellers felt lost during the first lockdown which lasted from April until June last year because they had never experienced anything like COVID-19. 
While the younger generation took their businesses online, she said this group of people is not tech-savvy enough to get on board.
"They felt they had missed the train," Peangploy told CNA. 
"But this is more than just missing the train. The train is also coming back to run them over. So, it's like we're telling them 'Aunties! Jump in! It'll run over you if you don't.'. That's what we do. We need to bring them on board. Otherwise, they'll be left behind and end up closing their restaurants."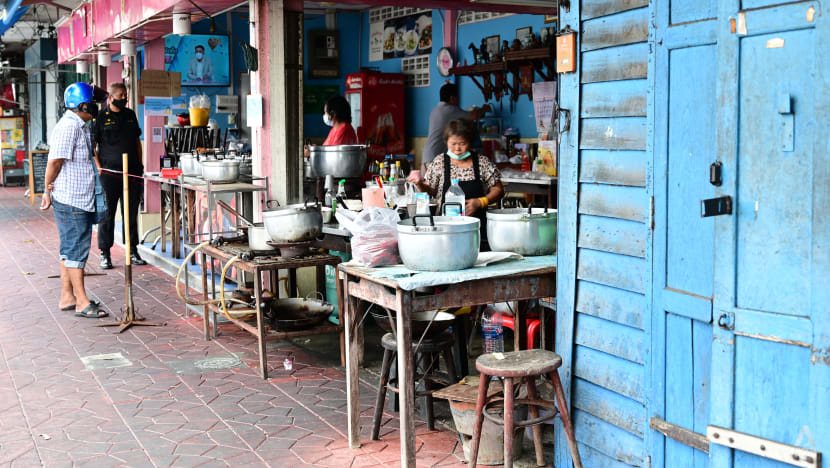 SMALL PEOPLE MAKE A STRONG COMMUNITY
Locall was formed to help small eateries, especially those run by the older generation. It gives them exposure through active social media campaigns, introducing them to potential customers from outside the community. 
Its latest project targets struggling restaurants and food stalls that have been hit hard by the government's COVID-19 restrictions. 
Each month, participating eateries would inform Locall's staff of how much money they need to make to stay afloat. The amounts would then be converted into a number of meals and announced online for customers to choose from. 
"Locall has brought me some relief," said 51-year-old Wasan Borisut. 
He and his wife have sold Phad Thai noodles and oyster omelettes for 26 years. Their stall used to be packed with hundreds of locals and tourists. But since COVID-19 hit Thailand last year, their income has dropped by 60 per cent.
After joining Locall, the couple received 800 orders in one single week. Many of them were for donation as the platform also connects food sellers with customers who wish to donate food to those in need.
"This is good for both food sellers and people with nothing to eat," Wasan said. "I can't really save up these days but I still have a lot of debt. With Locall's help, life has become a bit easier."
Another participating seller is 32-year-old Titiga Rattanareethai, who sells the popular Thai staple Phad Kaprao – a spicy stir-fry with holy basil. Her restaurant has been mostly empty for more than a year now.
"Locall has resuscitated me, really, because I received about 400 orders from them. That has helped me a lot," she said. "They're like a speaker telling people that I exist."
Since June, about 50,000 meals have been ordered and sold through Locall. Wilailak from Three Aunties' told CNA she had just received a new order of 400 meals.
"What we get from this will be used to pay rent," she said. "I'd like to thank them for helping us."
Like other restaurants in Bangkok, Three Aunties' had to suspend its dining-in services for more than seven weeks as a result of the government's COVID-19 restrictions.
Although dining-in was allowed to resume on Wednesday (Sep 1) with limited seating, Locall's work is far from over. Its team believes there are future challenges for the community as they continue to grow. 
"Locall will remain as long as it can connect the community. So with or without COVID-19, or whatever happens, our team believes that connecting the community together and strengthening it is the heart of Locall," said Peangploy.