State of Art: 5 exhibitions to check out in April
If you're one of the 2.2 million Singaporeans who have not yet used their SingapoRediscovers vouchers, we get it.
After all, you don't need them to visit the many art spaces around Singapore, which more often than not open their doors to us for free. This month's line-up at our favourite galleries are just as exciting as anything you could encounter at, say, the Science Centre or the Singapore Zoo. And surely just as informative, as is the case of Amsterdam photographer Anaïs López's upcoming exhibition, "The Migrant", which dives into the history of the common mynah bird.
Speaking of history, the Asian Civilisations Museum has dug up some treasures from the closets of our ancestors, now on display at its Fashion and Textiles Gallery. The exhibitions is a refreshing reminder that yes, there was a time when Asians dressed up in more extravagant ensembles than a T-shirt and a pair of sweatpants.
Another exhibition that is sure to transport you is Chloë Manasseh's solo exhibition at Art Porters Gallery. Her Instagrammable paintings show us her vision of Morocco, which some of us would gladly trade a ticket to over yet another staycation package.
Below, discover what else there is to see at Singapore's art galleries this April.
Header photo credit: "The Sound of Water" by Chloë Manasseh, courtesy of Art Porters Gallery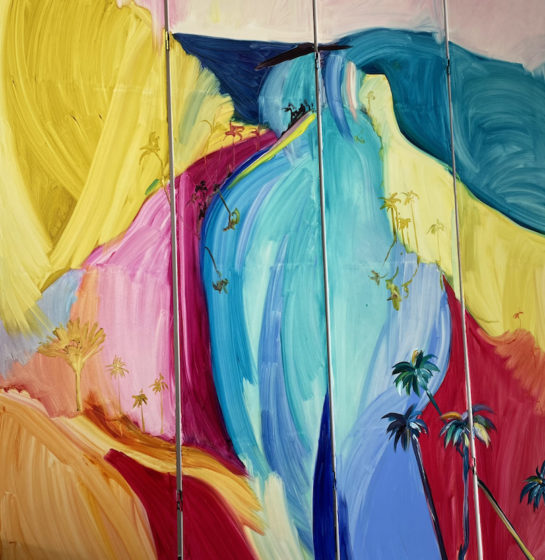 1
Casa by Chloë Manasseh
The idea of home (or "casa" in Spanish) can mean a lot of things to different people. That's certainly the case for London-born, Singapore-based fine artist Chloë Manasseh, who explores her mother's Moroccan heritage in her new solo exhibition. And she does so through a Sephardic lens, incorporating Jewish folklore into her vivid paintings. Just like the artworks she previously created for Facebook's Singapore office or the presidential suites at Raffles Hotel, Manasseh's patterned paintings would fit right at home — and in fact, they come in the form of wall paintings, folding screens and tile installations.
(Photo credit: "Agam" by Chloë Manasseh, courtesy of Art Porters Gallery)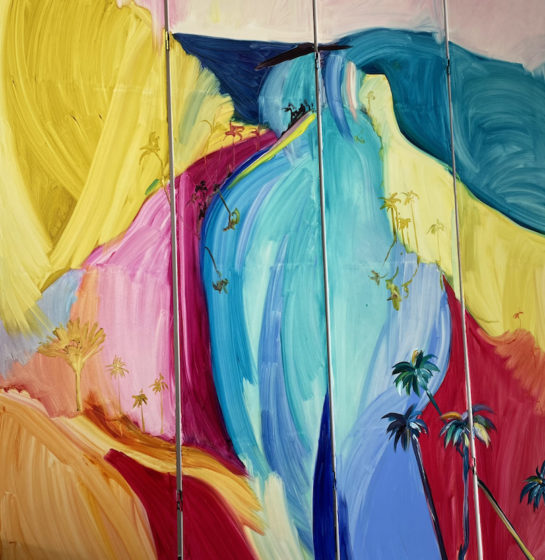 Address
Art Porters Gallery, 64 Spottiswoode Park Rd, Singapore 088652
2
Criterion
If you're looking to get into art collecting, you can start with Art Agenda, S.E.A.'s new Criterion showcase. It will feature two exhibition sessions, each one highlighting the things you should look out for in an artwork: provenance, condition, rarity and more. Of course, if you visit art galleries for pleasure instead of business, then you'll still enjoy the works on display by Southeast Asian artists like Kassian Cephas, Chen Wen Hsi, Ahmad Osni Peii and homegrown painter Ruben Pang.
(Photo credit: Art Agenda, S.E.A.)
Address
Art Agenda, S.E.A., The Modern Space Tan Boon Liat Building, 315 Outram Road, #05-04, Singapore 169074
3
Fashionable in Asia
Asian Civilisations Museum has refreshed its Fashion and Textiles Gallery with even more unseen treasures for fashion history buffs to drool over. This time, the artefacts make up the museum's "Fashionable in Asia" exhibition, which examines the trends in Asian fashion from the 18th to 20th century. From the lavish dresses worn by royalty in Thailand, Japan and Indonesia, to the Javanese batik pieces that dominated the 1800s, you'll find that there's much to appreciate in the wardrobes of our ancestors.
(Photo credit: Asian Civilisations Museum)
Address
Asian Civilisations Museum, 1 Empress Place, Singapore 179555
4
Transcendental
Cuturi Galley is back with another group exhibition. This time, Transcendental looks especially at figurative paintings, and how the portrayal of the human form has evolved in the contemporary art scene. The exhibition will showcase the works of 14 artists around the world, including London-based painters Xu Yang and Andrew Salgado, as well as Barcelona's Giorgio Celin. Of course, there are a handful of local names in the mix, and you'll get to meet all five of them, such as Aisha Rosli and Marla Bendini, at the exhibition's opening weekend. RSVP here.
(Photo credit: Cuturi Gallery)
Address
Cuturi Gallery, 61 Aliwal Street, Singapore 199937
5
The Migrant by Anaïs López
On the surface, Dutch photographer Anaïs López's new multimedia series may seem like a tribute to the Javan mynah bird that populates Singapore. But The Migrant actually traces the journey of the black bird over the course of Singapore's rapid urbanisation, and how it went from being perceived as a prized fowl to foul pest. "This project is not only about how we deal with our environment but also how we deal with 'the other'," shared López. "In creating the ideal society, who is excluded?"
(Photo credit: Anaïs López, courtesy of Objectifs)
Address
Objectifs, 155 Middle Rd, Singapore 188977