Sri Lanka is now entrenched in an economic collapse and a humanitarian crisis, a little more than one year after the federal government adopted organic agriculture policies that adhered to the global environmental, social, and governance (ESG) trend.
This past summer, President Gotabaya Rajapaksa announced that he would be stepping down, after thousands of citizens stormed his presidential residence. Rajapaksa had been transferred to an undisclosed location, resulting in Parliament Speaker Mahinda Yapa Abeywardena confirming a "peaceful transition." The political upheaval led Ranil Wickremesinghe, who had served as prime minister on six separate occasions, to become the new president.
Despite a new government, the Southeast Asian state has struggled to put a halt to its economic crisis and political chaos. The annual inflation rate surged to 66 percent in October, while the economy has slipped into a recession. The rupee has lost 73 percent of its value against the U.S. dollar.
The country's current financial crisis, which is the worst it has been since declaring independence from the British in 1948, kicked into overdrive in early 2021, when the Rajapaksa government announced an overhaul of farming practices.
Introduction and Results of Going Green
Colombo instituted a national ban on the use and importation of synthetic fertilizers and pesticides for key export crops, including coconut, rice, rubber, and tea. The government also ordered the nation's two million farmers to go organic.
"This is how I will make my country rich again by 2025," Rajapaksa declared at the World Economic Forum before the coronavirus pandemic.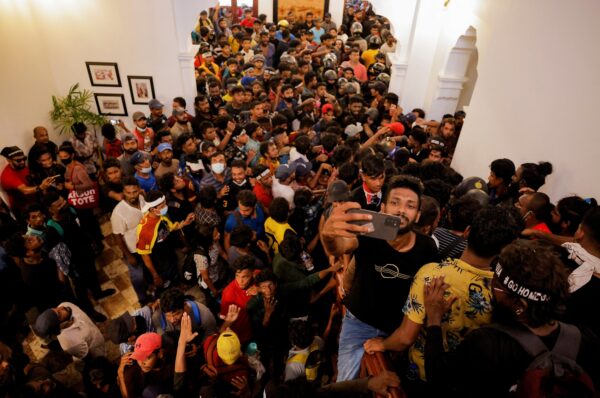 The government decree also garnered a jubilant response from environmentalists worldwide, including Vandana Shiva, an Indian author and environmental activist.
"Let us all join hands with Sri Lanka taking steps towards a #PoisonFree #PoisonCartelFree world for our health and the health of the planet," she posted in a tweet in June 2021.
Wall Street also championed the move as late as November 2021, when the government was beginning to shift its ESG focus.
"Sri Lanka would be in a better position to be able to attract sizable foreign direct investments as well as achieve its sustainability goals when all fall in line and see through the very same strategic lens for defining how value is created, delivered, and measured across all verticals," said Buwanesh Wijesuriya, partner, Transaction Advisory Services, Ernst & Young.
The policy directive extended Sri Lanka a near-perfect score for its environmental impacts, according to World Economics Research in London.
However, after just several months into the decade-long initiative, officials responded to the collapse in crop yields that led to today's food inflation rate of 100 percent. In November 2021, Rajapaksa partially lifted the ban on chemical fertilizers and granted the private sector permission to import them to ensure food production would remain intact. The president also offered $200 million in direct compensation for 1.1 million farmers and an extra $149 million in price subsidies.
The government insisted that the adjustment in policy did not mean the country was reversing its organic farming efforts. In addition, the U.K.-based Soil Association stated in a tweet that there were "lots of lessons to be learned from Sri Lanka, but 'see, organic doesn't work,' isn't one of them."
Despite very poor economic conditions for years, Sri Lanka's agriculture sector was self-sustaining and self-sufficient. Before the restrictions were implemented, more than 90 percent of the country's farmers utilized chemical fertilizers. Following the ban, 85 percent of these same farmers suffered immense crop losses, attributed to the reduced application of fertilizer.
In 2022, the country has been forced to import approximately $450 million worth of rice, as domestic production cratered by 20 percent in the first half of the year. In the first six months of 2022, imported cereals increased by more than 42 percent. The national tea industry has taken a significant hit, with economic losses totaling $425 million, according to the U.S. Department of Agriculture (USDA) (pdf).
One year later, inflationary pressures have not improved, with retail prices of kitchen staples skyrocketing. Since the bans were announced, the cost of wheat flour has surged 185 percent, milk powder has climbed 200 percent, chicken meat has increased 90 percent, and rice has climbed 30 percent.
The Human Toll of Organic Farming
According to Chris Rawley, CEO of Harvest Returns, a platform for investing in sustainable agriculture, it is vital to find a balance between increasing food production to respond to a growing global population and minimizing the negative impacts on soil quality and biodiversity.
"As we saw in Sri Lanka, the populations of developing nations are disproportionately hurt by food insecurity driven by well-intentioned do-gooders who don't consider the economic and practical outcomes of their mandates," Rawley told The Epoch Times. "Any regulations that require measurement of carbon emissions in agriculture will cause undue burdens and expenses on small family farms. Near-term food security must be a priority for policymakers over other environmental factors."
Indeed, the situation may not improve heading into 2023. The Food and Agriculture Organization (FAO) of the United Nations warned (pdf) that Sri Lanka had been crippled by a poor harvest of cattle feed, fruits, grains, and vegetables for two consecutive seasons.
"The food security situation could deteriorate during the upcoming lean season, between October and February 2023, if the country is unable to import adequate amounts of rice and other food products to cover the existing food deficit and humanitarian assistance is not sufficient," the report stated.
Overall, this has manufactured acute food insecurity for more than six million people, as a currency crisis, constrained fiscal resources, and an economic collapse has forced most families to do with less. UN experts noted that a quarter of households were employing "emergency livelihood coping strategies," including withdrawing children from school, scaling back on essential healthcare expenses, and selling productive assets.
"More than 60 percent of families are eating less, and eating cheaper, less nutritious food. This comes at a time when financial constraints have forced the government to scale back on nutrition programmes, such as school meals and fortified food to mothers and undernourished children," said Abdur Rahim Siddiqui, a United Nations World Food Programme (WFP) representative and country director in Sri Lanka, in a report.
The World Bank anticipates that poverty in Sri Lanka will spike unless the international community, including China, India, and Japan, offers billions of dollars in assistance.
Will other nations learn from Sri Lanka's mistakes?
While speaking at an event in July, Indian Prime Minister Narendra Modi purported the benefits of natural farming that could eventually serve as a model for the rest of the country.
"This mass movement regarding natural farming will also be widely successful in the coming years. The sooner farmers join the change, the more successful they will be in reaping its benefits," he told the audience.
IL PRIMO ECOMMERCE SPECIALIZZATO IN DELIZIE AL TARTUFO E CAVIALE – CAVIAREAT.COM