North Korea conducted more than 180 military flights across its inland areas on Friday, the South Korean military said, prompting it to scramble dozens of fighter jets to maintain its response posture.
South Korea's Joint Chiefs of Staff (JCS) said it detected North Korean fighters and bombers flying over the North's inland areas and along its western and eastern coasts between 11 a.m. and 3 p.m. (local time), but they did not approach the inter-Korean border.
The JCS did not specify how many North Korean warplanes were involved, Yonhap News Agency reported.
South Korea responded by deploying 80 fighter jets, including its cutting-edge F-36A fighter jets, in order to keep "a firm readiness posture for further provocations" by North Korea, the JCS said.
"Our military is maintaining a firm readiness posture for further provocations while closely monitoring the North Korean military's related movements under close cooperation between South Korea and the United States," it stated.
North Korea Reaction to US-South Korea Drill
Prior to North Korea's military flights, the regime of Kim Jong-un had warned South Korea and the United States that their decision to extend their large-scale joint air drill would result in "an uncontrollable phase."
The Vigilant Storm drill was extended for another day, till Saturday, due to North Korea's barrage of missile launches this week, one of which is believed to be an intercontinental ballistic missile (ICBM). The drill involved 240 U.S. and South Korean aircraft.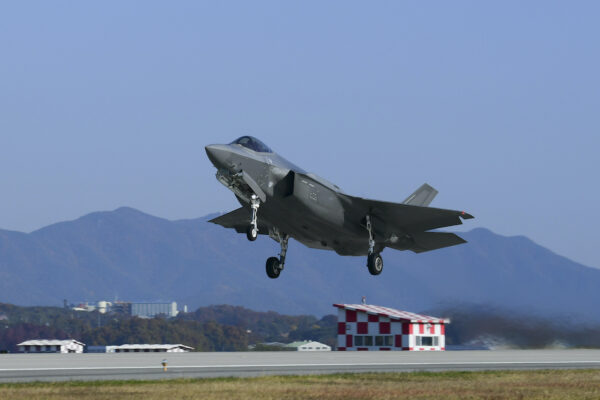 In a statement on Friday, North Korea's Foreign Ministry said that its military activities were a response to the U.S.-South Korea joint drills, which it said were "hostile provocations," the state-run Korean Central News Agency reported.
"The DPRK once again clarifies that it will never tolerate any attempt of the hostile forces to infringe upon its sovereignty and security interests but respond to it with the toughest counteraction to the last," it said, using North Korea's official name, the Democratic People's Republic of Korea (DPRK).
US Envoy Condemns North Korea's Launches
U.S. ambassador to the United Nations, Linda Thomas-Greenfield, said Friday that 13 council members condemned North Korea's unlawful missile launches, while two countries have "bent over backward" to justify North Korea's actions.
Thomas-Greenfield did not directly mention China and Russia—both of which had refused to condemn North Korea's missile tests at the U.N.—in her speech at the U.N. Security Council meeting on Friday.
Two UN Security Council members have bent over backward to justify North Korea's unlawful weapons of mass destruction and ballistic missile programs.

And, in turn, they have enabled North Korea.

This cannot stand. The risks to the region and the world are simply too great. pic.twitter.com/1UEFWixB0b

— Ambassador Linda Thomas-Greenfield (@USAmbUN) November 4, 2022
"You don't get to abandon Security Council responsibilities because the DPRK might sell you weapons to fuel your war of aggression in Ukraine or because you think they make a good regional buffer to the United States," she said.
Thomas-Greenfield said that it was "appalling" that the U.N. Security Council had remained silent on North Korea's repeated violations, despite the fact that the country had launched a "staggering" 59 ballistic missiles this year.
"For a U.N. member state to so flagrantly violate the Security Council resolutions and all that the U.N. Charter stands for, is appalling. Equally appalling is the council's deafening silence on this issue," she said.
IL PRIMO ECOMMERCE SPECIALIZZATO IN DELIZIE AL TARTUFO E CAVIALE – CAVIAREAT.COM