Q&A: Charlotte Tilbury on makeup trends and beauty as escapism
You're going to want to read this, darlings.
Charlotte Tilbury is a name that truly needs no introduction. The woman, the celebrity makeup artist, the brand that brought a very specific shade of mauvish-pink to now be synonymous with the phrase 'Pillow Talk,' is a real star in the makeup industry.
At the heels of a year hit particularly hard by the pandemic — and in anticipation of a better 2021 — we sat down (via Zoom) with the make-up maven for some tips, tricks and insights into what's next and new in the world of beauty and in the world of Charlotte Tilbury.
[All images courtesy of Charlotte Tilbury]
2020 was the year of Zoom meetings and what the industry has been calling 'above-the-keyboard' looks. As the go-to make-up artist for so many high-profile clients that spend their lives on screen, what are your go-to application tips for achieving that perfect on-screen look?
During the pandemic I have really missed creating makeup magic, in person, with my gorgeous celebrity friends but, as so many of them have been handling press events from home via virtual calls, I've been teaching them all my beauty secrets, tips and tricks via Zoom and they've been brushing along with me — I've sent them beauty kits with everything they need, it's been so much fun!
Because we've all spent so much time on virtual calls, we know it can be super unflattering but I have bottled the magic of social media filters so you can create the look of a filter even when there isn't one!
My Hollywood Flawless Filter is the perfect social media filter for virtual calls. It smooths, blurs, illuminates and gives you a gorgeous, youthful-looking complexion in an instant! Never forget to define your features, use blusher and bronzer to enhance the complexion so you don't look washed out on screen — my Hyaluronic Acid-infused Airbrush Bronzer gives you the most gorgeous healthy-looking glow, and it's also perfect for adding a quick contour to the cheekbones! With spending so much time talking on calls, I've noticed my lips can become quite dry so, I keep my new Hyaluronic Happikiss next to me on my desk. It's a hyaluronic-infused lipstick gloss balm that really nourishes and hydrates the lips as you wear.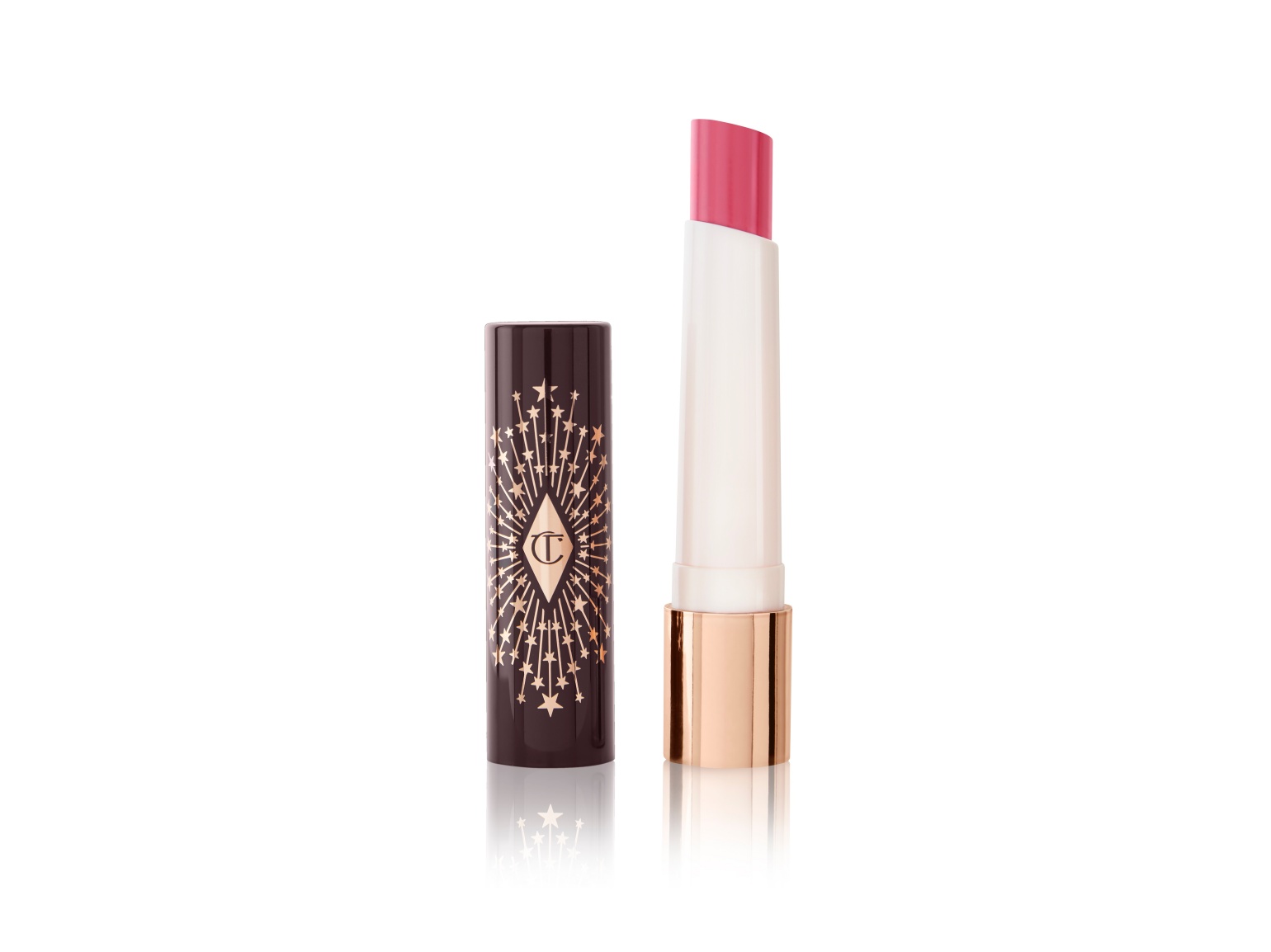 In your opinion, how have the trials and tribulations of 2020 changed the way consumers approach and relate to beauty?
I think beauty created a positive escapism for many during 2020. From creating moments of calm and well-being with skincare rituals to wearing your favourite makeup, experimenting with new looks and giving yourself an instant mind makeover! For me, beauty has always been a mood booster, it lifts my spirits and it makes me feel like I can conquer the world. Makeup and skincare are my superpowers! I have always understood the power of beauty, it's instant confidence, empowerment and self-esteem — it's a feeling and an emotion! For me, doing my daily skin rituals and putting on makeup is like putting on a frequency of self-confidence and other people can read that frequency too! It's the psychology of makeup; when you look good, you feel good and the world reacts to you in a powerful, positive way!
How has your own personal makeup and skincare routine changed this past year? Any new favourites? Rediscovered old favourites?
I have been enjoying spending even more time on my skincare recently, skincare is self-care! I'm a skincare obsessive and I have created the ultimate research-powered skincare routine for your best, most beautiful, hydrated, healthy-looking, glowing skin every day.
I'm really enjoying spending time doing skin treatments at-home, I love multi-masking with my Goddess Skin Clay mask that brightens and smooths the skin and my Instant Magic Dry Sheet Facial Mask that instantly hydrates the skin in just 15 minutes. Applying these masks help me to prep my skin, creating the best canvas for makeup.
I cannot wait to launch my new skincare innovation, my Super Radiance Resurfacing Facial. It's a 2-in-1 miracle facial in a tube that resurfaces, hydrates and adds radiance for instantly gleaming, glowing skin!! It sloughs off dead skin cells, tiredness and greyness, refines the look of pores and infuses your skin with radiance for the smoothest, most polished, glowing complexion of your life! It has an expertly calibrated blend of 15% AHA, BHA & PHA that can be gradually introduced into your skincare routine to gently smooth and exfoliate! I've been using this for a few months now and my skin is looking better than ever – I look 10 years younger, it's incredible! I can't wait for everyone to try it too!
Do you have any insights into what the 2021 beauty 'look' is going to be?
My three big beauty trends for 2021 are; number one, Supermodel Brows! I've always talked about the importance of brows, they are the pillars of the face and when you get it right, they can transform your whole facial structure! Full, arched brows lift and youth-boost instantly, they can take years off women, men, everyone! To create the perfect, Supermodel Brow it's as easy as fill, feather and fix!
Secondly, fresh, flawless skin that's full of luminosity — think 'Bridgerton Skin' that's dewy, hydrated and lit-from-within! Everyone has definitely become more aware of how their skin looks and feels and the key to this trend is really honing in on your skincare — all of my research-powered skincare products give you instant effects and clinically proven results!
And thirdly, it's all about the eyes! As we continue wearing masks, we are communicating through our eyes now more than ever. I've been focusing on the positives and really experimenting and having fun with my eye makeup looks! I love making my eyes look bigger, brighter and even more mesmerising – it's my signature look! My iconic, number one selling shade, Pillow Talk, is the perfect, super-flattering hue for everyone, everywhere. With my Luxury Palette or my Instant Eye Palette, you can create an effortless, naturally gorgeous smokey eye in seconds!
Finally, what can we look forward to in 2021 for Charlotte Tilbury? Anything exciting brewing you can share with us?
I've been really looking forward to 2021 for the brand, it's going to be a magical year! I want to make it a year of positivity — I am putting it out to the universe, and I'm determined to bring joy, positivity and happiness to everyone! I have so many new innovations in both skincare and makeup launching this year — game-changing, ground-breaking products that will revolutionise the industry! Already, I've launched two incredible new collections, my limited-edition Lucky New Year gift collection and my science and colour innovation, Hyaluronic Happikiss plus, my miracle facial in a tube, Super Radiance Resurfacing Facial. but that's really just the beginning I can't reveal too much yet, but I know you will love what's to come! Digital and beauty tech will also continue to be a huge focus for the brand, we have already created never-seen-before tech-innovations and I couldn't be more excited about what the future holds for us in this space!
This article first appeared on Lifestyle Asia India.