New beauty buys: what to put on your face this February 2021
Whether it's a new beauty balm, blemish fix, or botox: welcome to your local guide to what to put on your face in Bangkok.
Each month, we'll be presenting you with a series of beauty products we're very excited about, be it a newly-launched lipstick or a tried-and-tested sheet mask.
This February 2021, the beauty and skincare industry unveiled a series of very special Chinese New Year limited edition pieces. Yet beyond these, there were still a few new launches to get excited about. Spring/Summer collections were unveiled, as well as some exciting new launches.
Read on for our current top beauty picks, and be sure to put them on your face if you agree.
[Hero and Featured Image Credit: Fenty Skin]
Fenty Skin comes to Thailand
The wait is finally over. The highly anticipated skincare brand by Rihanna has made it to Thailand with an array of "clean, uncomplicated, and effective skincare for all." Whilst we're still studying and exploring many of the products (there's a nice selection to choose from!), we're already loving the minimalist and eco-friendly packaging. Several of the products are refillable (very 2021), and all formulas are vegan, cruelty- and gluten-free. If 2021 is the year where you switch up your skincare, this product launch arrived just in time.
Best for: Fenty Beauty aficionados, and anyone who loves Rihanna

Wear to: Your next staycation

Priced at: THB 880 for the Total Cleans'r Remove-It-All Cleanser; THB 970 for the Fat Water Pore-Refining Toner Serum; THB 1240 (refill at THB 1060) for the Hydra Vizor Invisible Moisturiser Broad Spectrum Sunscreen; THB 1380 (refill at THB 1240) for the Instant Reset Overnight Recovery Gel-Cream; THB 1400 for the Fenty Skin Start'r Set (mini 3-piece set)

Buy at: Sephora stores or online.
Chanel gets floral this season
There's no denying that plants and floral arrangements are one of the biggest trends of the minute. Together with Lucia Pica, Chanel's Makeup Creation Studio unveils 'Les Fleurs de Chanel' this season, featuring a soothing colour palette along both warm and bright tones. Where the delicate meets the bold, we're loving the touches of coral orange in this collection, mixing shimmering colours with earthy brown undertones. Definitely a subtle yet very beautiful way to let your feminine side shine in a contemporary manner for Spring.
Best for: Anyone who is ready for the warmer months

Wear to: A breezy garden luncheon

Buy at: Chanel Beauty counters.
Drunk Elephant shows what sake can do
It's a cocktail for your skin. The new Drunk Elephant Sweet Biome Fermented Sake Spray contains fermented sake extract, kombucha, and hops, to restore, soothe, and balance the skin. It achieves this by mimicking the elements that keep the skin barrier strong, and thereby promoting a healthy collagen production. Your face is left feeling soft and moisturised after a refreshing spritz of this stuff. Who knew sake could do so much more than accompany omakase?
Best for: Those who dislike the alcohol ban but know it's good for their skin

Wear to: Early bird dinner

Priced at: THB 1520

Buy at: Sephora stores or online.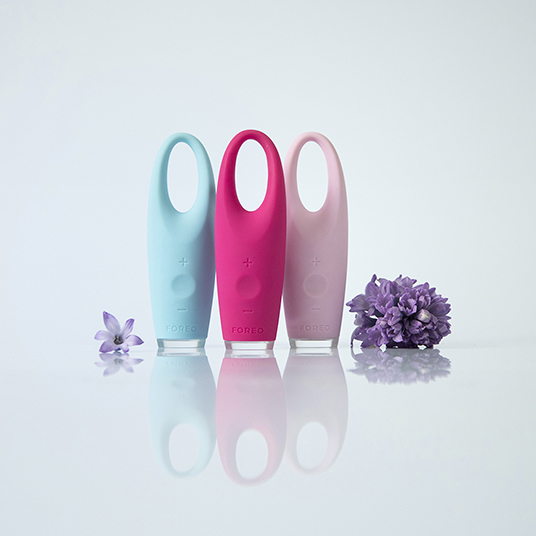 FOREO Iris looks naughty but is actually very useful
Anything that calls itself an 'eyebrator' already has our attention from the get-go. This February, we're a little in love with FOREO Iris, an eye massager device that is designed to fit perfectly to the shape and skin around the eyes. Aiming to boost micro-blood circulation and oxygenate the skin, it's a perfect tool for those who are looking to battle dark circles, puffiness, and fine lines. It is also said to reduce signs of ageing and fatigue, and to refresh you after hours in front of blue light.
Best for: Those who stare at a screen all day, are constantly tired, and need motivation to apply eye cream

Wear to: Gaze into your lover's eyes this Vday

Priced at: THB 4590

Buy at: Sephora stores or online.
Caudalie lifts your face without botox
We will not let you look old this 2021. Caudalie is back for February with an oil-free re-sculpting serum that is designed to re-plump and firm the skin. Using the magic of hyaluronic acid and more, the Resveratrol Lift Firming Serum is filled with plenty of good stuff that works on natural collagen and elastin to lift facial contours. The texture is light and hydrating, making it a sweet number to use under makeup, too.
Best for: Those who partied too hard in December (and where you can still tell)

Wear to: An important morning meeting

Priced at: THB 3065

Buy at: Sephora stores or online.