Man charged with rape of 36 women in Bangkok area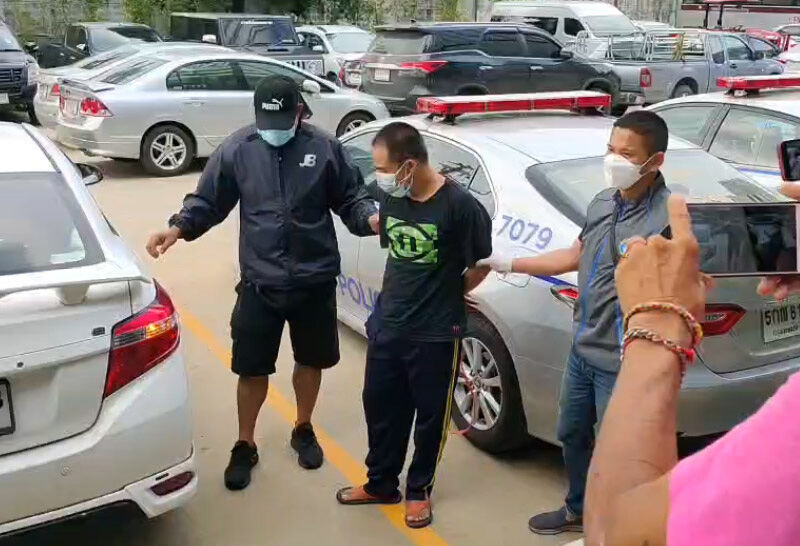 FILE PHOTO: Denphum Wattanachotipinyo has been charges with rape with more than 36 victims.
A serial rapist with complaints from 36 female victims from the end of 2020 until the beginning of this month has officially been charged with rape. Mr Denphum Wattanachotipinyo committed rape, theft, fraud, and deception in the Bangkok area and was arrested Wednesday in Sai Mai. He is 39 years old and is believed to be from Nontha Buri.
Thonburi Court issued a warrant for his arrest on May 4, and he was arrested on May 11 with coordination by the Commander of the Crime Suppression Division of the Royal Thai Police after escaping capture for several days. After appearing in court in Bangkok, he is now in Thonburi Prison for the rape charges. An extension was granted for police to hold him in until May 24 as evidence is gathered and charges are formalized.
Police requested that bail be denied as they worry Denphum may interfere with witnesses and is a flight risk considering the seriousness and the violent nature of his charges. During his imprisonment, police will review five other testimonies and take statements from any more witnesses. They will also examine medical reports for the first woman who reported a rape to the Bang Khun Thian Police Station in Bangkok on May 2 that launched the probe that brought down Denphum.
Two women have testified with similar details, alleging that they were victims of violent rape in his luxury condo in the Sathorn area of Bangkok, one on February 8 and one on May 1. Both say they were held at knifepoint with their lives threatened after being forced to take crystal meth. They came to his room under the promise of paid work. Many of the victims stated that they were robbed or forced to give Denphum money in addition to the brutal rape.
He's being charged for the rape cases in Bangkok with multiple violations under Sections 276 and 309 of the Criminal Code. Section 276 involves sex with women against their will when they cannot resist. Section 309 involves creating fear of bodily harm or death in women. Each count of the latter can be punishable by up to 5 years in jail, while the rape convictions would carry sentences of between 4 and 20 years.
SOURCE: Thai Examiner
Want more from the Thaiger family?
📱 Download our app on Android or iOS for instant updates on your mobile
📧 Subscribe to our daily email newsletter
👍 Like/Follow us on Facebook
🔔 Subscribe to or Join our YouTube channel for daily video updates

Stricter Covid-19 rules for Bangkok area construction sites

Published
17 hours ago
on
Sunday, May 16, 2021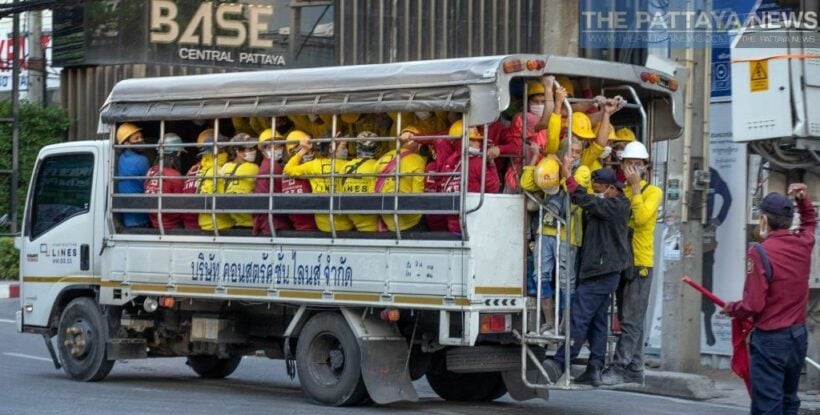 FILE PHOTO: Cramped conditions have led tighter Covid-19 safety restrictions for construction housing sites.
The Centre for Covid-19 Situation Administration has set out instructions to large construction companies and the Bangkok Metropolitan Administration to implement stricter regulations to curb Covid-19 in worker housing facilities. The decree comes after clusters of outbreaks were found at housing facilities at construction sites in the Wattana and Laksi districts. The CCSA spokesmen cited cramped living conditions and a mix of nationalities and culture as contributing factors that make Covid-19 infection spread easily in worker housing sites.
Construction companies specifically in Bangkok, Nonthaburi, Pathum Thani, and Samut Prakan were requested to tighten up safety measures. The decree affects some 400 construction sites within Bangkok and its three neighbouring provinces. The BMA estimates as many as 34,600 foreign migrant workers, generally Burmese and Cambodian, living in these facilities along with about 24,600 Thai employees.
The CCSA says the proximity and living conditions in the staff housing facilities are causing Covid-19 to spread at a much higher rate. While Suan Luang district had an 8.85% infection rate, construction housing in Wattana was found to have a rate of infection of around 14.25%.
Staff housing at construction sites, markets, and factories have often been the site of major Covid-19 clusters and Coronavirus spread. At the height of the second wave of Covid-19 in Thailand at the beginning of the year, the Central Shrimp Market in Samut Sakhon had such a large outbreak throughout the Burmese migrant workers there, that the staff dorms and the market were completely sealed off. The entrances and exits were barricaded and locked up, with nobody allowed in and those inside not permitted to leave.
The CCSA hinted that if these new tougher restrictions and safety measures don't curb new Covid-19 outbreaks and any more Coronavirus spread, a similar lock-in may be implemented in the Bangkok area construction site.
SOURCE: Thai PBS World
Want more from the Thaiger family?
📱 Download our app on Android or iOS for instant updates on your mobile
📧 Subscribe to our daily email newsletter
👍 Like/Follow us on Facebook
🔔 Subscribe to or Join our YouTube channel for daily video updates
1,000 to 6,000-patient field hospital opened at IMPACT complex

Published
1 day ago
on
Saturday, May 15, 2021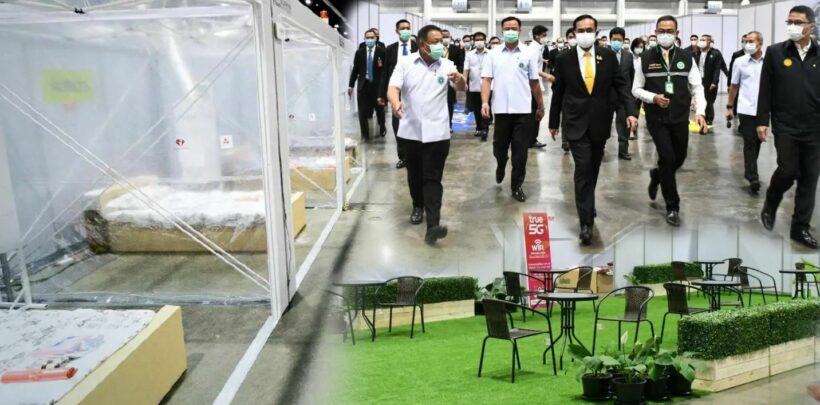 FILE PHOTO: IMPACT exhibition centre has opened a huge field hospital.
IMPACT Muang Thong Thani exhibition centre in Nonthaburi has just opened as a massive field hospital that will be supervised by the Public Health Ministry. PM Prayut Chan-o-cha, Public Health Minister Anutin Charnvirakul, and Interior Minister Anupong Paochinda were all in attendance for the launch yesterday.
Situated in the northern suburb of Bangkok, the huge commercial complex has ample space in a variety of buildings. IMPACT Muang Thong Thani houses on its grounds multiple exhibition halls, a convention centre, and an arena.
Operating under the name Bussarakham Hospital, the huge venues of IMPACT can currently hold 1,092 patients in its initial opening, but if needed there is room to expand to a max capacity of 4000 to 6,000 people. The public and private health sector collaborated to build and maintain the Covid-19 emergency overflow facility.
So-called yellow-coded Covid-19 patients, those who have slight to severe symptoms, will be the primary patients treated at the IMPACT field hospital. Emergency medical equipment like respirators are on hand in the event of a patient's condition worsening suddenly though. The hospital will employ a total medical staff of 780 people. 260 medical staff members will be on duty at any given time, working 3 shifts divided between the staff.
The IMPACT field hospital was set up in just one week with the help of all the involved partners. The Public Health Minister touted the success of the project, saying that it is set up to care for patients physical and mental needs with comfort.
"Apart from the treatment zone, the hospital also provides a relaxing zone where patients can stay watching movies and exercise under good ventilation all around the area while staying socially distanced."
Anutin also made a point to reassure area residents that converting IMPACT into a field hospital will not interrupt or negatively affect the local community.
SOURCE: The Pattaya News
Want more from the Thaiger family?
📱 Download our app on Android or iOS for instant updates on your mobile
📧 Subscribe to our daily email newsletter
👍 Like/Follow us on Facebook
🔔 Subscribe to or Join our YouTube channel for daily video updates
506 Covid-19 infections found in Klong Prem Central Prison

Published
2 days ago
on
Saturday, May 15, 2021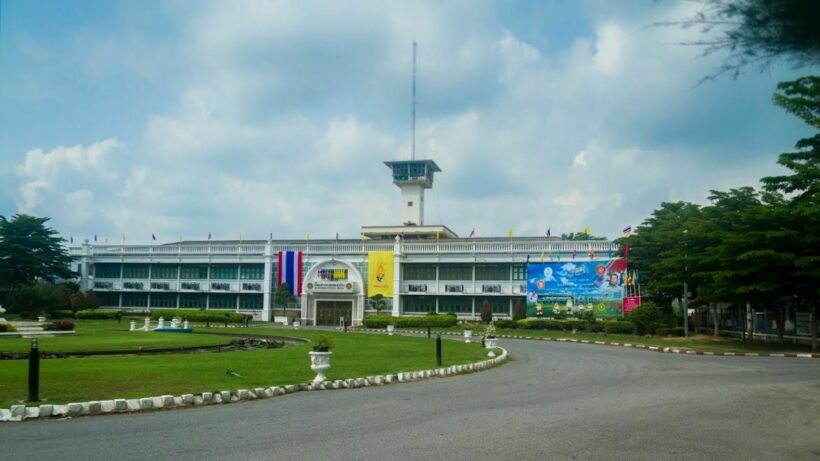 Yet another Bangkok prison has reported a Coronavirus outbreak, as Klong Prem Central Prison now confirmed 506 Covid-19 infections. The Corrections Department deputy director-general Dr Weerakit Harnpariphan confirmed that this outbreak was discovered through active screening, and a lot more testing still needs to be done.
The prison houses a total population of at least 20,000 inmates amongst the many facilities within its compound. Of note, the Central Women's Correctional Institution is also on the premise and has recently reported 1,039 Covid-19 infections. The Central Correctional Hospital, Bangkok Special Prison, and the Central Correction Institution for Drug Addicts are also all housed inside, as well as every female prisoner on death row in Thailand.
The Covid-19 cluster was found in zone 4 of the maximum security prison in Chatuchak District, Bangkok. That zone is used for vocational training. The other zones of the prison have yet to be screened, creating fears that there may be a much higher Covid-19 infected population than currently known.
The deputy director-general of the department did confirm that all inmates who tested positive for Covid-19 have been isolated from the general prison population. They are being held in groupings by their condition and the severity of their symptoms.
Officials advised that relatives of prisoners can contact Klong Prem Central Prison to inquire about the condition of an inmate. The prison will only be notifying family members if the infected inmate requests them to make contact.
This prison cluster is one of several making headlines after the Bangkok Remand Prison identified nearly 1,800 covid-19 infections in its prison population. The current outbreak is attracting criticism from humanitarian groups that are calling for sentence commutations and the release of low-risk prisoners to thin the prison populations in Thailand that are already 160,000 inmates over maximum capacity in hopes of controlling the Covid-19 outbreak.
SOURCE: Thai PBS World
Want more from the Thaiger family?
📱 Download our app on Android or iOS for instant updates on your mobile
📧 Subscribe to our daily email newsletter
👍 Like/Follow us on Facebook
🔔 Subscribe to or Join our YouTube channel for daily video updates