Malaysia Prime Minister Anwar Ibrahim's passing of a confidence vote cemented his leadership and his unity government, and doing so should fend off the opposition for the moment, analysts said.
Mr Anwar secured a vote of confidence during his first parliament session on Monday (Dec 19) as the country's top leader, confirming the legitimacy of his leadership and the unity government.
The vote of confidence was done via a voice vote, with no call for a bloc vote. The Speaker of Parliament confirmed that a majority of the Members of Parliament (MPs) supported the vote.
However, the voice vote could prompt the opposition to raise concerns about the prime minister's actual majority, even in the future, political observer James Chai told CNA's Asia Tonight.
A voice vote means results were taken by noting the relative strength and volume of "ayes" and "noes" called out, and not on counting physical ballots.
MPs, including those in the opposition, did not protest the voice vote and did not ask for a bloc vote.
"The opposition is using the narrative that, because we do not know how many … MPs supported Mr Anwar, therefore, we cannot totally accept the legitimacy of Mr Anwar," said Mr Chai, a visiting fellow from the ISEAS-Yusof Ishak Institute's Malaysian Studies Programme.
The election of the Speaker of Parliament Johari Abdul earlier in the day with 147 votes – just one vote short of a two-thirds majority – as well as his two deputies, showed that support was with Mr Anwar, he said.
Mr Johari is from Pakatan Harapan's (PH) Parti Keadilan Rakyat (PKR). Deputy speakers Ramli Mohd Nor and Alice Lau are from Barisan Nasional (BN) and the Democratic Action Party (DAP) respectively.
CONTROVERSIAL CLAUSE IN MOU
All five coalitions and parties within the unity government signed a memorandum of understanding (MOU) last week, promising to support Mr Anwar's administration.
The cooperation pact agrees to ensure political stability, good governance, economic growth, and uphold the rights of the country's Malay majority and Islam as the official religion.
However, one item that raised eyebrows in the memorandum was a clause stating that MPs are considered to have vacated their seats if they do not vote in line with the government.
"There is growing concern … there ought to be freedom of individual MPs to exercise their conscience and their rights to be able to sometimes, perhaps, take a different position from their parties when it comes to votes on certain Bills," said Ms Tricia Yeoh, chief executive officer of the Institute for Democracy and Economic Affairs (IDEAS) think-tank.
Most analysts who spoke to CNA do not think that the clause in the MOU is legally binding.
"According to the anti-party hopping law, if the party sacks you, your seat is safe, regardless of whether you … follow the party line or not," said Assistant Professor Lau Zhe Wei, from the department of political science at the International Islamic University Malaysia.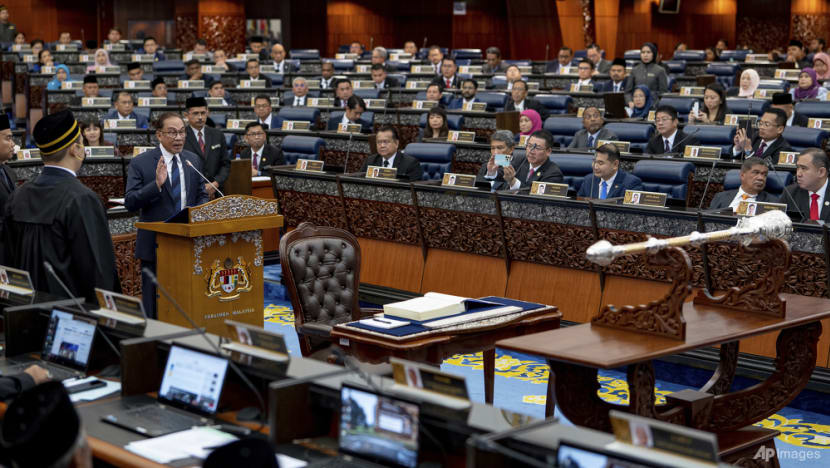 UNITY GOVERNMENT STABLE FOR THE MOMENT
Observers believe it will not be easy for the opposition to sway any parties in the newly-minted unity government for now, as Mr Anwar has a parliamentary majority and the backing of the country's monarchy.
"For the short term, Mr Anwar shouldn't be facing (many) problems. His appointment is not only due to (election) numbers but it is also due to the support from the royal family, from the king himself. It will be quite difficult for any political parties to drag him down without proper reasons," Asst Prof Lau told CNA's Asia Now.
"But whether he can last for five full years or not, that's another story."
While observers are confident of the stability of Malaysia's unity government in the immediate future, they are cautious of being overly optimistic.
Asst Prof Lau said the ruling PH coalition pins too much hope on Mr Anwar.
"(PH) hopes that Mr Anwar can make a lot of changes for the country. For example, eradicate corruption, develop our economy, do the correct things. But for these ideal situations to happen, it is quite difficult," he said, citing a politically-driven Cabinet that needs to accommodate different parties.
The coalitions have been cobbled together to form a unity government, and each coalition has its own interests and goals, Asst Prof Lau said.
He added that they came together because they either wanted to be part of the government or due to pressure from the king.
"Yes, this government can survive. But if you're hoping for something very idealistic, like hoping for a big reform worth anything, then I'm quite pessimistic on that," said Asst Prof Lau.
Mr Ibrahim Suffian, programme director of the Merdeka Centre, told CNA's Asia Now that Mr Anwar's biggest challenge will be facing the majority Malay-Muslim public, which is largely supportive of the opposition under Perikatan Nasional (PN).
The next litmus test will be the upcoming state elections held in six states, which will be an indicator if the government led by Mr Anwar is able to hold the line or if PN is able to make further inroads into the Malay-Muslim heartlands, Mr Ibrahim said.