10 gifts that every beauty lover will want on their vanity
Time for the holiday sparkle!
It doesn't matter how many Ikea boxes of unopened products they have under the sink. Beauty is forever. And with beauty products, there is a never-ending stream of pretty packaging and even prettier shades to curate and collect. Of blushes and bronzers. Lipsticks. Eyeshadows! There's one for every occasion, and, no, you can't swap out one for the other.
We all know someone like this; maybe that someone is you. For them (and you!), this is a list of even more products they'd likely want to have for Christmas instead of yet another beauty advent calendar of teeny-tiny testers. Here, we have the bigger and the better, the seasonal exclusives and limited-editions all thoughtfully attuned to the beauty lover wish-list. Fair warning before you click "Purchase", though: clear out some cabinet space.
The best gifts for the beauty lover in your life: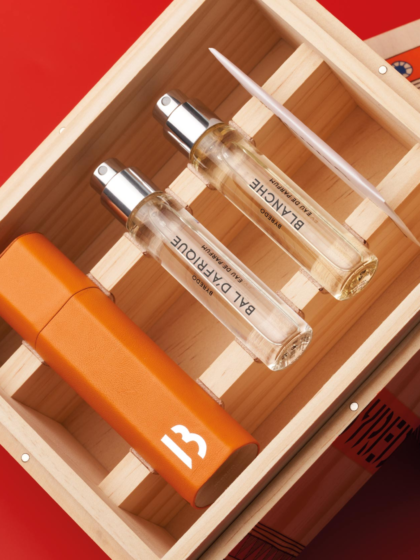 Being the well-informed beauty maven that they are, they can probably sniff out the difference between Byredo's Blanche and Mojave Ghost — two distinct parts of their extensive collection of the perfumer's iconic scents. But while they have all sorts of the cylindrical, rounded-black-top bottles upon their bathroom vanity, chances are they don't own anything like this printed wooden box — it's collector's edition!
The box is adorned with geometric work by Bihar-based artist Mamta Devi, inspired by vivid Madhubani paintings and an ode to founder Ben Gorham's Indian heritage. As a personal gift to stalwart fans of the brand, within this keepsake are three "La Sélection Nomade" scents —  Blanche, Bal d'Afrique, and Gypsy Water — and a bright orange leather travel case for on-the-go spritzing.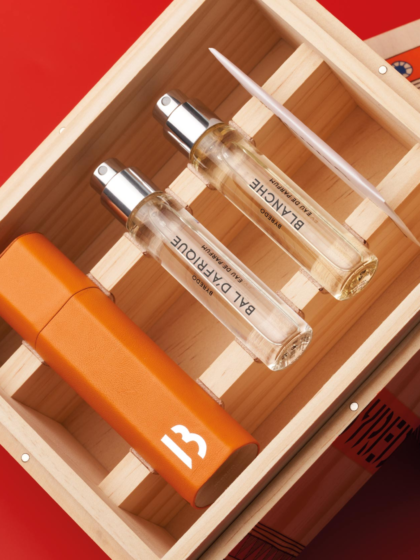 Beauty routines don't just stop at pretty pink blushes and sparkly eyeshadows before a glamorous night out. The routine continues on, though self-care and wellness, which also means restful evenings in with long baths, face masks and body scrubs.
And any evening with Aromatherapy Associates will be a luxurious one; something which each of us — not just beauty lovers — can appreciate as we round out 2021. Moment of Rose Indulgence is a full routine of products infused with warm Damask Rose, Geranium and Palmarosa — a new blend from the brand. There's also bath and shower oil for a pampering soak, a pink clay mask, body cream and bamboo gua sha comb to massage and untangle any knots for complete relaxation.
Aesop's hand-care offerings are long-time favourites. Ask anyone. The beauty lover in your life probably already has the Resurrection duo stationed by their bathroom sink, kitchen sink or wherever water runs within their home. Post-poo drops are magic too, so I've heard.
So, when it comes to The Advocate gift kit, it's an easy purchase. For yourself or for someone who's perpetually concerned about the state of their hands. Within the minimalistic, 100% recycled paper packaging are a quartet of must-haves: Resurrection Aromatique hand wash and hand balm, a Citrus Melange body cleanser and Rind Concentrate body balm.
These are no ordinary lipsticks. These are Hermès Beauty lipsticks, which, naturally comes with an unmistakable air of luxury that can't be found in any Sephora aisle, no matter how magical.
This is a limited-edition. An exclusive. Whoever receives this is a very lucky one indeed. There's the signature orange packaging; the classic logo-embossed brown ribbon. And inside, 24 of the Rouge Hermés lacquered and brushed white and gold tubes thoughtfully designed by Pierre Hardy. Find anything from the pinkest of pink to reddest of red in 10 matte and 14 satin shades — there'll be one to accompany your every look form day to night. Or keep it safe and secure; saved for a very, very special occasion.
From the handful of beauty essentials toted out daily — a tub of lip balm and a tiny bottle of perfume — the list has since expanded with two more: the hand sanitiser and face mask. And specifically for the latter, the initial clinical pale blue has long been replaced with others more striking in shapes, sizes and patterns. Naturally then, Christmastime calls for some holiday-adjacent hues.
MaskOn._, known for its colourful range of face masks categorised according to different moods, joins local botanists Botanic Union for a special Christmas concept store in Tsim Sha Tsui's K11 Musea. For the one who's always up-to-date with the latest of face masks (we all have one in our lives!), MaskOn._ unveils its latest selection in two festive colours: "Wicked" and "Serene", a deep pine green and berry pink, available in a box of 30.
These are not new products from Kiehl's, per se, but they do sport a brand new Christmas packaging designed in collaboration with French artist and illustrator, Marylou Faure. It captures the jovial spirit of an East Village holiday block party in New York City via a sprinkling of adorable sketches — some skating through the snow, other balancing towers of Christmas presents and the season's favourite: Mr Bones partaking in the holiday fun from snacking on street foods to dancing alongside an outdoor band.
From Kiehl's, it contains classics from the brand's core line-up of Ultra Facial Cream, Clearly Corrective Dark Spot Solution, Calendula Herbal-Extract Toner and more, but being the enthusiast they are, they'll probably love the limited-time holiday packaging just as much. No bones about it.
Let be honest, it's not a holiday look without a sprinkle of Charlotte Tilbury magic, as the effervescent beauty brand founder would say so herself. And it certainly would not. Most definitely not without the brand's newest addition to the Instant Eye Palette line: "Smokey Eyes are Forever".
Just like the others in the collection, "Smokey Eyes are Forever" thoughtfully puts together four different looks with 12 matte and metallic shades. These are the ones that range from Christmas brunch to a holiday dinners. In this particular pan: Love Eyes, a pinkish nude; Power Eyes, a bronzy green; Happy Eyes, a warm gold; and Confident Eyes, a deep plum purple.
The unmistakable scent of Diptyque's Do Son — of tuberoses, jasmine and orange blossom — is a magical concoction. So much so, the brand has remade the beloved eau de parfum in a limited edition coffret for the holiday; the frontal design gilded in gold to exhibit the very picturesque scene its blend evokes — quiet and serene Halong Bay, cast in a golden evening glow.
Even if they don't end up giving this a spritz, it'll stand very pretty amongst their collection of pretty glass bottles. Otherwise, Diptyque has also remade Do Son into a refillable solid perfume; now in a full refillable golden case.
As anyone who is serious about glam will tell you, Christmas is the time to go all out in full glitter and shimmer. Then, there's also New Years. Leave a twinkling trail behind you as you walk, they will say. It's something that Rihanna's Fenty Beauty is fond of with their dazzling selection of powders and creams.
The Diamond Bomb is an amped-up version of the beloved Gloss Bomb, reformulated for the skin. This specific palette takes three of Gloss Bomb's best-selling shades — Fenty Glow, Fu$$y and Hot Chocolit — and turns them into diamond-dusted highlighters that catch the light for a prismatic three-dimensional glow. A formula made for show-shopping eves like Christmas and New Years — those makeup enthusiasts were right.
Red lipstick! Foolproof gifting. What's the holiday without a bold lip, anyway?
In case you weren't entirely sure of their preferred shade of ruby, Burberry Beauty's limited edition collection of KISSES Lipstick features four beautiful shades — Pearl Delicate Rose No.14, Pearl Russet No.93, Pearl Oxblood No.97 and Pearl The Red No.106 — with a shiny satin finish in the season-special golden case, ranging from a bright scarlet to deep berry. And once they've picked the colour they love, you'll probably get second dibs, so really, this is also a gift for you, too.
(Only available at Burberry counters. Find a store near you at the link below.)